Money
Rachat de credit rachat credits immobilier rachat de credits consommation.
The Java(TM) Web Services Tutorial. Documentation Supported Platforms What's New in Java WSDP 2.0?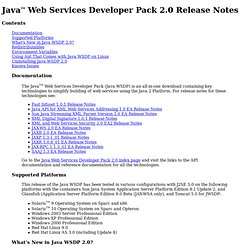 Redistributables Environment Variables Using Ant That Comes with Java WSDP on Linux Uninstalling Java WSDP 2.0 Known Issues Documentation The JavaTM Web Services Developer Pack (Java WSDP) is an all-in-one download containing key technologies to simplify building of web services using the Java 2 Platform. PayPal Fee Calculator. Developer's Guide - Google Chart API - Google Code.
---