Cool ideas
20 Awesome Do It Yourself Projects. Thursday, June 14, 2012 4:30 am, Posted by Chris Groves | Internet 20 Awesome Do It Yourself Projects Topics: At Home Project Ideas , Creative DIY Home Projects , Do It Yourself Projects for 2012 , Fun How To Projects , What to Do with Extra Stuff Are you bored and have a bunch of extra little items hanging around here and there?
My Collection of Funny Emails. Send funny emails to your friends! Why didn't I think of that?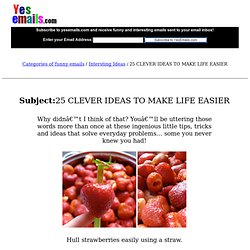 You'll be uttering those words more than once at these ingenious little tips, tricks and ideas that solve everyday problems... some you never knew you had! Hull strawberries easily using a straw. Rubbing a walnut over scratches in your furniture will disguise dings and scrapes. Remove crayon masterpieces from your TV or computer screen with WD40. (also works on walls). Recycled Craft Ideas. How to Make Leaf Skeletons. I wanted to share with you a project from one of my readers who shares with us how to make leaf skeletons.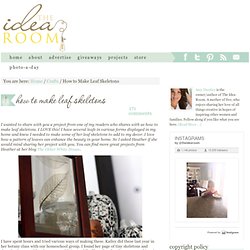 I LOVE this! I have several leafs in various forms displayed in my home and knew I needed to make some of her leaf skeletons to add to my decor. How to Recycle Tic Tac Box Video – 5min.com. Hi stampers!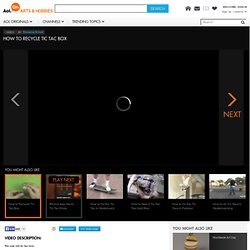 In a small effort to go green, reduce, recycle, reuse. I am going to take this old TickTack box. That is not that old actually, I bought it and then one day they were gone because they are addicting. But I cleaned it all out. I washed it up. Refolding Clothes into bags. Any do-it-yourself idea should get bonus points for not requiring any fasteners, hardware or other accessories to work – and extra credit for utilizing just one object, particularly something nearly everyone has a spare of in their closet.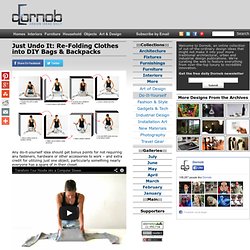 The video says it all, without requiring more than 20 seconds (let alone anything by way of words) – how to just flip, fold and wrap your way to a temporary laptop-to-go bag that even your precious computer should feel nice and secure inside. But why stop there? Other strapped backpacks and shoulder bags are possible too, as well as pillows and (if you are feeling really daring) even a baby carrier … be really careful, though, if you intend to build and use that particular variant.
ConceptualDevices likes to keep things nice and easy, playing with elemental videos and simple sketches to show very clear new ways to organize existing objects and data into nifty new formations.? "A hoodie is not just a hoodie.
---