Cape Story
With gasoline prices constantly on the rise, the SportsRig® MicroTrailer is ready for its closeup. Hauling boats behind your vehicle, rather than strapped to your vehicle's roof, is guaranteed to lower your fuel consumption, especially on the highway. At 220 pounds, the SportsRig is light enough to tow with a fuel sipping four cylinder car, yet it's tough motorcycle suspension and 18 inches of clearance handle mild off-road conditions with ease. Each SportsRig is hand-crafted with great attention to detail, using steel rather than less durable aluminum, and gives each one a powder and clear coat finish for rust proofing. The 22 inch motorcycle wheels absorb interstate speeds and enhance style. Two crossbars accept most Yakima or Thule rack accessories and carry up to 450 pounds, while the folding tongue can prop the trailer on end for easy storage.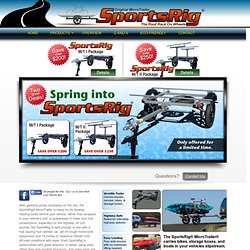 SportsRig Micro Trailers for kayaks and bicycles - lightweight eco-friendly for fuel efficiency
Welcome to Furniture for Small Spaces, the place for people who live in dorms, small apartments and small homes. That's right! Whether you live in a small room, dorm, condo, house or apartment… …this site is for you. Furniture for Small Spaces offers fun decorating ideas, fabulous space saving tips and, most of all, compact and modular furniture.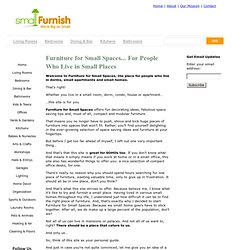 Amarr Garage Doors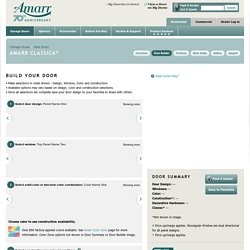 Please Note: Door shown represents a 8'x7' door. Actual design may vary based on door width and height. Amarr reserves the right to modify designs without notice. Download additional door drawings and specifications here. Two-tone Colors with True White Base Door Two-tone Colors with Almond Base Door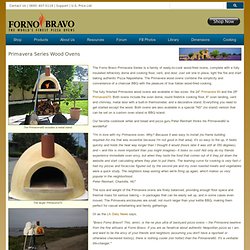 Primavera Oven
The Forno Bravo Primavera Series is a family of ready-to-cook wood-fired ovens, complete with a fully insulated refractory dome and cooking floor, vent, and door. Just set one in place, light the fire and start baking authentic Pizza Napoletana. The Primavera wood ovens combine the simplicity and convenience of a charcoal BBQ with the pleasure of true Italian wood-fired cooking. The fully finished Primavera wood ovens are available in two sizes: the 24" Primavera 60 and the 28" Primavera70. Both ovens include the oven dome, round firebrick cooking floor, 6" oven landing, vent and chimney, metal door with a built-in thermometer, and a decorative stand. Everything you need to get started except the wood.
Studios
Send blessings throughout the ten directions to benefit all sentient beings. Metal prayer wheel is accented with brass and copper, and decorated with the mantra of great compassion, 'Om Mani Padme Hum', as well as the Eight Auspicious Symbols. A printed scroll filled with prayers and blessings is sealed within the spinning prayer wheel. Masterfully crafted with exceptional detail by Newari craftsmen in Nepal. Use outside in a protected area or indoors. 3" w x 4" d x 8 3/4" h.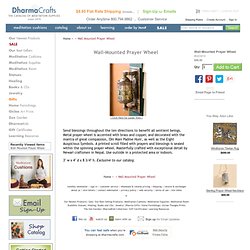 Wall-Mounted Prayer Wheel: DharmaCrafts meditation supplies
English Translated Prayer Flags | Prayer Flags
We use cookies to make sure you get the best experience on our website. If you continue without changing your settings, you're agreeing to receive all cookies on the IKEA website. Privacy policy | Read more about cookies <div class="buttonContainer"><a href="javascript:void(0);"><span class="buttonLeft">&nbsp;</span><span class="buttonCaption"><input id="lnkSearchBtnHeader" type="submit" value="Search" /></span><span class="buttonRight">&nbsp;</span></a></div>