Companies
IBI Group
Associated Engineering. AMEC. CHANDOS. Integrated Sustainability Consultants. Town of Cochrane. Mitkor. Focus. Opus. Lafarge. Stantec. Tetra Tech EBA. SGS Canada - Jobs At SGS. As the world's leading inspection, verification, testing and certification company, we welcome potential new collaborators with a desire to surpass themselves professionally.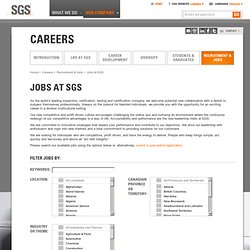 Always on the lookout for talented individuals, we provide you with the opportunity for an exciting career in a diverse multicultural setting. Our new competitive and profit driven culture encourages challenging the status quo and nurturing an environment where the continuous redesign of our competitive advantages is a way of life. Accountability and performance are the new leadership traits at SGS.
EllisDon
Storage. CivicJobs.ca - Canada's source for municipal jobs. Job Seeker Login - ASET Job Board. Are you a science or engineering technology professional looking to stand out in your field?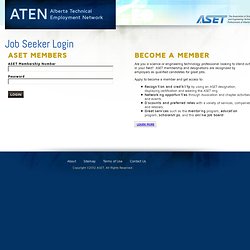 ASET membership and designations are recognized by employers as qualified candidates for great jobs. Apply to become a member and get access to: Recognition and credibility by using an ASET designation, displaying certification and wearing the ASET ring. Networking opportunities through Association and chapter activities and events. Opportunities Knock. Sample Email Thank You Letter for an Interview. Here is an example of thank you email message to send after a job interview.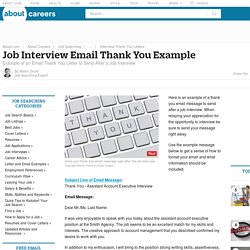 When relaying your appreciation for the opportunity to interview be sure to send your message right away. Subject Line of Email Message: Thank You - Assistant Account Executive Interview Email Message:
---