Companies
lloyd kortbeek cv.pdf (application/pdf Object)
D.A. Watt Consulting Group Ltd.
Geomatics / Legal Survey Positions | D.A. Watt Consulting Group Ltd.
About Boundary
Kellam Berg Engineering and Surveys Ltd.
Jacobs Engineering : Providers of Professional, Technical, and Construction Services
MMP Engineering - Providing quality structural engineering since 1978.
Shell Canada | Canada
Students & Graduates | Canada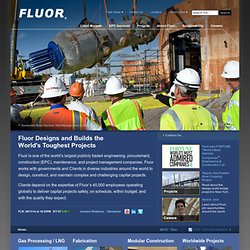 Fluor is a FORTUNE 500 company that delivers engineering, procurement, construction, maintenance (EPCM), and project management to governments and clients in diverse industries around the world. For over a century, clients have selected Fluor as their company of choice to complete challenging projects, many in remote parts of the world. Clients depend on the expertise of Fluor's 41,000 employees operating globally, to deliver capital projects safely, on schedule, within budget, and with the quality they expect.
EPCM Services: Engineering Procurement Construction and Maintenance Services | Design, Build and Construction
College and University Graduates Career Opportunities - Fluor.com
Suncor.com
WorleyParsons.com
Energy Canada Overview - Kiewit.com
Kiewit Energy Canada Corp., a subsidiary of Kiewit Corporation, is a major industrial contractor based in Calgary, Alberta. Since the early 1940s, Kiewit has built projects throughout the western provinces, from British Columbia to Manitoba and the Northwest territories. Today, the oil, gas and energy markets are expanding rapidly in Canada, particularly in Western Canada.
Ground Engineering and Environmental Services
As a global, employee-owned organisation with over 50 years of experience, Golder Associates is driven by our purpose to engineer earth's development while preserving earth's integrity. From more than 180 offices worldwide, our over 8000 employees deliver solutions that help our clients achieve their sustainable development goals by providing a wide range of independent consulting, design and construction services in our specialist areas of earth, environment and energy.
Associates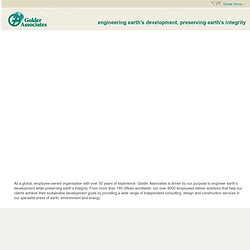 Canadian Natural Resources - Home
Home Page | Hatch Mott MacDonald
technologyalberta's Profile
Giusti
Williams Engineering
EBA, A Tetra Tech Company (EBA), is a values-based consulting engineering and sciences company offering innovative and practical engineering,environmental and transportation solutions for the mining, energy, transportation and development sectors. We are proud of our ability to create and deliver better solutions to our clients. EBA's merger with Tetra Tech extends our capacity to every province and territory in Canada with over 3,500 employees and over 13,000 employees world wide.
Engineering Consultants Ltd., a Tetra Tech Company