Food
Best Dallas Restaurant and Catering Services in Dallas, Texas -
Anamia's Tex-Mex is a place to gather with those that you love and love to be with. Owners Jay and Anna Ortiz bring love to all they do, and it is apparent upon stepping foot into any of their four restaurants. The first Anamia's opened in 1996 on Sandy Lake Road in Coppell. That modest strip-center restaurant attracted crowds day and night, and diners often waited just inside the door or outside on the sidewalk for a table. From those humble roots, Anamia's added two sister restaurants and gradually grew into a more upscale, yet still friendly and intimate, gathering place.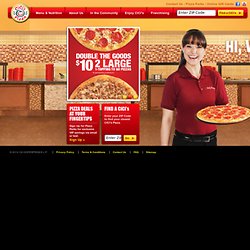 We want to send a huge shout out to our awesome franchise owner, Mark Shelton, his Clebune, TX store manager, Cassy, and their entire crew for going above and beyond to help their neighbors during the recent tornado outbreak in the North Texas area. The crew has been delivering cinnamon rolls and pizzas door-to-door in the neighborhoods hardest hit by the storms. Cassy has been diligently working to locate and verify the well-being of all her regular guests. She was concerned about one couple who come in regularly and didn't ...
CiCi's Pizza Buffet - Almost too good to be true!
Tappy's Yogurt - Tappy's Yogurt serving Coppell / Lewisville Tex
Bahama Buck's - Original Shaved Ice Company - Home
Great American Cookies