Desserts
Get flash to fully experience Pearltrees
Several years ago my husband and I worked in the kitchen at the Seminary. While the food in the regular cafeteria at the Seminary was always pretty good, it was fun to work the fancy catered meals and see what delicious things the chef would come up with. One thing that was often served at the fancy meals that wasn't made in house was an assortment of petit fours and cookies.
I'm sorry. I know it's Monday morning and you probably came here for some pretty pictures of food that you could glance at, and then move on with your day… and here I go thrusting warm, soft cinnamon sugar bread in your face. It's not fair. I know it's not fair. I know that now you're craving cinnamon rolls, and cream cheese frosting and chili fries and hot dogs. I am too… and I already ate half of this warm bread.
Ok are you ready for Pizza Monkey Bread. It will kinda change your life. And maybe your waistline.
Today I am doing something a bit different… I want to share a new cookbook with you, one that I have fallen in love with! The book I'm referring to is Desserts 4 Today by Abigail Johnson Dodge , a lovely collection of desserts that can be made with only four ingredients! I first met Abby at the Big Summer Potluck last month. She was preparing one of the recipes in the book during a cooking demonstration. While introducing the book, Abby began mentioning all of the great things that come in fours, including the Beatles. From that moment, I knew we would be fast friends.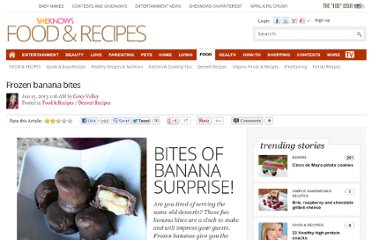 For this recipe, I layered the bananas with peanut butter before dipping and freezing.
craft, cooking & entertaining