Crafts
Recycled Craft Ideas - Crafts from Recycled Materials. CL contributing editor Ryan McPhail reveals his method for creating a stealthy bar from a cast-off chest of drawers.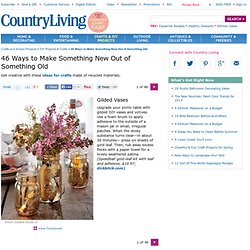 Step 1: Measure the inside of a dresser drawer to determine its width (from side to side), depth (front to back), and height (base to top). Step 2: To create a middle divider, use a jigsaw to cut a piece of wood that measures the depth of the drawer and slightly less than its height. Crafts from Recycled Materials: Reusing Materials to Make New Crafts- Recycled Crafts. Recycled Crafts - Free projects and DIY gift ideas from Craftbits.com. Craftbits.com DIY Crafts and Handmade Gift Ideas You are here: Home / Recycled Crafts Recycled Crafts.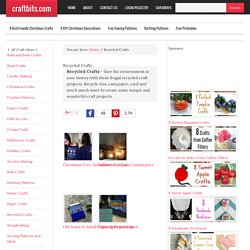 21 ways of turning pallets into unique pieces of furniture. Wood pallets have been around for decades as mechanisms for shipping and storing larger items (among other things).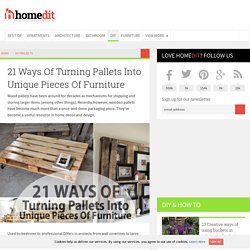 Recently, however, wooden pallets have become much more than a once-and-done packaging piece. They've become a useful resource in home décor and design. Make a Lunch Box from a Milk Jug. Recycled Crafts - Recyclable Crafts for Kids - Recycling Craft Ideas | Family Fun. Recycling socks: sewing doll tutorial. Make a doll is not difficult, need an hour – a half.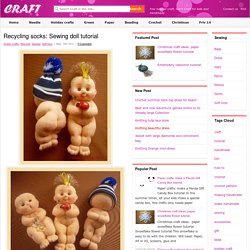 For the work you need: a piece of stretchable fabric 10 / 15 cm, scissors, spool of thread in color, medium length needle and a filler (holofayber). A piece of knitting along and add up the paving machine stitch. In the photo I just put a dark thread in a place proshiva to be seen. Cut away excess close to the seam and make a slit in place of figure seam. Turns blank and is already on top makes a small line, how would lengthen legs. View All. DIY: Gift Bags made from Newspaper « alicecorrine. Gift bags made from newspaper is a great idea for birthday parties or weddings!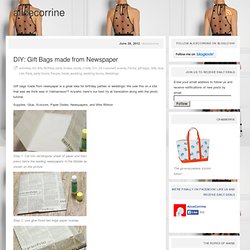 We saw this on a site that was we think was in Vietnamese?? Anywho -here's our best try at translation along with the photo tutorial. Crafts from Recycled Stuff. Recycling Crafts. How to make gift bags from newspaper. When I bought something at a store recently, the clerk handed me my purchase in a bag made from a newspaper.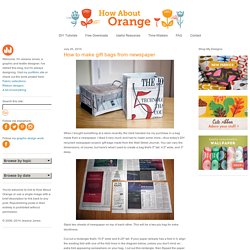 I liked it very much and had to make some more—thus today's DIY recycled newspaper project: gift bags made from the Wall Street Journal. You can vary the dimensions, of course, but here's what I used to create a bag that's 5" tall, 4.5" wide, and 3" deep. Stack two sheets of newspaper on top of each other. 9 Cool Things to Do With Old Books & Written Word - StumbleUpon.
Bibliophiles and bookworms, English majors and lovers of literature: is it possible to have too many books?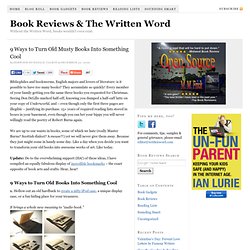 They accumulate so quickly! Every member of your family getting you the same three books you requested for Christmas. Seeing Don DeLillo marked half-off, knowing you dumped a half-caff latte on your copy of Underworld, and – even though only the first three pages are illegible – justifying its purchase. 15+ years of required reading lists stored in boxes in your basement, even though you can bet your bippy you will never willingly read the poetry of Robert Burns again. DIY: Embossed Metal Box from a Drink Can. Drink Can Tinwork. Tinwork Embossed tinwork is sometimes used to decorate rustic style photo or mirror frames, or just to make decorative items such as Christmas tree decorations.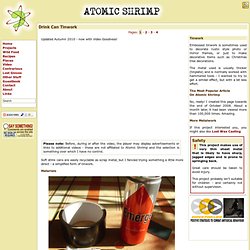 The metal used is usually thicker (tinplate) and is normally worked with hammered tools - I wanted to try to get a similar effect, but with a bit less effort. Creative upcycle and downcycle ideas | Recycled Crafts | CraftGossip.com. Altered Metal and Tattered Angels - Wild Wyoming Art Cafe' Metal is such a perfect medium for Tattered Angels paint products!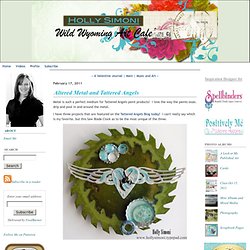 I love the way the paints ooze, drip and pool in and around the metal. I have three projects that are featured on the Tattered Angels Blog today! I can't really say which is my favorite, but this Saw Blade Clock as to be the most unique of the three. I used these Tattered Angels products on the Saw Blade Clock: Chalkboard Mist - Inch Worm, Glam - Chandelier on the actual saw blades, and Dirty Martini; Glaze - Icicle andAll That Jazz on the metal embellishments. I used 2 used saw blades I got from my darling husband, bottlecaps, glass globs, seed beeds and a washer.
---