Mobile
Download Justinmind Prototyper Free 1.1.0 Free - Prototype web and mobile applications with this application. Justinmind Prototyper Free is a useful and reliable tool created to help you design web applications for mobile devices.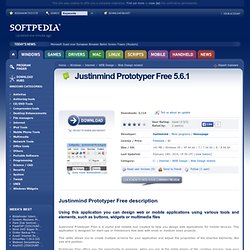 This application is designed for start-ups or freelancers that deal with small or medium sized projects. This utility allows you to create multiple screens for your application and adjust the proprieties of the inserted elements, like size and position. Prototyper Free offers you the opportunity to appraise, when you are at the initial stages of the creative process, how your project is going to work at the end. Windows Mobile Developer Center. Media Queries for Standard Devices. Ten Things To Think About When Designing Your iPad App - Smashing UX Design. Advertisement Like most well-designed things, the magic of an iPad app comes from a union of usefulness, usability and meaning.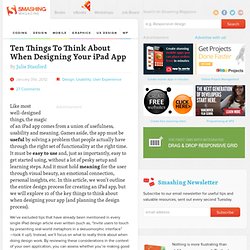 Games aside, the app must be useful by solving a problem that people actually have through the right set of functionality at the right time. It must be easy to use and, just as importantly, easy to get started using, without a lot of pesky setup and learning steps. And it must hold meaning for the user through visual beauty, an emotional connection, personal insights, etc. About - App Inventor for Android. iPhone Mockup. iPhone Mockup. iPhone stencil. An iPhone stencil for creating beautiful sketchy wireframes with good layout precision.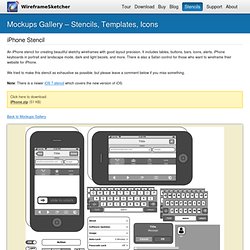 It includes tables, buttons, bars, icons, alerts, iPhone keyboards in portrait and landscape mode, dark and light bezels, and more. There is also a Safari control for those who want to wireframe their website for iPhone. We tried to make this stencil as exhaustive as possible, but please leave a comment below if you miss something. Wireframing, mockups and prototyping for websites and applications. With iPlotz you can create clickable, navigable wireframes to create the experience of a real website or software application.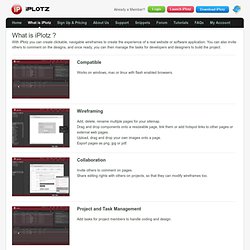 You can also invite others to comment on the designs, and once ready, you can then manage the tasks for developers and designers to build the project. Works on windows, mac or linux with flash enabled browsers. Add, delete, rename multiple pages for your sitemap.Drag and drop components onto a resizeable page, link them or add hotspot links to other pages or external web pages.Upload, drag and drop your own images onto a page.Export pages as png, jpg or pdf.
Make your Site Mobile Friendly. The number of mobile devices loose in the world greatly exceeds the number of desktop (or laptop) computers filling up desk and table space in offices and homes.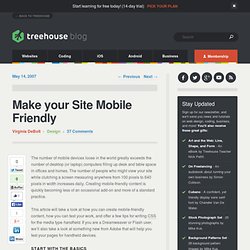 The number of people who might view your site while clutching a screen measuring anywhere from 100 pixels to 640 pixels in width increases daily. Creating mobile-friendly content is quickly becoming less of an occasional add-on and more of a standard practice. This article will take a look at how you can create mobile-friendly content, how you can test your work, and offer a few tips for writing CSS for the media type handheld.
Add a gesture-based image gallery to a mobile website. Net magazine is the number one choice for the professional web designer and developer.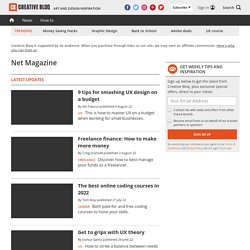 It's here that you find out about the latest new web trends, technologies and techniques – all in one handy package. Each issue boasts a wealth of expert tips and advice, including in-depth features and over 30 pages of advanced front- and backend tutorials on subjects as diverse as CSS, HTML, JavaScript, WordPress, PHP, and plenty more. net compiles the hottest new sites from around the web, and being the voice of web design, our mission is to source the best articles written by the best people in the industry and feature interviews and opinions crammed with inspiration and creative advice. In short, If you're serious about web design and development, then net is the magazine for you. Editorial. HealthTap Express. Description HealthTap gives you answers and tips from 50,000 U.S. doctors.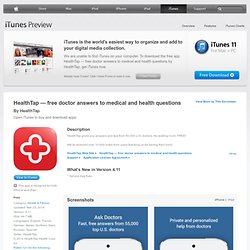 No waiting room. Mobile Web Best Practices 1.0. The fight gets technical: mobile apps vs. mobile sites. This article is the second in a series of extracts taken from Econsultancy's new Internet Marketing Strategy Briefing.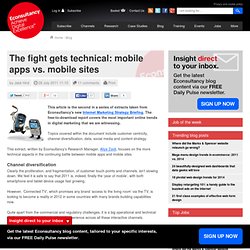 The free-to-download report covers the most important online trends in digital marketing that we are witnessing. Topics covered within the document include customer centricity, channel diversification, data, social media and content strategy. This extract, written by Econsultancy's Research Manager, Aliya Zaidi, focuses on the more technical aspects in the continuing battle between mobile apps and mobile sites. Channel diversification Clearly the proliferation, and fragmentation, of customer touch points and channels, isn't slowing down. Mobile Web vs. Mobile Apps: Which strategy is best? Sass - Syntactically Awesome Stylesheets.
HTML5 Charts for Mobile Devices | Touch Charts | Sencha Touch. Hands on: Building a PhoneGap app with Dreamweaver CS 5.5. One interesting feature in the new Adobe Creative Suite 5.5 is that PhoneGap is integrated into Dreamweaver.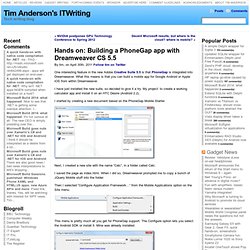 What this means is that you can build a mobile app for Google Android or Apple iOS from within Dreamweaver. I have just installed the new suite, so decided to give it a try. My project: to create a working calculator app and install it on an HTC Desire (Android 2.2). RoyalSlider - Touch-Based Image and Content Slider. Features of jQuery version Modular Script architecture allows you to create your own version of the script using online tool and include in build only features that you need.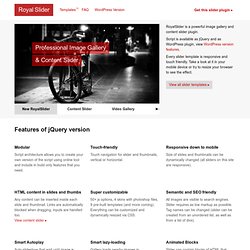 Touch-friendly Touch navigation for slider and thumbnails, vertical or horizontal. Adobe Exchange Search. jQuery Touchwipe (iPhone, iPad, iPod Touch Gesten Gestures Event Wischeffekt / Wipe Effect) The small 1 KB library allows you to obtain the wipe event on an iPhone, iPad or iPod Touch which can be used for example to scroll through an image gallery (see demo below). Should also work with Android touchscreens. Die 1 KB kleine Bibliothek ermöglicht das Abfangen des Wischevents auf einem iPhone, iPad oder iPod Touch um beispielsweise durch eine Bildergalerie zu scrollen (siehe Demo unten). Sollte auch mit Android Touchscreens funktionieren. Demo (use your iPhone, iPad or iPod Touch) Creating a Mobile Touch Slide Panel with JQuery. Use your finger to drag it left and right to all of the items in the view. Since this is JavaScript it works on every mobile device with touch support Each cell of the slider is HTML so you can put anything you want in it The slider works just like the native application sliders.
jQuery Mobile: Demos and Documentation. jQuery Mobile: What Can It Do for You? Article by Matt Doyle | Published on 5 November 2010 Categories: Find out how the new jQuery Mobile framework can help you build great-looking, cross-device web apps with ease. Getting started with jQuery Mobile. Download Adobe Fireworks CSS3 Mobile Pack.
Fireworks Tips and Tricks - Using the New CSS3 Mobile Pack. iPhone GUI PSD Version 4. iEat: Food Ordering Apps for the iPhone. Slideshare. Search?q=phone+gap+for+dreamweaver+5. Dwell. PhoneGap.
---