Adult
Get flash to fully experience Pearltrees
Ingredients: Strawberries (the biggest ones you can find) Strawberry jelly powder Creme de cacao Vodka Chocolate chips (optional) Wash the strawberries and pick out the nicest ones. You will need about 3 boxes worth of strawberries for 2 cups of jello. Cut off the bottoms so the strawberries can stand up but be careful to not make holes for the jello to leak out. Cut off the tops and hollow out the insides.
This makes a great fizzy pink lemonade. It's definitely one of my must have summer staples. If it's hot, you're low on cash, and want to have a lot of fun, this is the answer! It makes just shy of 5 gallons, so it can serve a TON of people. Each drink packs a heavy whallop to your head, so you really don't need much per person.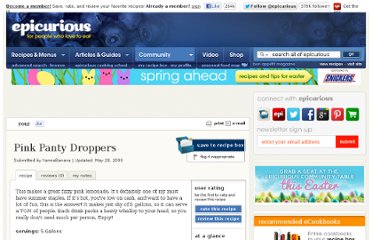 These Lemon Drop Jello Shots were a huge success at our football tailgate this weekend. Everyone was so surprised at the presentation and how great they tasted. So, as promised here's the info for how to make these fun little treats.
It's time again for childhood and adulthood to collide in a most delicious way! You can infuse vodka with Jolly Rancher candies, much the same way we make Skittles Vodka . Actually, this process is much easier, and the results are fabulous: tasty and gorgeous to look at. You can whip up batches of five Jolly Ranchers Vodka flavors in only twelve to fourteen hours with minimal labor on your part, so they make wonderful, affordable, memorable gifts, too. The Materials: