Art's and Artists
sinix's deviantART gallery
Alex Volkov
d3capmode
www.rossdearsley.com
Christine Choi Online Portfolio
fresh off the boat!
Richard Doble
Richard Doble
François Baranger - Astaroth - CGHUB
One of the fun projects that I worked with my peers at WDFA was Lilo & Stitch. Here I post few colorkeys, concept paintings and production BGs that I did for the movie. All the pieces were traditional watercolors except some keys.The directors set the bar so high - trying to make a movie visually like the Disney's classics - like Snow White , Pinocchio and such.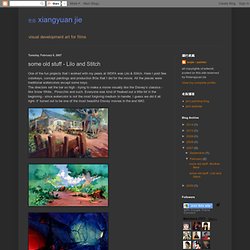 some old stuff - Lilo and Stitch
Industrial Design Sketching and Drawing Video Tutorials
Remembering Clément Sauvé - Home
ClementSauve on deviantART
Digital Brush - Художники
slipgatecentral on deviantART
slipgatecentral's deviantART gallery
/maggi
yande.re
w w w . w e s l o u i e . c o m !
Lonewingy
IAN MCQUE | CONCEPT ART
DRAWTHROUGH: the personal and professional work of Scott Robertso
Mechs - DRAWTHROUGH: the personal and professional work of Scott Robertso
Clint Cearley
R O B O T P E N C I L
main-gallery
picc
Фото и рисунки, арт и креативная реклама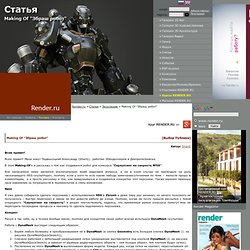 Статьи -> Эксклюзив -> Making Of "Збраш робот"
Всем привет! Всем привет!
arsenixc on deviantART
Portfolio
Incredible Anatomical Sculptures by Maskull Lasserre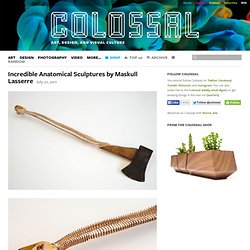 Behold the breathtaking sculptural work of Canadian artist Maskull Lasserre who deftly extracts the most delicate anatomical forms of humans and animals from common objects. Lasserre was born 1978 in Calgary, Alberta and has lived in South Africa and Ottawa and now works and lives in Montreal. Via his website:
xa-xa-xa's deviantART gallery
Art of Darren Quach
::DQ's ONLINE SKETCHBOOK::
Художница Charlie Bowater (39 фото - 9.35Mb
Making Of "Стальная вера"
Привет всем посетителям render.ru! Это мой 4-ый «making of» и сегодня я расскажу о создании работы на конкурс «Башни магов».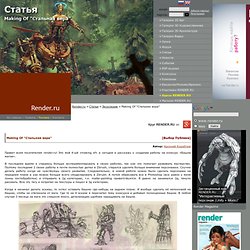 West Studio // TwistedMetal / Index
The Art of Sycra Yasin - Concept art, Caricatures, Life drawing
Февраль 18th, 2011 Оказывается Anry Nemo — русский цифровой художник.
Красивые иллюстрации | Рисование в Фотошопе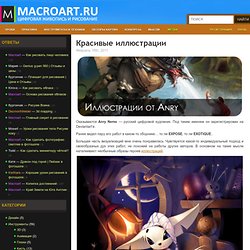 Фото и рисунки, арт и креативная реклама
C.L.Design Studio Tuomas Korpi
On this page I have sketches and paintings created for visual development and production art - as well as personal sketches, speedpaints and studies. In these paintings I try to concentrate on the mood, color and lighting or design more than rendering every little detail very carefully and precise.
www.abeong.com
lianna tai // concept artist - Home
The Fantasy Art of Jesper Ejsing
chris thunig - matte painting & concept art
calumalexanderwatt.com
Character Design for Games Q A Carlo Arellano
Collideascope Animation Studios
Bone hole02 by yangqi917 - Yang Qi
G.J ART
Ballistic Publishing - Expose 5. The finest digital art
Like Norman Rockwell, who called himself an 'illustrator', Berkey has always enjoyed being a working professional, and never concerned himself very much with what galleries or critics might think of his work.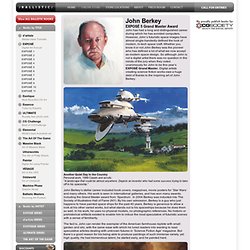 voidart
Game Engine
Борис Климов
art of CHARLES
Art of Hao Wu
Kekai Kotaki
MMORPG News - MMOsite.com
Всякий-разный арт — Vindictus
Vindictus Concept Art
Joon Ahn
Mass Effect 3 Concept Art by Brian Sum
FINAL FANTASY XIII Official Artwork | 260 фотографий
home | crazybrush.com
Miscellaneous : Olivier pron
My motivation is... | 64 фотографии
Не моё, нравится (с) | 501 фотография
Alexander Ovchinnikov: concept artist, illustrator
Home - Brendan Deboy
Boggart - 17
deviantART: where ART meets application!
noah-kh on deviantART
ukitakumuki on deviantART
Kamenstudio on deviantART
unnamed pearl
Sidxartxa's deviantART Gallery
unnamed pearl
ManuelDupong on deviantART
unnamed pearl
The Art of Jake Parker
mainpage
Your Site Name - NEWS
Rodimus25
Albeeng Portfolio
The ongoing war against mediocrity
CALADER
D.B.ART
Keith Thompson Art
Фотографии ♥Art Просто И Не Просто Искусство .П.и.н.п.и.) Рисование, моделинг, музыка,2D,3D, аниме-арт .★ | 663 альбома
Robin Chyo | 137 фотографий
Apofiss on deviantART
Фотографии CONCEPT ART™ | 77 альбомов
INCREDIBOX
Malcolm Sutherland on Vimeo
Trevor Claxton | 61 фотография
концепт арт | 133 фотографии
Wesley Burt Artwork