Literacy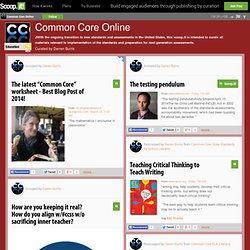 "The November Learning team is excited to share a hot new literacy tool, introduced to us by a brilliant teacher, Laura Robertson, from The St. Anne's Belfield Studio School in Virginia. This intuitive and multi-functional digital literacy tool can transform the way teachers approach close reading with their students, while sparking lively text-based discussions. Prism is a tool for "crowdsourcing interpretation." Students are invited to provide an interpretation of a text by highlighting words according to different themes or categories.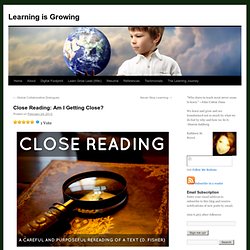 Close Reading: Am I Getting Close?
i 1 Vote I have become obsessed with learning more about Close Reading. I have been reading everything I can get my hands on to understand this strategy and be able to assist teachers with this shift in thinking. I have devoted much of the last 20 years to the study of literacy. I am not sure I should admit this, but up until the onset of the Common Core I had never heard of the specific strategy of Close Reading.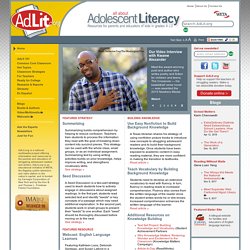 Featured Strategy: Inferential Reading Teaching students to "read inferentially" helps them read more strategically. Inferential reading helps students make connections between their personal experiences and their comprehension of a text. Rather than stopping students during reading to comment on specific points, this strategy focuses on their thinking and how new information reshapes prior knowledge.See strategy »
http://www.tcoe.org/ERS/CCSS/ELA/LearningProgressions.pdf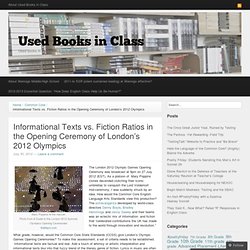 Informational Texts vs. Fiction Ratios in the Opening Ceremony of London's 2012 Olympics | Used Books in Class
Mary Poppins to the rescue:Photo from A Guide to the London 2012 Summer Olympics Opening Ceremoniestheblaze.com The London 2012 Olympic Games Opening Ceremony was broadcast at 9pm on 27 July 2012 (EST). As a platoon of Mary Poppins clones decended clutching their iconic umbrellas to vanquish the Lord Voldemort mid-ceremony, I was suddenly struck by an idea.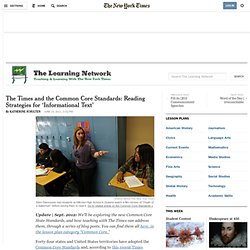 Update | Sept. 2012: We'll be exploring the new Common Core State Standards, and how teaching with The Times can address them, through a series of blog posts. You can find them all here, in the lesson plan category "Common Core." Forty-four states and United States territories have adopted the Common Core Standards and, according to this recent Times article, one major change teachers can expect to see is more emphasis on reading "informational," or nonfiction, texts across subject areas:
New Feature: Test Yourself, Critical Thinking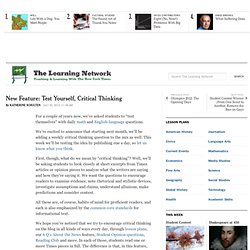 For a couple of years now, we've asked students to "test themselves" with daily math and English-language questions. We're excited to announce that starting next month, we'll be adding a weekly critical thinking question to the mix as well. This week we'll be testing the idea by publishing one a day, so let us know what you think. First, though, what do we mean by "critical thinking"? Well, we'll be asking students to look closely at short excerpts from Times articles or opinion pieces to analyze what the writers are saying and how they're saying it. We want the questions to encourage readers to examine evidence, note rhetorical and stylistic devices, investigate assumptions and claims, understand allusions, make predictions and consider context.
Common Core State Standards Reading Bookmark Common Core Reading Standards- Informational Text K-5 Bookmark Common Core Reading Standards- Literature K-5 Bookmark Common Core Reading Standards-Foundational Skills K-5 Bookmark Common Core Reading Standards - Speaking and Listening Bookmark Common Core Reading Standards- Language Standards K-5
Reading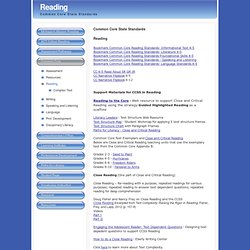 SD ELA Curation Resources
Reading Critically - Interrogating Texts - Harvard Library LibGuides at Harvard Library
Outline, summarize, analyze: take the information apart, look at its parts, and then try to put it back together again in language that is meaningful to you. The best way to determine that you've really gotten the point is to be able to state it in your own words. Outlining the argument of a text is a version of annotating, and can be done quite informally in the margins of the text, unless you prefer the more formal Roman numeral model you may have learned in high school. Outlining enables you to see the skeleton of an argument: the thesis, the first point and evidence (and so on), through the conclusion. With weighty or difficult readings, that skeleton may not be obvious until you go looking for it.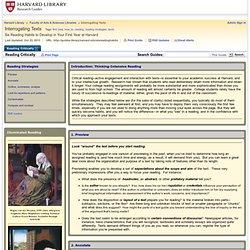 Success at the Core : How Teams & Teachers Transform Instruction
Web 2.0 Financial Literacy K-12 Sites
The Core standards include financial literacy. I was looking for Web 2.0 financial literacy resources to share with our teachers and this is what I found. This should save you time and give you resources you may not been aware of. Explore and enjoy!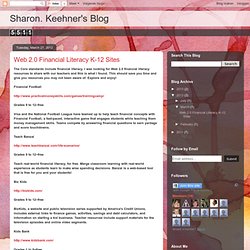 Content Literacy Strategies
DOE English Language Arts [Delaware Department of Education]
English/Language Arts Common Core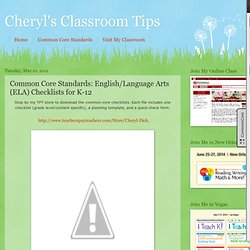 Stop by my TPT store to download the common-core checklists. Each file includes one checklist (grade level/content specific), a planning template, and a quick-check form. Simple. Effective. Time-Saving.
Cheryl's Classroom Tips: ELA Common Core State Standards Checklists
Region 7 Professional Development Support - ELA Process Support
May 21, 2013 ELA Common Core Text Exemplars The NCDPI ELA Team has shared the ELA Common Core Text Exemplars on the DPI website. **Access them here**. ELA Summer Seminar The ELA section of NCDPI would like to announce a wonderful opportunity for classroom teachers to deeply explore the Common Core State Standards.
Common Core State Standards - ELA & Literacy Resources - Oregon Department of Education
The Common Core State Standards (CCSS) for English Language Arts (ELA) & Literacy are the foundation of the K-12 Oregon Diploma; the Essential Skills for reading and writing are embedded within the CCSS. Without these skills, students won't have access to full content in school. That is why the CCSS include reading and writing standards customized for Literacy in History/Social Studies, Science, and Technical Subjects. To be college and career-ready, students learn to read and write in ELA and to apply the skills in all classes. Contacts
Common Core State Standards - English Language Arts
English Language Arts Missouri Learning Standards Implementation Plan Over the past year, a number of English language arts curriculum and assessment activities have been occurring in preparation for the implementation of the Missouri Learning Standards and related curriculum and assessment including: Reinstatement of the Writing Prompts on the grades 3 and 7 grade-level assessments and the English II EOC exam Alignment of existing grade-level and EOC item banks and passages to the Missouri Learning Standards. The information provided by this work will aid in maximizing the assessment of items that align to the Missouri Learning Standards on the 2013 – 2014 assessments.
Common Core - Resources
IRA released a letter of support in June 2013 for the position taken by the Learning First Alliance on the need for an extended transition to full implementation of the Common Core State Standards before CCSS-based assessments begin. The Literacy Implementation Guidance for the ELA Common Core State Standards white paper, issued by the IRA Common Core State Standards (CCSS) Committee, offers detailed guidance on seven issues that have proven enormously challenging to teachers, principals, administrators, and others who are charged with implementing the CCSS for English Language Arts. The Common Core State Standards for Literacy: How Do We Make Them Work? Past IRA president Lesley Mandel Morrow poses questions about the CCSS in this thought-provoking blog post (September 30, 2011).
Common Core State Standards for ELA
Implementation of the ELA Common Core State Standards Across the Country
NC ELA Common Core - Resources
English Language Arts (ELA) Common Core Standards | Elementary Tests
Reading Level Conversion Chart, Leveling Books | Benchmark Education Company
Text Complexity Grade Bands and Lexile® Bands