Literacy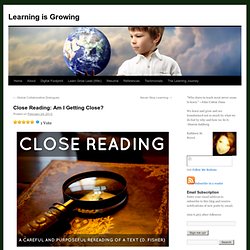 Close Reading: Am I Getting Close?
i 1 Vote
http://www.tcoe.org/ERS/CCSS/ELA/LearningProgressions.pdf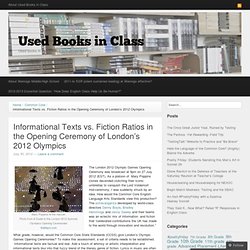 Informational Texts vs. Fiction Ratios in the Opening Ceremony of London's 2012 Olympics | Used Books in Class
Mary Poppins to the rescue: Photo from A Guide to the London 2012 Summer Olympics Opening Ceremonies theblaze.com The London 2012 Olympic Games Opening Ceremony was broadcast at 9pm on 27 July 2012 (EST). As a platoon of Mary Poppins clones decended clutching their iconic umbrellas to vanquish the Lord Voldemort mid-ceremony, I was suddenly struck by an idea.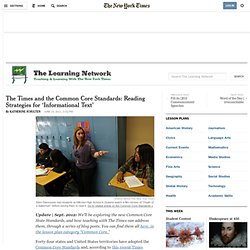 Update | Sept. 2012: We'll be exploring the new Common Core State Standards, and how teaching with The Times can address them, through a series of blog posts. You can find them all here, in the lesson plan category "Common Core." Forty-four states and United States territories have adopted the Common Core Standards and, according to this recent Times article, one major change teachers can expect to see is more emphasis on reading "informational," or nonfiction, texts across subject areas:
CoLearners
New Feature: Test Yourself, Critical Thinking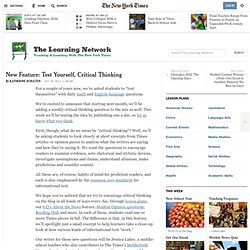 For a couple of years now, we've asked students to "test themselves" with daily math and English-language questions. We're excited to announce that starting next month, we'll be adding a weekly critical thinking question to the mix as well. This week we'll be testing the idea by publishing one a day, so let us know what you think .
Common Core State Standards Reading Bookmark Common Core Reading Standards- Informational Text K-5 Bookmark Common Core Reading Standards- Literature K-5 Bookmark Common Core Reading Standards-Foundational Skills K-5 Bookmark Common Core Reading Standards - Speaking and Listening Bookmark Common Core Reading Standards- Language Standards K-5 CC K-5 Read Aloud SR GR IR CC Narrative Flipbook K-5 CC Narrative Flipbook 6-12 Support Materials for CCSS in Reading Reading to the Core - Web resource to support Close and Critical Reading using the strategy Guided Highlighted Reading as a scaffold Literacy Leaders - Text Structure Web Resource Text Structure Map - Student Workmap for applying 5 text structure frames Text Structure Chart with Paragraph Frames Paths for Literacy - Close and Critical Reading
Reading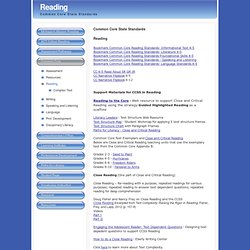 SD ELA Curation Resources
Text Compactor: Free Online Automatic Text Summarization Tool
Reading Critically - Interrogating Texts - Harvard Library LibGuides at Harvard Library
Outline, summarize, analyze: take the information apart, look at its parts, and then try to put it back together again in language that is meaningful to you. The best way to determine that you've really gotten the point is to be able to state it in your own words. Outlining the argument of a text is a version of annotating, and can be done quite informally in the margins of the text, unless you prefer the more formal Roman numeral model you may have learned in high school. Outlining enables you to see the skeleton of an argument: the thesis, the first point and evidence (and so on), through the conclusion. With weighty or difficult readings, that skeleton may not be obvious until you go looking for it. Summarizing accomplishes something similar, but in sentence and paragraph form, and with the connections between ideas made explicit.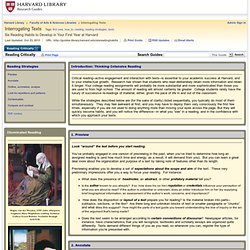 Success at the Core : How Teams & Teachers Transform Instruction
Web 2.0 Financial Literacy K-12 Sites
The Core standards include financial literacy.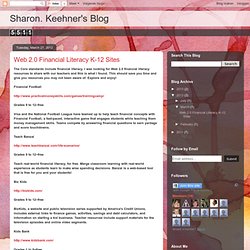 Content Literacy Strategies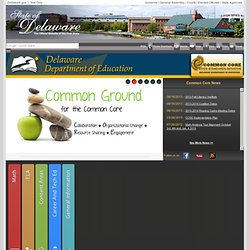 English Language Arts Delaware Department of Education - Common Core State Standards Website - Access the ELA Toolkits for up-to-date Common Core State Standards information and resources. *Please note that many of the items previously on this page have now moved Delaware Department of Education's Common Core State Standard Website - NEW! DE Reading/Literacy Cadre Poetry Outloud Delaware Poetry Outloud Information Website - Register your school to participate in Poetry Out Loud ! Find out about past winner.
DOE English Language Arts [Delaware Department of Education]
English/Language Arts Common Core
DOE English Language Arts - Literacy Concept Organizers Grade 6 [Delaware Department of Education]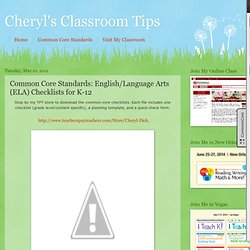 Stop by my TPT store to download the common-core checklists. Each file includes one checklist (grade level/content specific), a planning template, and a quick-check form. Simple. Effective. Time-Saving.
Cheryl's Classroom Tips: ELA Common Core State Standards Checklists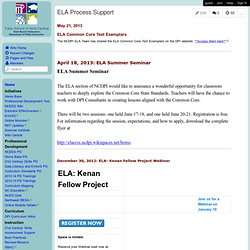 Region 7 Professional Development Support - ELA Process Support
November 14-15, 2011: DPI will host two-days of support for ELA at the Northwest RESA. May 3-4, 2011: Follow Up Support and Process Day 1: DPI's ELA Consultants will provide content support for ELA teachers and district leaders. Day 2: DPI's Regional Professional Development Consultants will partner with Northwest RESA to provide support with resource navigation and professional development roll out. We will use this page to house a variety of resources to assist you with your roll out and implementation plan for the Common Core English Language Arts Standards. Access Heather's Delicious Stack on ELA Common Core Resources ! December 30, 2012: ELA- Kenan Fellow Project Webinar
Common Core State Standards - ELA & Literacy Resources - Oregon Department of Education
The Common Core State Standards (CCSS) for English Language Arts (ELA) & Literacy are the foundation of the K-12 Oregon Diploma; the Essential Skills for reading and writing are embedded within the CCSS. Without these skills, students won't have access to full content in school. That is why the CCSS include reading and writing standards customized for Literacy in History/Social Studies, Science, and Technical Subjects. To be college and career-ready, students learn to read and write in ELA and to apply the skills in all classes. Contacts
Common Core State Standards - English Language Arts
English Language Arts Missouri Learning Standards Implementation Plan Over the past year, a number of English language arts curriculum and assessment activities have been occurring in preparation for the implementation of the Missouri Learning Standards and related curriculum and assessment including: Reinstatement of the Writing Prompts on the grades 3 and 7 grade-level assessments and the English II EOC exam Alignment of existing grade-level and EOC item banks and passages to the Missouri Learning Standards. The information provided by this work will aid in maximizing the assessment of items that align to the Missouri Learning Standards on the 2013 – 2014 assessments.
Common Core - Resources
The Literacy Implementation Guidance for the ELA Common Core State Standards white paper , issued by the IRA Common Core State Standards (CCSS) Committee, offers detailed guidance on seven issues that have proven enormously challenging to teachers, principals, administrators, and others who are charged with implementing the CCSS for English Language Arts. Not an IRA member? Join today! In IRA's Members-Only section, you'll find exclusive columns from professional development authors such as IRA Board Member Douglas Fisher, Nancy Frey, and Diane Lapp.
Common Core State Standards for ELA
On this page, we present the standards and appendices in various groupings to help you study and use all of the documents. We suggest that you look at each of the four component documents in their entirety first, then consider which method of chunking or grouping of the documents best helps you with your implementation tasks. Unless otherwise noted, all files on this page are provided in PDF format.
Implementation of the ELA Common Core State Standards Across the Country
Brenda Overturf (1) is a member of the International Reading Association's Board of Directors. You can reach her at boverturf[AT]reading[DOT]org (2) . This is the final post in a three-part series that examines the English Language Arts Common Core State Standards (CCSS).
NC ELA Common Core - Resources
English Language Arts (ELA) Common Core Standards | Elementary Tests
Reading Level Conversion Chart, Leveling Books | Benchmark Education Company
Text Complexity Grade Bands and Lexile® Bands