iPad Resources
ISTE12 Resources - iPads in Education. 50 Must-Download Apps For Lifelong Learners. Added by Jeff Dunn on 2012-08-13 Long after degrees have been conferred and careers have been launched, many folks just can't seem to quit school.

For them, life provides an overstuffed cornucopia of educational opportunities that don't necessarily require hefty loans and navigating different professorial strategies. Those with a lust for learning who happen to also enjoy testing the limits of what the iPad offers definitely don't have to worry about finding resources to pique their fancy. 40+ Super Secret iPad Features and Shortcuts. We all want to get the very best out of our devices!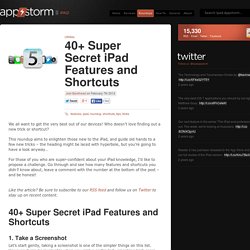 Who doesn't love finding out a new trick or shortcut? This roundup aims to enlighten those new to the iPad, and guide old hands to a few new tricks – the heading might be laced with hyperbole, but you're going to have a look anyway… For those of you who are super-confident about your iPad knowledge, I'd like to propose a challenge. Go through and see how many features and shortcuts you didn't know about, leave a comment with the number at the bottom of the post – and be honest!
50 really useful iPad tips and tricks. With great new features like two video cameras, a faster processor and a Retina display, the new iPad is the world's best tablet device.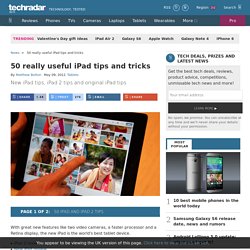 It's also fully capable of running the latest version of Apple's iOS operating system and great apps like iMovie and GarageBand. Here we present 50 really useful iPad tips. We cover everything from customising your Home screen through to getting more from built-in apps like Mail and Safari. iPad Tips & Tricks. Ipad resources. Ipad Apps. Ipad tips. 10 Things You Never Knew You Could Do On Your iPad — Apple News, Tips and Reviews. TheresAnAppForThat - home. 15 Favorite iPad Apps As Selected By Teachers. Out of 125 responses from teachers indicating their top 3 apps, these are the apps that were listed most often.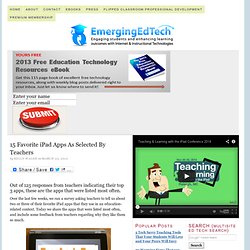 Over the last few weeks, we ran a survey asking teachers to tell us about two or three of their favorite iPad apps that they use in an education-related context. Today we share the apps that were listed most often, and include some feedback from teachers regarding why they like them so much. Parent iPad Info. iPod. It's hard to describe to people all of the magic that happens at Anastasis on a daily basis.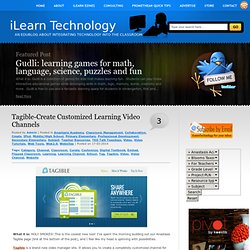 It really does feel like something special, a magical quality of falling down the rabbit hole into another world where school is fun and challenging and wonderful. The learning that happens here is very organic, it lacks a formulaic approach. iPhone & iPod touch News, Reviews, Apps, Accessories, and Tips | TapCentral.
iPads in Education. Blogs and Blog Posts About iPads and Apps App Advice Back to School Apps Cybrary Man's Educational Websites iPod, iPad, and iPhones in the Classroom: Doug's PD Wiki.
PD for ipads. iPad Classroom. Ipad Apps. iPad Classroom. Thoughts on the iPad2 in Teaching. By Shelly Blake-Plock Picked up my own iPad2 about three weeks ago and, as an experiment, I have set my laptop aside and have used nothing but the Apple in the classroom ever since.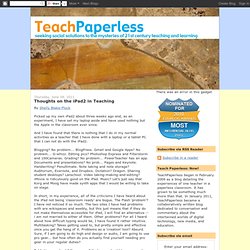 And I have found that there is nothing that I do in my normal activities as a teacher that I have done with a laptop or a tablet PC that I can not do with the iPad2. Blogging? No problem... BlogPress. Top 200 best iPad apps 2011. If you've got yourself an iPad Air or new iPad mini, you'll want to start downloading the best iPad apps straight away.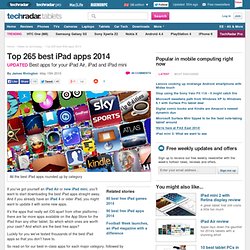 And if you already have an iPad 4 or older iPad, you might want to update it with some new apps. It's the apps that really set iOS apart from other platforms - there are far more apps available on the App Store for the iPad than any other tablet. Top 50 Free Education Apps | iPad, iPhone and iPod Touch App Store App Reviews. 47 Interesting Ways* to use an iPad in the Classroom. iPads in Education. Apps for Education | Official Website. Middle School iPad Apps.
Create and publish your own wikis and blogs.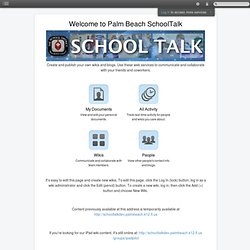 Use these web services to communicate and collaborate with your friends and coworkers. It's easy to edit this page and create new wikis. 65+ iPad Apps Perfect For Elementary School.
iPads in Schools. Special education apps. ISTE iPad in Education - iPad in Education. Quixey - Find apps that do what you want. Professional development. #edpad. Bloomsapps. Using Blooms Taxonomy in education is a highly effective way to scaffold learning for the students.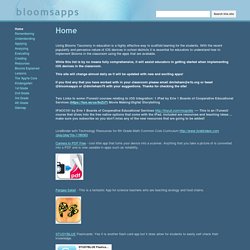 With the recent popularity and pervasive nature of iOS devices in school districts it is essential for educators to understand how to implement Blooms in the classroom using the apps that are available. While this list is by no means fully comprehensive, it will assist educators in getting started when implementing iOS devices in the classroom. This site will change almost daily as it will be updated with new and exciting apps! Hot Apps for Higher Order Thinking. K-5 iPad Apps According to Bloom's Taxonomy | Edutopia. Hilton School iPad Apps. LiveBinders. The LiveBinders App gives you quick access to all of the binders from your LiveBinders.com account. You can also view your custom shelves and create new binders from within the App. Make your content useful: LiveBinders lets you integrate a variety of Web content into virtual 3-Ring binders.
Paste any link into binder tabs. Add and edit text to give your binders more context. iPads in the Classroom. iPads in the Classroom. Notetaking Apps - a comparison of some popular ones. Notetaking apps are a great way to get organized and keep track of everything electronically. There are a lot of different ones out there, so I thought I would go through some of the more popular ones and list some of the features they have. Click on the links for more information on each one also. 1. StoryKeepers - iPad StoryTelling APPS. Storytelling continues to gain popularity as an educational activity.
As it stimulates a deep thinking, creativity and basic literacies, it also enhances and enriches the learning experience for student voices. Storytelling is an art form that uses a story ARC regardless of digital tools used while modernizing the traditional oral storytelling. It is more than "tell about" or "explain something" - a rich, powerful storytelling unfolds a dilemma - a struggle and a resolution organized around a story point or lesson learned. The emotional journey very powerful way of communicating [supported by research] with our audiences be they peers and portraying to others who we are and what our own stories are. Best iPad 2 Apps for Education. iPad Apps. How do I get Apps to this device?
Or If you are new to the mobile world, what is an App? App or an application is a program that can be installed on to the device. The app will have an icon associated with it. iPad As....
---