Crafty things
Stuff to Make in my Old Age
"Don't you get fresh with me, ya hear!" Oh, I love it when adults (especially grandparents) say that to little kids. What does it mean exactly? Does it mean we'd rather children get dirty with us?
delightful country cookin': homemade air freshener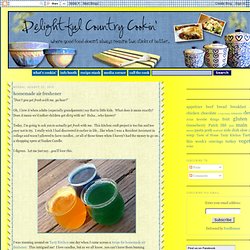 How to make your own air dried porcelain with common household ingredients
Anything that is quick, affordable and makes beautiful things is a craft winner for me . But…I often find myself uninspired for something new and different. I've found it in air dried porcelain (aka Porcelana Fria). What will someone make with 3 cups of white glue (PVA) 3 cups of cornstarch (Corn flour) one tablespoon of white vinegar one tablespoon of glycerin (health food or hobby shop), and 2 tablespoons of canola oil? The beautiful mouse and necklace pictured (compliments of Espirit ) is the answer!
Yes, I am a nerd. I came up with a brilliant idea for a Harry Potter t-shirt and I couldn't resist. "Expecto Patronum!" However, you can make whatever kind of design you want with a freezer paper stencil.
stencil with freezer paper (harry potter tee)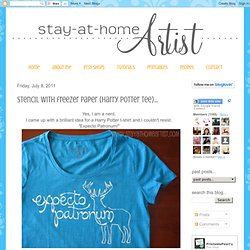 Tutorial: Homemade Sidewalk Chalk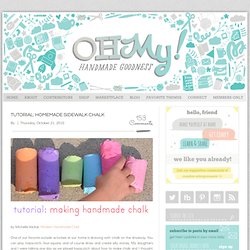 by Michelle Vackar, Modern Handmade Child One of our favorite outside activities at our home is drawing with chalk on the driveway. You can play hopscotch, four-square, and of course draw and create silly stories.
you knew i was going to make one.
they are all over pinterest....(i still am not signed up for pinterest because i don't have time for one more thing but browsing is fun!) so we made one. i took a box of 64 crayons and took out the blacks and browns.i used another small box and doubled up on the good colors i liked and hot glued them to the top of our canvas. then we turned our blow dryer to hot on high.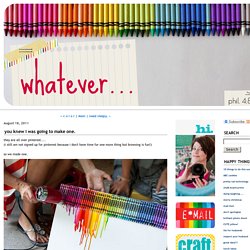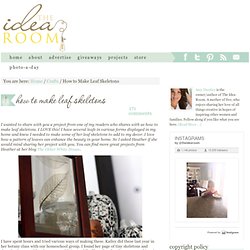 I wanted to share with you a project from one of my readers who shares with us how to make leaf skeletons. I LOVE this! I have several leafs in various forms displayed in my home and knew I needed to make some of her leaf skeletons to add to my decor. I love how a pattern of leaves can enhance the beauty in your home. So I asked Heather if she would mind sharing her project with you. You can find more great projects from Heather at her blog The Other White House.
How to Make Leaf Skeletons
Tutorial: Shabby Chic Dangly Earring Display
This fun little shabby chic earring stand, made from an altered picture frame, is a great way to hang and display all your beautiful, dangling earrings. I had the idea for this project after we talked about my love affair with dangly earrings and how to display them. I don't know about you, but I just love seeing them all hanging in a row!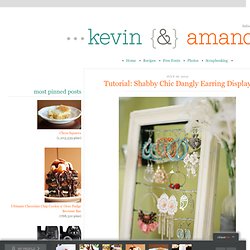 Lots of different ideas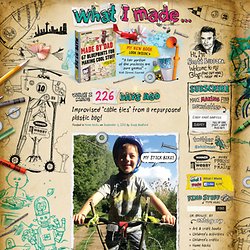 OK, I admit it, this post is more than a little bit tongue in cheek! Never-the-less, the improvised 'cable ties' you can see above, all made from a repurposed plastic bag, prevented our family biking 'adventure' coming to an abrupt end. It all started when my youngest boy fell of his bike. Somehow the impact loosened the handlebars, so much so that the bike became impossible to steer.
Link Party Palooza — and Target Giveaway! April 18, 2014 By Jen 39 Comments It's Friday!!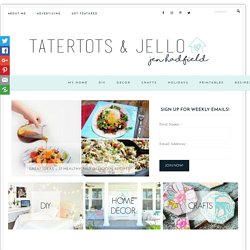 Tatertots and Jello
Classy Clutter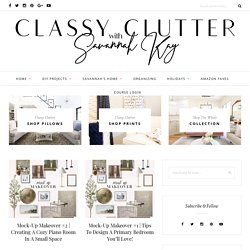 Last year Mallory and I made this awesome candy cane wreath and I LOVE IT! I want one like this for every holiday. We are both crazy about feathers, glitter, bling and all things GLAM! Since our favorite holiday is approaching, we'd better get started on the Christmas decor! Let's get started! 4 feather boas (2 red, 2 white)
by Ophelia on 2/10/2014 looking on the side FWB....... Hello, x year good old male here looking for a women for nsa situation(clean, enjoyable & safe). Anyone who are able to host comes to start fucking Ashton-under-Lyne with. i have an important pic to business. fucking Ashton-under-Lyne Heiligenhaus DE Germany, Cottondale town, Valley Hill CDP, Newry borough, Saanich, British Columbia, Atherstone, Game Creek AK, Egan South Dakota SD Friends i want sex tonight North Hyde Park Vermont VT, lonely housewives Snowmass Colorado.
13 sites to get your creative juices flowing | dreambeaker
The Looks For Less » Blog Archive » Manicure Mondays – Feather Nails
My sister is back in Florida visiting from Washington and we're having so much fun together! She did the way popular lace manicure for me last month and I dared her to come up with another manicure as fun as the last. We ended up in Michael's with a cart full of feathers and boas and this is what we came up with.
Water Marble Tutorial. Supplies: orange stick or toothpick, shot glass or cup (the smaller the circumference, the less polish you end up wasting), room temp. water, nail polish, tape (optional, but it helps with the clean up) I like to begin by prepping my nails with base coat and one coat of polish.
Water Marble Tutorial. Supplies: orange stick or...
How to Make Crayon Monogram | Tutorial
Apr Spring is finally rolling in here. The grass is turning a little green, the trees are budding and there are little shoots coming up where my tulips (I hope!)
Craft Gossip
ORANGE RIND VOTIVES - StumbleUpon
♥ The Paper Mama
Creative food craft ideas | Edible Crafts | CraftGossip.com
Someday Crafts
A girl and a glue gun