Menu
Sexy Drop Down Menu w/ jQuery. Jun 02 2009 Studies show that top navigations tend to get the most visual attention when a user first visits a site.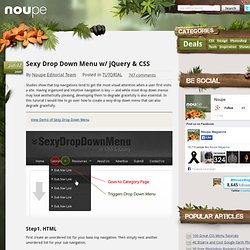 Having organized and intuitive navigation is key — and while most drop down menus may look aesthetically pleasing, developing them to degrade gracefully is also essential. In this tutorial I would like to go over how to create a sexy drop down menu that can also degrade gracefully. View Demo of Sexy Drop Down Menu. Introducing jQuery. jQuery is an open source, cross browser JavaScript library that simplifies event handling, animations and developing Ajax - enabled web pages and promotes rapid application development.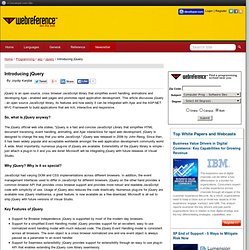 This article discusses jQuery - an open source JavaScript library, its features and how easily it can be integrated with Ajax and the ASP.NET MVC Framework to build applications that are rich, interactive and responsive. So, what is jQuery anyway? The jQuery official web site states, "jQuery is a fast and concise JavaScript Library that simplifies HTML document traversing, event handling, animating, and Ajax interactions for rapid web development. jQuery is designed to change the way that you write JavaScript. " jQuery was released in 2006 by John Resig. Since then, it has been widely popular and acceptable worldwide amongst the web application development community world – wide. jQuery Overview. jQuery Overview(Page 1 of 4 ) History jQuery 1.0 was released in 2006 and was originally written primarily by John Resig of the Mozilla Software Foundation.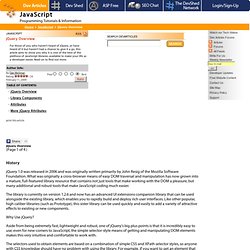 What was originally a cross-browser means of easy DOM traversal and manipulation has now grown into a mature, full-featured library resource that contains not just tools that make working with the DOM a pleasure, but many additional and robust tools that make JavaScript coding much easier. The library is currently on version 1.2.6 and now has an advanced UI extensions companion library that can be used alongside the existing library, which enables you to rapidly build and deploy rich user interfaces. Like other popular, high caliber libraries (such as Prototype), this sister library can be used quickly and easily to add a variety of attractive effects to existing or new components.
Popular JavaScript Framework Libraries: An Overview - Part 2. Welcome back to our overview of the most popular JavaScript Framework Libraries.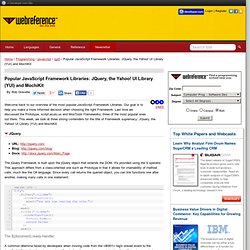 Our goal is to help you make a more informed decision when choosing the right Framework. Last time we discussed the Prototype, script.aculo.us and MooTools Frameworks, three of the most popular ones out there. Perfect PHP Pagination [PHP & MySQL Tutorials] Pagination is a topic that has been done to death — dozens of articles and reference classes can be found for the management of result sets … however (and you knew there was a "however" coming there, didn't you?)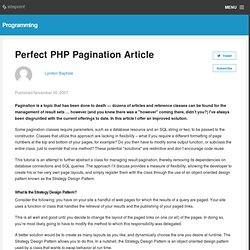 I've always been disgruntled with the current offerings to date. In this article I offer an improved solution. Some pagination classes require parameters, such as a database resource and an SQL string or two, to be passed to the constructor.
---