Wireless
Get flash to fully experience Pearltrees
Une expérimentation menée sur la 4ème génération de téléphonie mobile montre que les fréquences utilisées brouillent la réception de la télévision.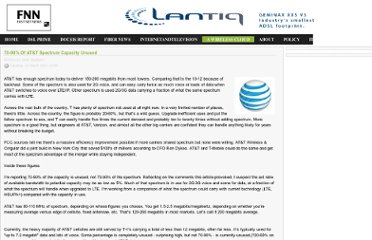 AT&T has enough spectrum today to deliver 150-200 megabits from most towers.
HotelChatter Annual WiFi Report 2010 :: Best :: Worst :: International :: FAQ :: Chart
It's hard to believe nowadays, but in a simpler time, cellphones really were called "cell phones," not dumbphones, smartphones, feature phones, or superphones. They bulged in your pocket -- if they fit in your pocket at all, that is -- and they made calls. That's it.
If all goes according to AT&T's wishes, the city of Palo Alto may soon become the premier testing spot for Ma Bell's plan to boost its cellular network power by installing a large number of small cellular antennas around town . Ostensibly billed as a method for AT&T to overcome terrestrial and urban challenges in Palo Alto, the small-antenna plan for Silicon Valley's cultural nexus is also part of a big nationwide push of Distributed Antenna System (DAS) technology deployment by AT&T to help Ma Bell get its overtaxed cellular network back up to speed. Historically used to improve cellular coverage inside buildings , DAS is basically a method to deploy a series of synchronized smaller antennas instead of a larger, cellular antenna array, such as those found atop buildings or on the unsightly antenna towers that are now a common part of the urban landscape.
I picked up on an article over at ArsTechnica which references a Cisco report on mobile data usage ( World Mobile Data Traffic to Explode By Factor of 26 by 2015 ).
According to a new report, LTE handsets will interfere with cable TV if used within six metres of a set top box. Powerful LTE devices seems to be on a collision course with existing tv and broadband connections This report provides the analysis of the interference to Cable Networks from the deployment of Electronic Communications Services in the 790-862 MHz band.
agency Agentschap Telecom (AT), LTE phones operating at commonly used LTE bandwidths of 5-10MHz create interference on digital cable-connected TVs.
WHAT would you rather have - a superfast data connection on your cellphone, or a reliable GPS signal to pinpoint your location? If a plan to install a network of base stations for the new 4G mobile wireless protocol goes ahead, it may mean you can have one but not the other.
You should have seen my wife's face when she found me glued to the Victoria's Secret Fashion Show.