Flash
Introduction Propos Je vais montrer comment utiliser le langage des feuilles de style en cascade (CSS) pour créer un menu à onglets. La technique utilisée n'a rien de nouveau, mais elle sera l'occasion d'aborder plusieurs sujets rarement traités en un même endroit. Tout au long de mon exposé, je ferai référence à des considérations méthodologiques, notamment sur les principes de développement, les outils de validation et les raccourcis d'écriture CSS. Les plus pressés peuvent aller directement au fichier HTML complet , ainsi qu'aux feuilles de style « normal.css », « ie.css » et « ie6.css ».
Créer un menu à onglets avec CSS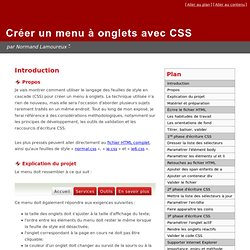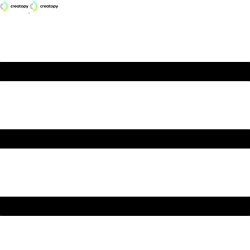 Classic banners Create professional flash banners the easy way. View examples Interactive flash banners Say "Go beyond the conventional flash banner by adding interactivity.
Flash banner examples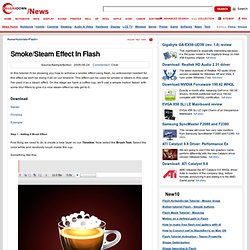 Smoke/Steam Effect In Flash-Hardware Infomation and Computer Tutorials
In this tutorial i'll be showing you how to achieve a smoke effect using flash, no actionscript needed for this effect as we'll be doing it all on our timeline. This effect can be used for smoke or steam in this case I've used it as a steam effect. On the stage we have a coffee cup, we'll use a simple motion tween with some blur filters to give it a nice steam effect so lets get to it. Download Starter Finished
How to make a Flash Flip Book with Flipdoo Publisher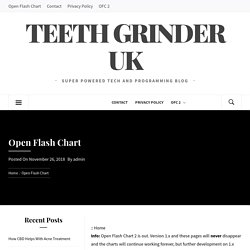 Hello, this is the Open Flash Chart project. Get graphs like this for free: <object classid="clsid:d27cdb6e-ae6d-11cf-96b8-444553540000" codebase="http://fpdownload.macromedia.com/pub/shockwave/cabs/flash/swflash.cab#version=8,0,0,0" width="500" height="250" id="ie_chart" align="middle"><param name="allowScriptAccess" value="sameDomain" /><param name="movie" value="open-flash-chart.swf?data=http%3A%2F%2Fteethgrinder.co.uk%2Fopen-flash-chart%2Fdata.php" /><param name="quality" value="high" /><param name="bgcolor" value="#FFFFFF" /><embed src="open-flash-chart.swf?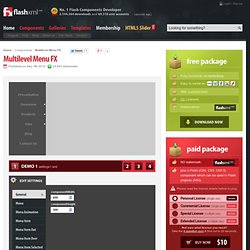 Multilevel Menu FX
The "Personal License (single use)" grants you a non-exclusive and non-transferable right to make use of this product in a single non-commercial* website (or application**), your own work or client work. * A non-commercial application is an application which is not owned by a company, even if the application in which this product will be included does not directly generate income an individual, when the application in which this product will be included generates income in any form (i.e. a website with paid advertising) ** An application can be a website, a software, an electronic document such as a PowerPoint presentation or an e-book, a printed document, a video production
The "Personal License (single use)" grants you a non-exclusive and non-transferable right to make use of this product in a single non-commercial* website (or application**), your own work or client work. * A non-commercial application is an application which is not owned by a company, even if the application in which this product will be included does not directly generate income an individual, when the application in which this product will be included generates income in any form (i.e. a website with paid advertising) ** An application can be a website, a software, an electronic document such as a PowerPoint presentation or an e-book, a printed document, a video production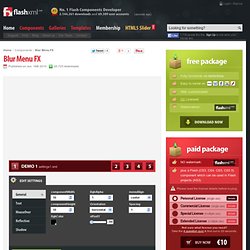 Blur Menu FX