css
Get flash to fully experience Pearltrees
Pourtant l'une des propriétés les plus utilisées en matière de CSS, float , avec ses valeurs left , right et none , reste celle dont le comportement est le moins prédictible par les designers Web même non débutants. Combiné à la propriété clear , et ses valeurs left , right , both et none , cela donne parfois des arrangements de règles hasardeuses dont l'affichage final est le résultat avant tout à d'une suite de tâtonnements et de rechargements de page. Comprendre le comportement de float implique une compréhension plus globale de la philosophie des CSS, notamment celle du flux. Les CSS sont en effet conçues pour afficher les éléments au sein d'un flux : pour simplifier, les éléments en ligne, ou inline , sont affichés les uns à la suite des autres, tandis que les éléments conteneurs, ou block , amènent un retour à la ligne après leur affichage.
Multiple backgrounds are supported through the standard background property in CSS3. Not only images are possible but also gradients . Compatibility
About the CSS Layout Generator The CSS Layout Generator was first released by Tony Aslett in October 2003, since then over 871,000 layouts have been generated. Updated in November 2010, HTML5 doctype can now be selected and a simple HTML5 template with appropriate tags will be created.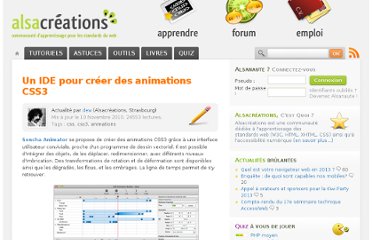 Sencha Animator se propose de créer des animations CSS3 grâce à une interface utilisateur conviviale, proche d'un programme de dessin vectoriel. Il est possible d'intégrer des objets, de les déplacer, redimensionner, avec différents niveaux d'imbrication. Des transformations de rotation et de déformation sont disponibles ainsi que les dégradés, les flous, et les ombrages. La ligne de temps permet de s'y retrouver. L'avantage est de gagner du terrain face à des outils tels que Flash qui disposent déjà depuis de nombreuses années d'un environnement tout-en-un permettant de produire des animations sans devoir toucher à une quelconque ligne de code.