Strategy & Management
The Best Third-Grade Teacher Ever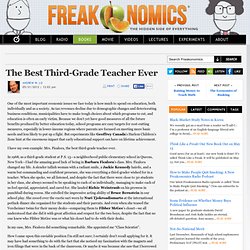 One of the most important economic issues we face today is how much to spend on education, both individually and as a society. As tax revenues decline due to demographic changes and deteriorating business conditions, municipalities have to make tough choices about which programs to cut, and education is often an early victim. Because we don't yet have good measures of all the future benefits produced by better education today, school programs are easy targets for cost-cutting measures, especially in lower-income regions where parents are focused on meeting more basic needs and less likely to put up a fight. But experiments like Geoffrey Canada's Harlem Children's Zone hint at the enormous impact that early educational support can have on lifetime achievement. I have my own example: Mrs. Ficalora, the best third-grade teacher ever.
The 10 Most Important Marketing Trends According To Sir Martin Sorrell
Are you making the most of your company's 'software layer'? - McKinsey Quarterly - Marketing & Sales - Digital Marketing
The past 15 years have created a very different business environment, which has empowered consumers, commoditized many products and services, and dramatically compressed margins. Not surprisingly, these changes have forced businesses to operate differently. But exactly what kinds of companies have successfully transitioned to the digital age? How have they regained and retained competitive advantage at a time when location is no longer a barrier to transactions, brands alone aren't a proxy for quality, and pricing is increasingly transparent? Of course, the answers to these weighty questions vary by industry and company.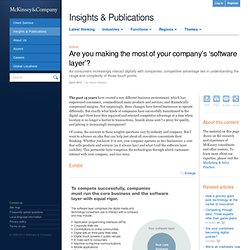 Ready for the Fight: Rolling Stone Interview with Barack Obama | Politics News | Rolling Stone
Google's $12 Billion Toy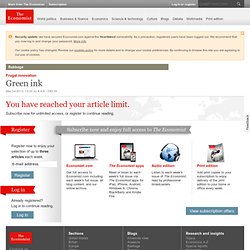 Frugal innovation: Green ink
BY 2017 printing presses around the world will lap up 3.7m tonnes of ink, worth some $18 billion. Most of it will contain hydrocarbon-based solvents resulting in emission of volatile organic compounds (VOCs), an undesirable by-product of the manufacturing process. But not all.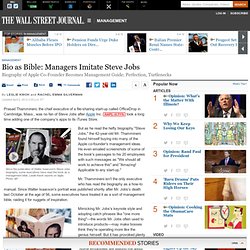 Updated April 2, 2012 2:20 p.m. ET Prasad Thammineni, the chief executive of a file-sharing start-up called OfficeDrop in Cambridge, Mass., was no fan of Steve Jobs after Apple Inc. AAPL -0.67% Apple Inc.
Bio as Bible: Managers Imitate Steve Jobs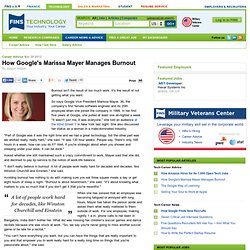 Burnout isn't the result of too much work. It's the result of not getting what you want. So says Google Vice President Marissa Mayer, 36, the company's first female software engineer and its 20th employee when she joined the company in 1999.
How Google's Marissa Mayer Manages Burnout
Federal Reserve Economic Data - FRED - St. Louis Fed
Special Report: The Sony Schism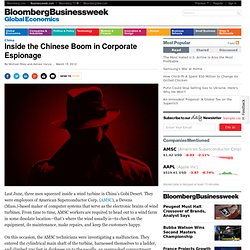 Inside the Chinese Boom in Corporate Espionage
Last June, three men squeezed inside a wind turbine in China's Gobi Desert. They were employees of American Superconductor Corp. (AMSC), a Devens (Mass.)-based maker of computer systems that serve as the electronic brains of wind turbines.
Five Leadership Mistakes Of The Galactic Empire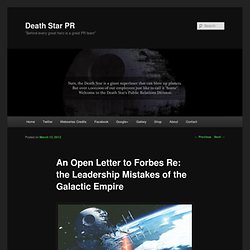 An Open Letter to Forbes Re: the Leadership Mistakes of the Galactic Empire
Dear Forbes, In your recent article of 13 February 2012, you detailed the Five Leadership Mistakes of the Galactic Empire. Whilst we could strongly question the sanity of a business news website willing to suggest that the people with the ability to kill you with Force lightning or telekinetic choking powers have made several errors in judgement, especially when those people own a gigantic planet-exploding laser, we have decided to refute your claims to keep us occupied whilst we're charging up said laser en route to your planet.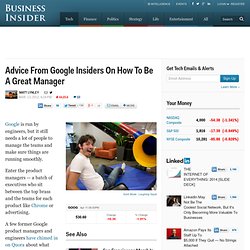 Management Lessons You Should Steal From Google
Whatever product you are assigned to, it is entirely your responsibility. That means you should be going out of your way to make it perfect — grilling engineers, checking for bugs and finding out what users think. "This goes a long way, if you own the product, you are the first one looking for bugs, first communicating with users and first worrying about whether or not you got it right. You're always first to volunteer to do the many varied tasks that go along with running a product/team like taking notes, sending emails to customers, filling things out, triaging bugs, or doing a quick mockup."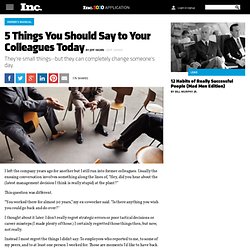 I left the company years ago for another but I still run into former colleagues. Usually the ensuing conversation involves something along the lines of, "Hey, did you hear about the (latest management decision I think is really stupid) at the plant?" This question was different. "You worked there for almost 20 years," my ex-coworker said.
Executives speak in a language of their own
AFrench diplomat recently shrugged at news that Tunisians were rejecting his language and enrolling in English classes. "You can't be in this globalised world without being able to speak English," he said. How will these eager new English speakers fare?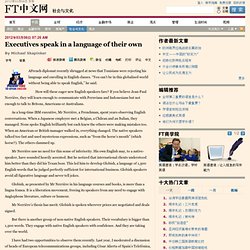 Description If you can be a product manager, you can acquire the experience of acting as a CEO. The skills gained in product roadmapping, prioritizing tasks, interoffice communications, customer understanding, and product marketing are absolute necessities for being an effective enterprise lead.
Mark Pincus, Zynga - Bing Gordon, Kleiner Perkins Caufield & Byers - Product Management as CEO Training
Retailers and the internet: Clicks and bricks
Given the vast proliferation of VC-backed emerging technology companies in southern California and the current state of the economy, serial entrepreneurs, investors and board members of these companies are revisiting their strategic objectives and considering an exit strategy involving a sale of the business rather than an initial public offering (IPO). Executives must be mindful of the potential pitfalls that exist when pursuing a strategic sale and should be ready to address the key issues that will come up in the mergers and acquisitions transactions for these technology companies. Failure to adequately address key issues may lead to disruption in both businesses (buyer's and seller's) or the delay or even derailment of bringing good technologies and products to an eager marketplace. Deciding to be Acquired For most technology companies, pursuing an IPO may not be the most effective manner to address their principal business concerns.
M&A Primer for Tech Company Directors | Directorship | Boardroom Intelligence
Tony Fernandes says he is living a "boy's own dream." Last summer, the Malaysian-born entrepreneur was running Asia's biggest budget airline, a Formula 1 team and a global hotel chain. Clearly, this wasn't demanding enough, because in August the self-confessed sports fan paid around £35 million ($55.4 million) for a majority stake in English Premier League soccer team Queens Park Rangers. For a shy boy who, at the age of 12, was dispatched on his own from Malaysia to a private school in England, Mr. Fernandes...
Planes, Games and Automobiles