Startups
No joke. This is going be a bullet FAQ on starting a business. If you're a lawyer, feel free to disagree with me so you can charge someone your BS fees to give the same advice.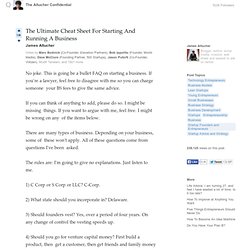 The Ultimate Cheat Sheet For Starting And Runni... - The Altucher Confidential - Quora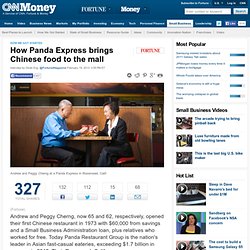 Andrew and Peggy Cherng at a Panda Express in Rosemead, Calif. (Fortune) Andrew Cherng: I was born in Yangzhou, China, two years after World War II ended. I was 5 when my family escaped to Taiwan.
How Panda Express brings Chinese food to the mall - Feb. 5, 2013
The dichotomy of reactions by Silicon Valley and Wall Street to Apple's most recent quarter are so far apart it's comical. At least, it would be comical if it didn't involve tens of billions of dollars flying out the proverbial window. Apple posted a monster Q1 , logging a whopping $54.5 billion in revenue and $13.1 billion in earnings. The company sold 47.8 million iPhones and 22.9 million iPads in the quarter, all records for Apple. Apple's reward?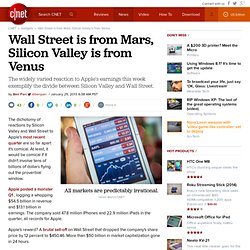 Wall Street is from Mars, Silicon Valley is from Venus | The Social Analyst
Meet the World's Cheapest Venture Capitalist | Wired Business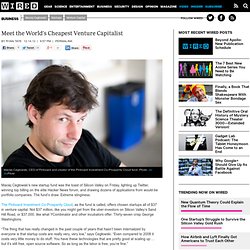 Maciej Cegłowski, CEO of Pinboard and creator of the Pinboard Investment Co-Prosperity Cloud fund. Photo: Joi Ito/Flickr Maciej Cegłowski's new startup fund was the toast of Silicon Valley on Friday, lighting up Twitter, winning top billing on the elite Hacker News forum, and drawing dozens of applications from would-be portfolio companies. The fund's draw: Extreme stinginess.
A New Home for Computer Screens: The Face
Waterstones Bookstores in U.K. to Sell Amazon Kindles
Sorry, Mark Zuckerberg, but I've got a bad case of Facebook fatigue
$19bn and just married ... I hope Mark Zuckerberg got a prenup, says Donald Trump
www.forbes.com At long last, Yahoo has announced a plan to monetize its stake in Chinese internet company Alibaba. It's complicated, and it will be in stages, but the process has begun, and Yahoo says it will get about $7.1 billion in short order, via Alibaba's repurchase of half of Yahoo's stake in the company. The plan is exactly what was reported last week by Kara Swisher at AllThingsD.
Yahoo Announces Alibaba Plan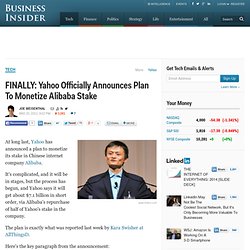 Eduardo Saverin joins the stateless billionaires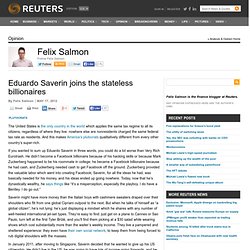 The United States is the only country in the world which applies the same tax regime to all its citizens, regardless of where they live: nowhere else are nonresidents charged the same federal tax rate as residents. And this makes America's plutocrats qualitatively different from every other country's super-rich. If you wanted to sum up Eduardo Saverin in three words, you could do a lot worse than Very Rich Eurotrash.
Nasdaq's Facebook Problem
It's springtime in America and that means it's proxy season, when most publicly traded companies hold annual meetings, and shareholders elect corporate directors. So it seems a good time to review the state of corporate governance: It's slipping. Mark Zuckerberg, the Facebook Inc. founder and chairman, last month agreed to pay $1 billion for the photo-sharing service Instagram without consulting his board. Groupon Inc. in March had to correct its very first quarterly report as a public company and also reveal a "material weakness" in its internal controls, meaning it lacked checks and balances even after accounting missteps last year. LinkedIn Corp., Zynga Inc. and Groupon went public late last year with dual-class shares, which grant their founders and directors super-voting rights to trump ordinary shareholders' one vote per share. If a corporate raider tries to oust the management, the dual-class shares will protect them -- even if they are performing badly.
Silicon Valley Is Moving Backward on Shareholder Rights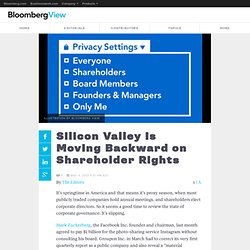 Qualtrics: Tech's Hidden Gem In Utah
Authors no longer have to impress stodgy English majors to get their book a quality review: new research from the Harvard Business Review shows that the aggregate rating of Amazon reviewers are every bit as good as professional book critics. Professional book critics, on the other hand, suffer from nepotism: critics give more favorable reviews to their colleagues, authors who agree with their ideological slant, and if the book has been given an award by other critics. The result, implies this new research, is that Amazon has democratized the book reviewing process, with consumer reviewers less beholden to special interests and more representative of the book-reading masses. Perhaps most importantly, it rebuts critics who have claimed that Amazon is nothing more than a cauldron of corrupt and uneducated opinions.
Amazon Killed The Book Reviewer Star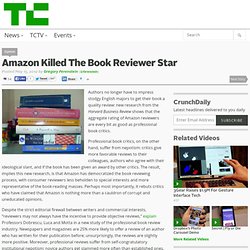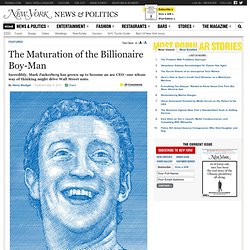 The Maturation of Mark Zuckerberg
If all goes as planned, Facebook will finally pull the trigger later this month on its long-salivated-over IPO. The deal could value the company in the neighborhood of $100 billion, making founder and CEO Mark Elliot Zuckerberg's own unusually large stake worth $25 billion. It is a huge sum, even in context. Zuckerberg's impending fortune is more money than Wal-Mart's 10,000-plus stores made last year. It's more than Wall Street paid in bonuses to New Yorkers last year. And it has been amassed in only eight years by a 27-year-old who not long ago passed out business cards reading "I'm CEO, bitch."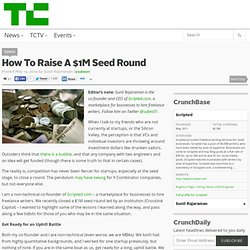 Editor's note: Sunil Rajaraman is the co-founder and CEO of Scripted.com, a marketplace for businesses to hire freelance writers. Follow him on Twitter @subes01. When I talk to my friends who are not currently at startups, or the Silicon Valley, the perception is that VCs and individual investors are throwing around investment dollars like drunken sailors. Outsiders think that there is a bubble, and that any company with two engineers and an idea will get funded (though there is some truth to that in certain cases). The reality is, competition has never been fiercer for startups, especially at the seed stage, to close a round. The pendulum may have swung for Y Combinator companies, but not everyone else.
How To Raise A $1M Seed Round
LinkedIn: Great New Feature Thanks To These 20-Something Entrepreneurs
Crocodoc Ryan Damico is a co-founder of Crocodoc. UPDATE: Ryan Damico, who we interviewed, asked us to clarify a few things he said in our interview with him. We've included updates and clarifications from him in-line below.
When I read over law paperwork, I'm like When someone asks what is our business model, I'm like When I don't see anyone at an event I know, I'm like When I finally get user feedback that's positive, I'm like When I google for a great idea I have and it already exists, I'm like When I don't get invited to a conference, I'm like
Tumblr's President Resigns
On the surface, value propositions seem incredibly straightforward. I'd argue that this is why, in practice, they're often given such short shrift. In reality, getting a value proposition right requires some focused thinking and structured analysis, some of which I'll preview here. Given my particular background, much of what I recommend will have a bias to B2B startups — though, in many instances, I think that you'll find applicability to virtually any endeavor.
Must-read for founders: A VC explains how to build a killer value proposition
Six tips for creating a killer brand for your company
There are misconceptions about how important branding it is to success, how much work it takes, and the best ways to approach it. But every company, from a fresh-faced tech-startup to Apple, knows good branding can make a product or service. Branding is how you present your company — your name, imagery, reputation — to the world through logos, ads, marketing materials, websites, apps, and social media.
471inShare Jump To Close Google's very own "Loch Ness monster," also known as Google Drive, has finally launched. It's the new face of Google Documents, and it's also Google's oft-rumored Dropbox-killer.
The Man Who Makes the Future: Wired Icon Marc Andreessen | Epicenter
What If Facebook Isn't So Special After All?
10 Things Chinese Startups Can Learn from Facebook
Want to get acquired by Google? Google VP explains how to go big
An Open Letter To Those Not Employed At Instagram
Stop Looking For A Technical Co-founder
Groupon's restatement doesn't add up
HEARD ON THE STREET: Facebook's Instant Product Fix
HEARD ON THE STREET: AOL: You've Got Moolah
Hotel's Free Wi-Fi Comes With Hidden Extras
iPhone + Cute Puppy = an i-Puppy for Apple Pet Fans - Japan Real Time
Why Groupon is poised for collapse — an update « reDesign
Selling You on Facebook
Amazon: £7bn sales, no UK corporation tax | Technology
How one word change lets Amazon pays less tax on its UK activities | Technology
一个创业者的告别:投身互联网两次失败
How Groupon accounts for its deals
Introducing Gmail Tap
Daniel Soar reviews 'The Googlisation of Everything (and Why We Should Worry)' by Siva Vaidhyanathan, 'In the Plex' by Steven Levy and 'I'm Feeling Lucky' by Douglas Edwards · LRB 6 October 2011
The "D" in Action: Yahoo Layoffs Coming Wednesday, International to Be Hit Hard
Dear Google User: We're Sure You're Going to Love This
Singapore Conferences
Draw Something Changes the Game Quickly for Omgpop
Bernard Leong Presentations
That Thing You (Forget to) Do Part 1: Product Development
Big Data: The Only Business Model That Tech Has Left
Start-Ups Resist Facebook's Pull
团宝网"跑路"CEO任春雷:危难是人性的试金石
任春雷反思团宝网:资本是毒药 沦落因风投贪婪
A Window into the Demise and Bizarre Rebirth of TuanBao
Tuanbao CEO Ren Chunlei: 'Investment is Poison'
Taobao Launches Microsite to "Name and Shame" Counterfeit Sellers and Cheats
Here are the 76 products that vied for attention at DEMO Asia
Buy Pandora: After Such A Quarter, Do Not Lose Sight Of The Long-Term Opportunities
Ideas for Asia's travel innovators… from the West
I Paid a Bribe and Similar Corruption-Exposing Sites Spread
How Wall Street Bankers Use Seamless To Feast On Free Lobster, Steak, And Beer
Twitter, the Startup That Wouldn't Die
Selling unusual online
A cheat sheet of peer-to-peer car sharing players — Cleantech News and Analysis
Ten Lessons I Learned from Shark Tank Altucher Confidential
How I Helped Mark Cuban Make a Billion Dollars and 5 Things I Learned from Him Altucher Confidential
Work Hard, Work Hard, Work Hard
Singapore, Indonesia, and Lazy Founders
Venture Firm Seeks the Atypical, and Finds It in Brazil
Adam Lashinsky: 'There's nothing shiny or happy … inside the doors of Apple'
9 bootstrapping ideas for small business publicity
Motivation Killers: 9 Things You Should Never Ask Employees
eCommerce Ventures in Indonesia – A Sucker's bet
Is the Internet Finally Robbing the Greedy Financier's Gravy Train?
Brazil: The New Home of Financial Innovation?
How Startups like Frank & Oak Are Changing How Men Shop for Clothes