Science & Technology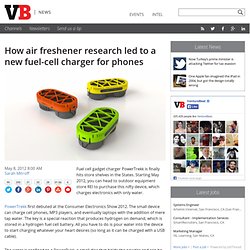 How air freshener research led to a new fuel-cell charger for phones
Fuel cell gadget charger PowerTrekk is finally hits store shelves in the States. Starting May 2012, you can head to outdoor equipment store REI to purchase this nifty device, which charges electronics with only water. PowerTrekk first debuted at the Consumer Electronics Show 2012. The small device can charge cell phones, MP3 players, and eventually laptops with the addition of mere tap water. The key is a special reaction that produces hydrogen on demand, which is stored in a hydrogen fuel cell battery.
Oracle v Google: Who owns the perk in Java?
Nevada issues Google first license for self-driving car - Monday, May 7, 2012 | 1:04 p
AP Photo/Sandra Chereb Gov. Brian Sandoval takes a spin in a driverless car Wednesday, July 20, 2011, in Carson City.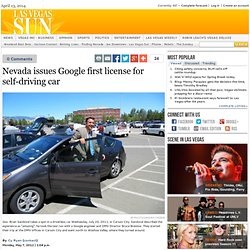 The Trust Molecule by Paul J. Zak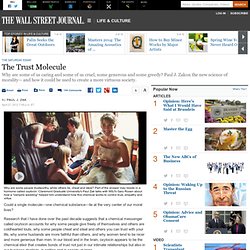 April 27, 2012 7:48 p.m. ET Could a single molecule—one chemical substance—lie at the very center of our moral lives? Research that I have done over the past decade suggests that a chemical messenger called oxytocin accounts for why some people give freely of themselves and others are coldhearted louts, why some people cheat and steal and others you can trust with your life, why some husbands are more faithful than others, and why women tend to be nicer and more generous than men. In our blood and in the brain, oxytocin appears to be the chemical elixir that creates bonds of trust not just in our intimate relationships but also in our business dealings, in politics and in society at large. Known primarily as a female reproductive hormone, oxytocin controls contractions during labor, which is where many women encounter it as Pitocin, the synthetic version that doctors inject in expectant mothers to induce delivery.
Look Ma, I Made It Myself! 10 Amazing Things 3-D Printers Can Do Now | Wired Design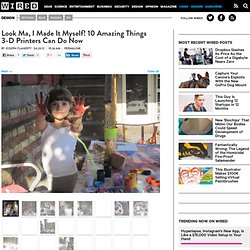 The breathless predictions about 3-D printers — they'll revolutionize X, Y, and Z industries, they'll even mop your floors! — can steal the spotlight from the everyday applications already in use. Analysts predict 3-D printing will become a $3.1 billion industry by 2016, driven by manufacturers of everything from shoes to sedans. Here are 10 ways 3-D printing is reshaping industrial design now.
Why is Android on iPhone or Lumia so difficult? | The Verge Forums
Updated at 4:37 p.m. PT with more information from Albeluhn. When people become unemployed, they often fall prey to feelings of helplessness.
Unemployed game designer creates mind-blowing solar system explorer app
Here Is A Hilariously Inept Beer-Pouring Robot
Why Some Countries Go Bust
Google Search Revamp: A Step Closer to Artitifical Intelligence - Digits
Richard A. Lovett A powerful sun storm—associated with the second biggest solar flare of the current 11-year sun cycle—is now hitting Earth, so far with few consequences. But the potentially "severe geomagnetic storm," in NASA's words, could disrupt power grids, radio communications, and GPS as well as spark dazzling auroras. The storm expected Thursday, though, won't hold a candle to an 1859 space-weather event, scientists say—and it's a good thing too.
Solar Flare: What If Biggest Known Sun Storm Hit Today?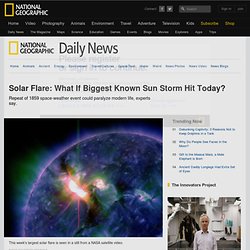 A storm's a brewin', but it ain't no wimpy thunderstorm. It's a solar storm. One of the largest solar flares of the current cycle erupted Tuesday night, producing a solar storm that headed toward we Earthlings. It was expected to hit Earth Thursday or Friday, and according to the NOAA NWS Space Weather Prediction Center's Facebook page, it struck today. The group posted earlier this morning, "The anticipated geomagnetic storm is here, but we haven't seen much as of yet - why is that the case?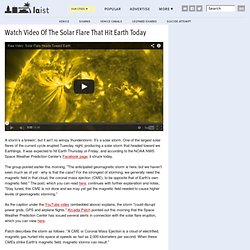 Watch Video Of The Solar Flare That Hit Earth Today
Updated March 7, 2012 5:22 p.m. ET WASHINGTON—The largest solar storm in five years is racing toward Earth, threatening to unleash a torrent of charged particles that could disrupt power grids, GPS and airplane flights. The sun erupted Tuesday evening, and the effects should start smacking Earth between 1 a.m. and 5 a.m. EST Thursday, according to forecasters at the federal government's Space Weather Prediction Center. They say the storm, which started with a massive solar flare, is growing as it speeds outward from the sun.
Biggest Solar Storm in Five Years to Hit Earth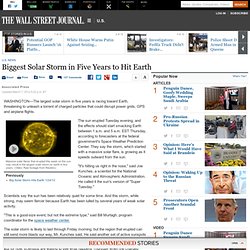 Citigroup to use smartest computer ever built to improve customer service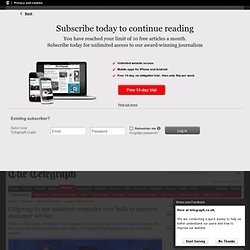 The computer, which was developed by IBM, came to prominence last year after it managed to beat all the humans it challenged on US gameshow Jeopardy. The format of the long-running show involves contestants being given the answer and having to work out the question – mental gymnastics that were thought to be impossible for a computer to master. Citigroup, the world's third-largest bank, is evaluating how Watson can crunch data to improve customer service. "It can help knowledge workers – loan officers, portfolio managers and financial advisers – to make sense of the unstructured data," said Manoj Saxena, the man driving Watson's push into Wall Street. In a blog entry, an IBM general manager suggested Watson could eventually help customers decide how much money they needed to retire or whether they should reshuffle their investments.
Britain's Greatest Codebreaker: the tragic story of Alan Turing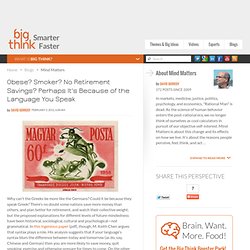 Obese? Smoker? No Retirement Savings? Perhaps It's Because of the Language You Speak | Mind Matters
Why can't the Greeks be more like the Germans? Could it be because they speak Greek? There's no doubt some nations save more money than others, and plan better for retirement, and watch their collective weight, but the proposed explanations for different levels of future-mindedness have been historical, sociological, cultural and psychological—not grammatical. In this ingenious paper (pdf), though, M.
With rendition switcher Michio Kaku: Some people ask the question, "What is the biggest disaster of 2012, if we had a crystal ball?" Well, first of all, let me tell you what's probably not going to happen in 2012. We're probably not going to see Armageddon, doomsday, the end of the world, the apocalypse, even if you look at the Mayan calendar.
We Are Sitting Ducks for Solar Flares | Michio Kaku
Discovering a Soft Spot for Circuitry - Robot Machines as Companions
Paro is a robot modeled after a baby harp seal. It trills and paddles when petted, blinks when the lights go up, opens its eyes at loud noises and yelps when handled roughly or held upside down. Two microprocessors under its artificial white fur adjust its behavior based on information from dozens of hidden sensors that monitor sound, light, temperature and touch. It perks up at the sound of its name, praise and, over time, the words it hears frequently. "Oh, there's my baby," Ms. Oldaker's mother, Millie Lesek, exclaimed that night last winter when a staff member delivered the seal to her.
Purchasing a new TV can be confusing, especially if you are trying to decide whether to buy an LCD TV or an LED TV, similar to buying a smartphone. There are a lot of features in newer TVs that want to grab your attention, making it difficult to make a decision on features alone, hopefully the information in this article will give you enough details on the difference between LCD and LED TVs. The Most Important Thing: The Display
Difference Between LCD and LED TVs
How Visa Predicts Divorce
In Fort Lee, the full scope of the insanity of the traffic jam that top political aides ordered is finally hitting home—for the governor, too. The most infamous traffic cones in America sat on a curb by the Fort Lee entrance to the George Washington Bridge on Wednesday. These were the very orange cones that had been arrayed across the entrance after a senior troll to New Jersey Gov. Chris Christie emailed a Port Authority official. "Time for some traffic problems in Fort Lee," Deputy Chief of Staff Bridget Anne Kelly emailed at 7:34 a.m. on Aug. 13, 2013. The recipient, a Christie troll at the Port Authority named David Wildstein, emailed back at 7:35 a.m., only a minute later.
Scientists working on lab-grown, $300,000 hamburger
Scientists have long agreed that farming methods for breeding animals has not been able to keep up with the demand for meat, and that our current path is likely unsustainable. What this means is that sooner or later, there simply won't be enough meat to fill demand, and also, that the environmental toll on raising so many animals will place strain on the Earth in other ways. Of course, one solution would be to eat less meat, but the more obvious one, apparently, is to produce in vitro, or lab grown meat (meaning that it was never part of a living animal). Various scientists have been working on this project for a while now, but one researcher, at Maastricht University in the Netherlands has managed to produce a 2-centimeter by 1.5-centimeter piece of muscle in a lab, bringing new hope to the project.