Science & Technology
How air freshener research led to a new fuel-cell charger for phones. Fuel cell gadget charger PowerTrekk is finally hits store shelves in the States.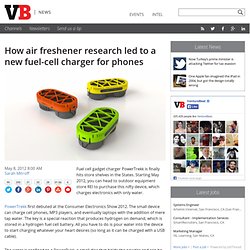 Starting May 2012, you can head to outdoor equipment store REI to purchase this nifty device, which charges electronics with only water. PowerTrekk first debuted at the Consumer Electronics Show 2012. The small device can charge cell phones, MP3 players, and eventually laptops with the addition of mere tap water. The key is a special reaction that produces hydrogen on demand, which is stored in a hydrogen fuel cell battery. Oracle v Google: Who owns the perk in Java? Nevada issues Google first license for self-driving car - Monday, May 7, 2012 | 1:04 p. AP Photo/Sandra Chereb Gov.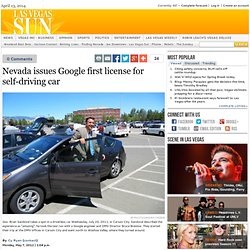 Brian Sandoval takes a spin in a driverless car Wednesday, July 20, 2011, in Carson City.
Gadgets
The Trust Molecule by Paul J. Zak. Look Ma, I Made It Myself! 10 Amazing Things 3-D Printers Can Do Now | Wired Design. The breathless predictions about 3-D printers — they'll revolutionize X, Y, and Z industries, they'll even mop your floors!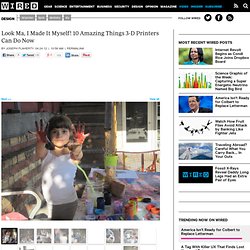 — can steal the spotlight from the everyday applications already in use. Analysts predict 3-D printing will become a $3.1 billion industry by 2016, driven by manufacturers of everything from shoes to sedans. Here are 10 ways 3-D printing is reshaping industrial design now. While MakerBot grabs headlines, Israel-based Objet is pushing the limit of what is possible in mechanical prototyping.
Why is Android on iPhone or Lumia so difficult? | The Verge Forums. Unemployed game designer creates mind-blowing solar system explorer app. Updated at 4:37 p.m.
PT with more information from Albeluhn. When people become unemployed, they often fall prey to feelings of helplessness. Here Is A Hilariously Inept Beer-Pouring Robot. Why Some Countries Go Bust. Google Search Revamp: A Step Closer to Artitifical Intelligence - Digits. Solar Flare: What If Biggest Known Sun Storm Hit Today? Richard A.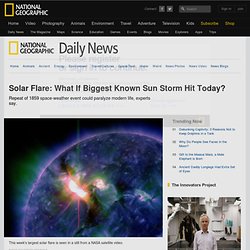 Lovett A powerful sun storm—associated with the second biggest solar flare of the current 11-year sun cycle—is now hitting Earth, so far with few consequences. But the potentially "severe geomagnetic storm," in NASA's words, could disrupt power grids, radio communications, and GPS as well as spark dazzling auroras. The storm expected Thursday, though, won't hold a candle to an 1859 space-weather event, scientists say—and it's a good thing too. Watch Video Of The Solar Flare That Hit Earth Today. A storm's a brewin', but it ain't no wimpy thunderstorm.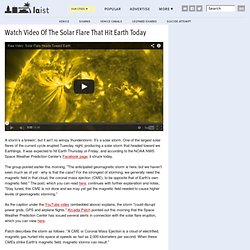 It's a solar storm. One of the largest solar flares of the current cycle erupted Tuesday night, producing a solar storm that headed toward we Earthlings. It was expected to hit Earth Thursday or Friday, and according to the NOAA NWS Space Weather Prediction Center's Facebook page, it struck today. The group posted earlier this morning, "The anticipated geomagnetic storm is here, but we haven't seen much as of yet - why is that the case? Biggest Solar Storm in Five Years to Hit Earth. Citigroup to use smartest computer ever built to improve customer service. Britain's Greatest Codebreaker: the tragic story of Alan Turing. Obese? Smoker? No Retirement Savings? Perhaps It's Because of the Language You Speak | Mind Matters. Why can't the Greeks be more like the Germans?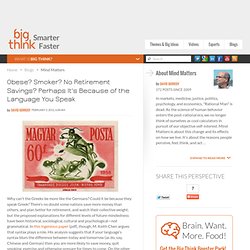 Could it be because they speak Greek? There's no doubt some nations save more money than others, and plan better for retirement, and watch their collective weight, but the proposed explanations for different levels of future-mindedness have been historical, sociological, cultural and psychological—not grammatical. In this ingenious paper (pdf), though, M. We Are Sitting Ducks for Solar Flares | Michio Kaku. With rendition switcher Michio Kaku: Some people ask the question, "What is the biggest disaster of 2012, if we had a crystal ball?"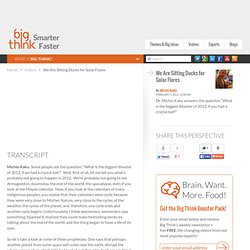 Well, first of all, let me tell you what's probably not going to happen in 2012. We're probably not going to see Armageddon, doomsday, the end of the world, the apocalypse, even if you look at the Mayan calendar. Discovering a Soft Spot for Circuitry - Robot Machines as Companions. Difference Between LCD and LED TVs. Purchasing a new TV can be confusing, especially if you are trying to decide whether to buy an LCD TV or an LED TV, similar to buying a smartphone.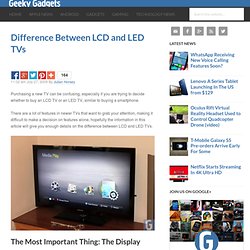 There are a lot of features in newer TVs that want to grab your attention, making it difficult to make a decision on features alone, hopefully the information in this article will give you enough details on the difference between LCD and LED TVs. The Most Important Thing: The Display. How Visa Predicts Divorce. White supremacist Frazier Glenn Miller, arrested in three killings Sunday, turned white opportunist when facing decades in prison, testifying against his fellow haters in two trials.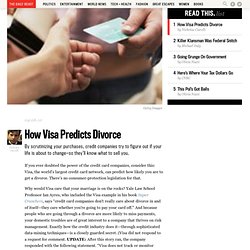 A quarter-century before he was charged with Sunday's three hate murders outside Kansas City, Frazier Glenn Miller figured prominently in a triple hate homicide in North Carolina. People intimately familiar with the earlier case say Miller, founder of a Ku Klux Klan chapter and a white political party, should have been a prime suspect in those killings, as well. Instead Miller became a star witness in both that murder trial and in a sedition case against 13 fellow white supremacists. Miller had proved himself to be not so much a white supremacist as a white opportunist when he found himself facing decades in prison on weapons charges in 1987. He has said that a lead prosecutor threatened to pile on individual sentences on various charges until they totaled 200 years.
Scientists working on lab-grown, $300,000 hamburger. Scientists have long agreed that farming methods for breeding animals has not been able to keep up with the demand for meat, and that our current path is likely unsustainable. What this means is that sooner or later, there simply won't be enough meat to fill demand, and also, that the environmental toll on raising so many animals will place strain on the Earth in other ways. Of course, one solution would be to eat less meat, but the more obvious one, apparently, is to produce in vitro, or lab grown meat (meaning that it was never part of a living animal). Various scientists have been working on this project for a while now, but one researcher, at Maastricht University in the Netherlands has managed to produce a 2-centimeter by 1.5-centimeter piece of muscle in a lab, bringing new hope to the project.
---