Science & Technology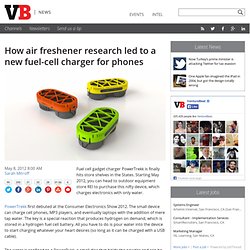 How air freshener research led to a new fuel-cell charger for phones
Fuel cell gadget charger PowerTrekk is finally hits store shelves in the States.
Oracle v Google: Who owns the perk in Java?
Nevada issues Google first license for self-driving car - Monday, May 7, 2012 | 1:04 p
AP Photo/Sandra Chereb Gov. Brian Sandoval takes a spin in a driverless car Wednesday, July 20, 2011, in Carson City.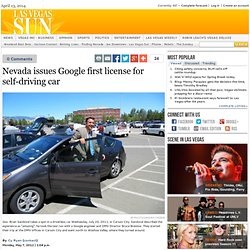 The Trust Molecule by Paul J. Zak
Look Ma, I Made It Myself! 10 Amazing Things 3-D Printers Can Do Now | Wired Design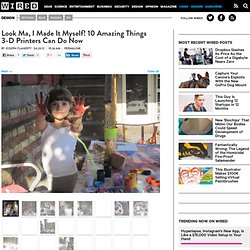 The breathless predictions about 3-D printers — they'll revolutionize X, Y, and Z industries, they'll even mop your floors!
Why is Android on iPhone or Lumia so difficult? | The Verge Forums
Updated at 4:37 p.m. PT with more information from Albeluhn. When people become unemployed, they often fall prey to feelings of helplessness.
Unemployed game designer creates mind-blowing solar system explorer app
Here Is A Hilariously Inept Beer-Pouring Robot
Why Some Countries Go Bust
Over the centuries, proposed answers have varied greatly. Smith declared that the difference between wealth and poverty resulted from the relative freedom of the markets; Thomas Malthus said poverty comes from overpopulation; and John Maynard Keynes claimed it was a byproduct of a lack of technocrats.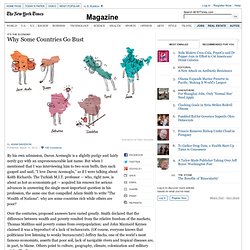 Google Search Revamp: A Step Closer to Artitifical Intelligence - Digits
Richard A.
Solar Flare: What If Biggest Known Sun Storm Hit Today?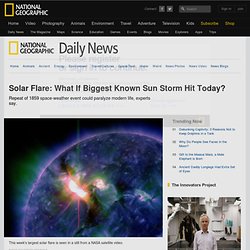 A storm's a brewin', but it ain't no wimpy thunderstorm.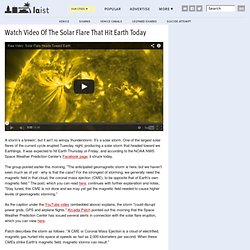 Watch Video Of The Solar Flare That Hit Earth Today
Biggest Solar Storm in Five Years to Hit Earth
Citigroup to use smartest computer ever built to improve customer service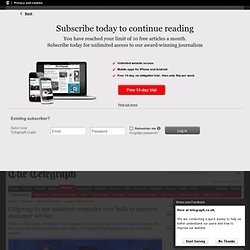 The computer, which was developed by IBM, came to prominence last year after it managed to beat all the humans it challenged on US gameshow Jeopardy.
Britain's Greatest Codebreaker: the tragic story of Alan Turing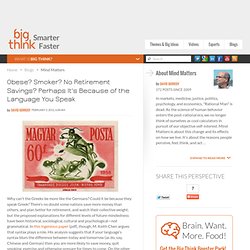 Obese? Smoker? No Retirement Savings? Perhaps It's Because of the Language You Speak | Mind Matters
Why can't the Greeks be more like the Germans?
With rendition switcher Michio Kaku: Some people ask the question, "What is the biggest disaster of 2012, if we had a crystal ball?" Well, first of all, let me tell you what's probably not going to happen in 2012. We're probably not going to see Armageddon, doomsday, the end of the world, the apocalypse, even if you look at the Mayan calendar.
We Are Sitting Ducks for Solar Flares | Michio Kaku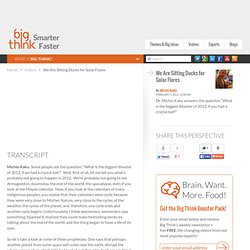 Discovering a Soft Spot for Circuitry - Robot Machines as Companions
Paro is a robot modeled after a baby harp seal . It trills and paddles when petted, blinks when the lights go up, opens its eyes at loud noises and yelps when handled roughly or held upside down.
Purchasing a new TV can be confusing, especially if you are trying to decide whether to buy an LCD TV or an LED TV, similar to buying a smartphone. There are a lot of features in newer TVs that want to grab your attention, making it difficult to make a decision on features alone, hopefully the information in this article will give you enough details on the difference between LCD and LED TVs. The Most Important Thing: The Display
Difference Between LCD and LED TVs
How Visa Predicts Divorce
In Fort Lee, the full scope of the insanity of the traffic jam that top political aides ordered is finally hitting home—for the governor, too. The most infamous traffic cones in America sat on a curb by the Fort Lee entrance to the George Washington Bridge on Wednesday.
Scientists working on lab-grown, $300,000 hamburger
Scientists have long agreed that farming methods for breeding animals has not been able to keep up with the demand for meat, and that our current path is likely unsustainable.