Financial Markets
Facebook's IPO: Thoughts On Momentum, Pricing And Valuation (It's Still No Buy)
EL-ERIAN: What The Facebook IPO Tells Us About Investors' Brains
Editor's note: James Altucher is an investor, programmer, author, and entrepreneur. He is Managing Director of Formula Capital and has written ten books. His latest books are I Was Blind But Now I See and 40 Alternatives to College. You can follow him on Twitter @jaltucher. Warren Buffett is like my ten year old.
Warren Buffett Is A Punk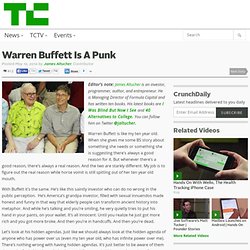 Judy Lynch is driving a forklift, and I am trotting behind her. A plastic stopwatch hangs from my neck on a lanyard, and I am carrying a clipboard, from which I have wiped several years of warehouse dust. The dust, black and sticky, consists mostly of tread particles from solid-rubber forklift wheels. It lies a quarter-inch thick on the concrete. Lynch leaves a furrow as she drives. She asks whether she needs to slow down for me.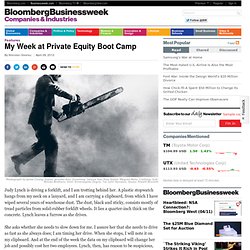 My Week at Private Equity Boot Camp
Michael Lewis Interviews Himself: Boycott the Banks!
Twenty-one were stabbed in a Pennsylvania school rampage Wednesday, but all are expected to live—and one even took a selfie. Think how different the toll would have been with bullets. The dead take no selfies. So there might well never have been the remarkable selfie that 16-year-old Nate Scimio took after his heroism at Franklin Regional High School if he had faced a gun rather than two knives on Wednesday morning.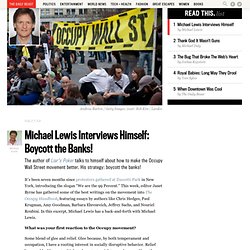 The world of prop traders being rather small, there can be no further details to divulge, other than that he ordered tea. "I am a prop trader. I don't trade on behalf of clients but I use the bank's own money to make more money for the bank.
Prop trader: 'It's worth pointing out that forecasting makes no sense' | Joris Luyendijk | Comment is free
Equities: A good buy?
SINGAPORE (Reuters) - Temasek Holdings, the smaller but more visible of Singapore's two sovereign funds, is moving into a new phase with its investment strategy, and could look more like Blackstone Group (BX.N), another $160 billion institution, which has grown from a focused private equity firm to a global asset manager. The shift follows setbacks since the 2008 financial crisis; the loss of $5 billion invested in Western banks; the abrupt departure of the fund's first non-local CEO before he'd even taken up the post; and the recent exit of dealmakers hired by CEO Ho Ching, the prime minister's wife, who has led Temasek for a decade. But as it charts a new path, Temasek, the world's ninth-biggest sovereign investor, faces significant hurdles.
Exclusive: Singapore's Temasek: evolution not revolution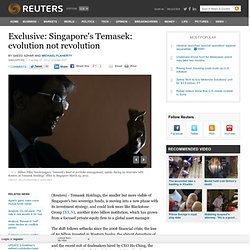 The Billionaire List Wars
Bloomberg's Billionaires Index. A game of billionaire one-upmanship is raging — not between moneyed barons themselves, but over who is counting them, and how. Last week, Bloomberg announced the creation of a Billionaires Index. Updated daily at 5:30 p.m., the list would track, in more or less real time, the wealth of the world's 20 richest people. The announcement was seemingly timed to steal a bit of thunder from Forbes, which was scheduled to announce the 2012 edition of its own long-running list of billionaires later in the week. (In an added bit of jersey-switching drama, Matthew G.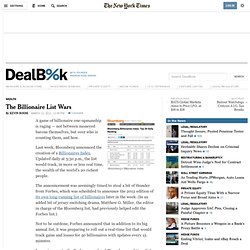 EXCLUSIVE: Jim Rogers Tells All To Business Insider
Years ago, Jim Rogers started the Quantum Fund with George Soros. Now, the commodities guru works in Singapore, where he lives with his wife and two daughters. Rogers spoke with Business Insider to discuss commodities, the global economy, his legendary career, and his life in Singapore. What follows is the complete transcript of our interview with Jim Rogers. Inflation, commodities and the consumer What is feeding into oil prices at the moment?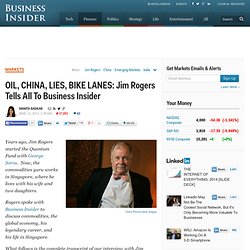 Ray Dalio: Man and machine
Could Twitter predict the stock market?
NEW YORK (Reuters) - When Richard Peterson first started meeting with hedge funds about eight years ago to pitch using social media to predict market movement, investment managers looked at him as if he had just arrived from outer space. Back then, what he was pitching them seemed pretty insane. Peterson, managing director of Santa Monica-based MarketPsych, said that social media can be mined for data about what people are thinking and feeling. And that, in turn, could translate into powerful investment ideas.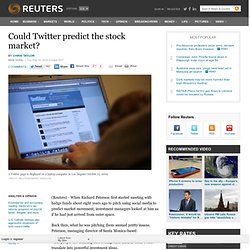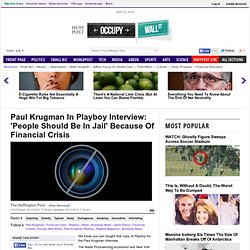 Paul Krugman In Playboy Interview: 'People Should Be In Jail' Because Of Financial Crisis
We know, you just bought that copy of Playboy for the Paul Krugman interview. The Nobel Prize-winning economist and New York Times columnist may not be center-fold material (or maybe you're into that middle-aged bearded wonky economist sort of thing? We're not judging), but he's using the iconic magazine to discuss his views on the sexiest of topics, you guessed it: the financial crisis.