Financial Markets
Facebook's IPO: Thoughts On Momentum, Pricing And Valuation (It's Still No Buy)
EL-ERIAN: What The Facebook IPO Tells Us About Investors' Brains
Editor's note: James Altucher is an investor, programmer, author, and entrepreneur. He is Managing Director of Formula Capital and has written ten books. His latest books are I Was Blind But Now I See and 40 Alternatives to College. You can follow him on Twitter @jaltucher. Warren Buffett is like my ten year old.
Warren Buffett Is A Punk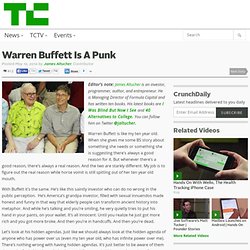 Judy Lynch is driving a forklift, and I am trotting behind her. A plastic stopwatch hangs from my neck on a lanyard, and I am carrying a clipboard, from which I have wiped several years of warehouse dust. The dust, black and sticky, consists mostly of tread particles from solid-rubber forklift wheels. It lies a quarter-inch thick on the concrete. Lynch leaves a furrow as she drives. She asks whether she needs to slow down for me.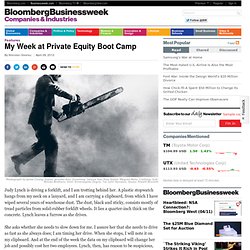 My Week at Private Equity Boot Camp
Michael Lewis Interviews Himself: Boycott the Banks!
Introducing "The Stacks" As we enjoy the current wave of expansive non-fiction writing—call it longform, takeouts, bonus pieces, what's in a name?—now is a fine time to revive stories that have been lost to us. Stories that are tucked away from our consciousness simply because they don't exist online, not because they don't hold up as pieces of writing.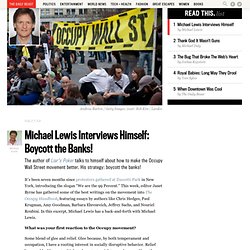 The world of prop traders being rather small, there can be no further details to divulge, other than that he ordered tea. "I am a prop trader.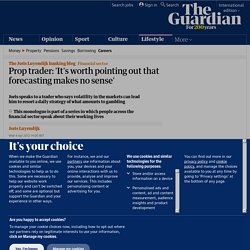 Prop trader: 'It's worth pointing out that forecasting makes no sense' | Joris Luyendijk | Comment is free
GOLDMAN Sachs analysts have a tendency to be rather bullish, as those who remember Abby Joseph Cohen will attest, but they carry weight on Wall Street. So it was interesting to read a 40-page note from Goldman called The Long Good Buy; the Case for Equities which concludes that the prospects for future returns in equities relative to bonds are as good as they have been for a generation The report is written by Peter Oppenheimer, a thoughtful analyst who has been around for 20 years and is by no means a perma-bull.
Equities: A good buy?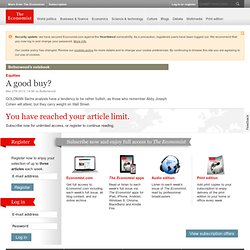 Exclusive: Singapore's Temasek: evolution not revolution
The Billionaire List Wars
Bloomberg's Billionaires Index. A game of billionaire one-upmanship is raging — not between moneyed barons themselves, but over who is counting them, and how. Last week, Bloomberg announced the creation of a Billionaires Index. Updated daily at 5:30 p.m., the list would track, in more or less real time, the wealth of the world's 20 richest people. The announcement was seemingly timed to steal a bit of thunder from Forbes, which was scheduled to announce the 2012 edition of its own long-running list of billionaires later in the week. (In an added bit of jersey-switching drama, Matthew G.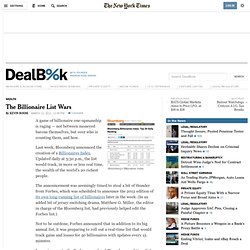 EXCLUSIVE: Jim Rogers Tells All To Business Insider
Ray Dalio: Man and machine
Could Twitter predict the stock market?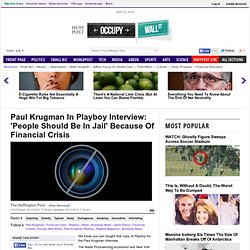 Paul Krugman In Playboy Interview: 'People Should Be In Jail' Because Of Financial Crisis
We know, you just bought that copy of Playboy for the Paul Krugman interview. The Nobel Prize-winning economist and New York Times columnist may not be center-fold material (or maybe you're into that middle-aged bearded wonky economist sort of thing? We're not judging), but he's using the iconic magazine to discuss his views on the sexiest of topics, you guessed it: the financial crisis.