Financial Markets
Facebook's IPO: Thoughts On Momentum, Pricing And Valuation (It's Still No Buy) EL-ERIAN: What The Facebook IPO Tells Us About Investors' Brains. Warren Buffett Is A Punk. Editor's note: James Altucher is an investor, programmer, author, and entrepreneur.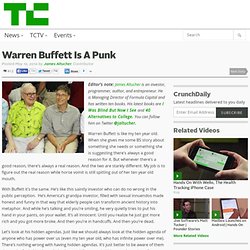 He is Managing Director of Formula Capital and has written ten books. His latest books are I Was Blind But Now I See and 40 Alternatives to College. You can follow him on Twitter @jaltucher. Warren Buffett is like my ten year old. My Week at Private Equity Boot Camp. Judy Lynch is driving a forklift, and I am trotting behind her.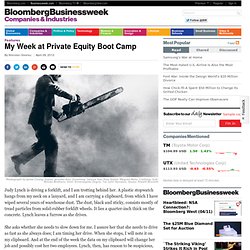 A plastic stopwatch hangs from my neck on a lanyard, and I am carrying a clipboard, from which I have wiped several years of warehouse dust. The dust, black and sticky, consists mostly of tread particles from solid-rubber forklift wheels. It lies a quarter-inch thick on the concrete. Lynch leaves a furrow as she drives. She asks whether she needs to slow down for me. Michael Lewis Interviews Himself: Boycott the Banks! Twenty-one were stabbed in a Pennsylvania school rampage Wednesday, but all are expected to live—and one even took a selfie.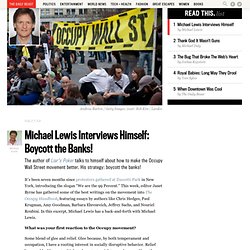 Think how different the toll would have been with bullets. The dead take no selfies. So there might well never have been the remarkable selfie that 16-year-old Nate Scimio took after his heroism at Franklin Regional High School if he had faced a gun rather than two knives on Wednesday morning. Prop trader: 'It's worth pointing out that forecasting makes no sense' | Joris Luyendijk. The world of prop traders being rather small, there can be no further details to divulge, other than that he ordered tea.
"I am a prop trader. I don't trade on behalf of clients but I use the bank's own money to make more money for the bank. Equities: A good buy? Exclusive: Singapore's Temasek: evolution not revolution. The Billionaire List Wars. Bloomberg's Billionaires Index.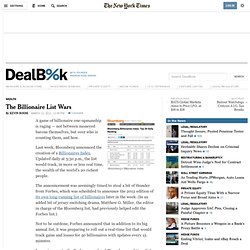 A game of billionaire one-upmanship is raging — not between moneyed barons themselves, but over who is counting them, and how. Last week, Bloomberg announced the creation of a Billionaires Index. Updated daily at 5:30 p.m., the list would track, in more or less real time, the wealth of the world's 20 richest people. The announcement was seemingly timed to steal a bit of thunder from Forbes, which was scheduled to announce the 2012 edition of its own long-running list of billionaires later in the week. (In an added bit of jersey-switching drama, Matthew G. EXCLUSIVE: Jim Rogers Tells All To Business Insider. Ray Dalio: Man and machine. Could Twitter predict the stock market? Paul Krugman In Playboy Interview: 'People Should Be In Jail' Because Of Financial Crisis.
We know, you just bought that copy of Playboy for the Paul Krugman interview.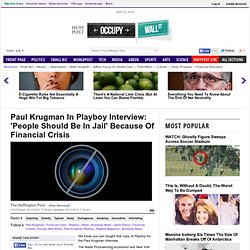 The Nobel Prize-winning economist and New York Times columnist may not be center-fold material (or maybe you're into that middle-aged bearded wonky economist sort of thing? We're not judging), but he's using the iconic magazine to discuss his views on the sexiest of topics, you guessed it: the financial crisis.
---