Online U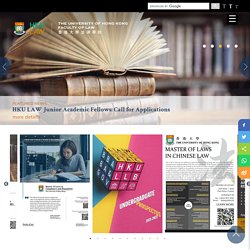 Information Session We held an Information Session on 12 Dec 2011, you may click to view the video Part1 , Part2 , Part3 . Dean's Message Forty years ago, we started the law school to offer legal education to undergraduates in Hong Kong. This marked the first milestone in legal education in Hong Kong, as local students could, for the first time, study for a law degree locally. Over the years, we have established an international reputation of being one of the finest law schools in the world.
Faculty of Law, The University of Hong Kong » Programmes » Undergraduate Degrees » LLB
01 - Intro to Android - Android Bootcamp Series 2012
This was a whirlwind year for me. I passed my mid tenure review and was reappointed for another 3 years up to the tenure decision. After teaching E145 I went to Chile for a week of teaching 80 student entrepreneurs on the water around cape Horn and Patagonia. Then I did a 3-day workshop in the Dominican Republic. This fall I was a visiting scholar at Stanford's center at Beijing university for two months which included side trips to Tsingdao, Malaysia, and Hong Kong to give talks.
Chuck Eesley
Home
Home
Home