Hands
Daisy Stitch Hand Warmers. Dragon Scale Mitts. Hand Warmers + Flip-top Mittens. Since making the Cashmere Fingerless Gloves, we've had lots of requests for slight pattern alternatives.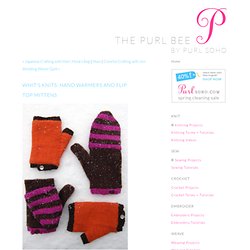 I agree that no one pattern can answer all of our hand-warming needs, so I came up with a couple of variations on the original theme: Hand Warmers and Flip Top Mittens. The Hand Warmers eliminate the challenge of knitting the fingers without sacrificing the elegance of the original pattern. PURL DIVA*: Holidaily (1) - Fast And Fearless Fingerless Mitts. I've had requests to continue the Holidaily* series again, so here is the first one, and it is a gift from me to you!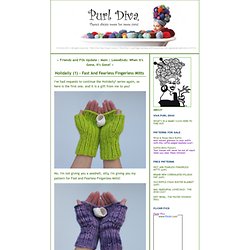 No, I'm not giving you a seashell, silly, I'm giving you my pattern for Fast and Fearless Fingerless Mitts! These mitts work up quickly (the test knitters and I made each pair in four hours or less). They are made in K1P1 ribbing, which creates a wonderful stretchy fabric that sort of looks like stockinette, at least when it isn't stretched out. Pretty Lace Handwarmers. Classic Mittens | Free Vintage Knitting Patterns. Printer-friendly version Send by email PDF version Classic Mittens: Use instructions as given.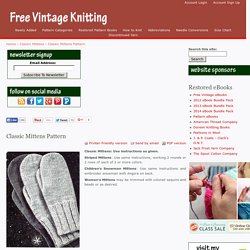 ---