Hands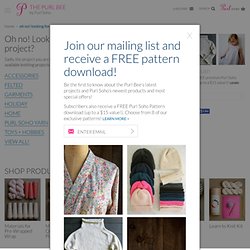 Gauge 6 stitches = 1 inch in Daisy Stitch pattern with larger needles 5 stitchess = 1 inch in stockinette stitch with larger needles Finished Size
Dragon Scale Mitts
Don't worry, it's simpler than it looks. In fact, once you've knitted a few rounds you'll enjoy watching the rhythmic pattern emerge. If you're wondering about some of the technical terms used in this pattern, check this out: M1 Increase Tutorial ssk Decrease Tutorial gauge Swatch Tutorial other terms Knit+Crochet Glossary 7 stitches per inch in Dragon Scale stitch pattern (To knit a gauge swatch, use the Dragon Scale stitch pattern below, Rounds 1 - 12)
Hand Warmers + Flip-top Mittens
Because no one pattern can answer all of our hand-warming needs, we've come up with a couple of modifications to our original Cashmere Fingerless Gloves . Whether you simplify with the Hand Warmers pattern, create more versatility with the Flip Top Mittens, or stick with the original version, your hands will thank you! Materials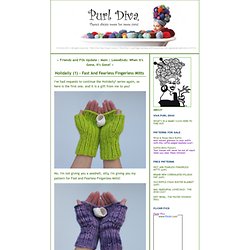 I've had requests to continue the Holidaily* series again, so here is the first one, and it is a gift from me to you! No, I'm not giving you a seashell, silly, I'm giving you my pattern for Fast and Fearless Fingerless Mitts! These mitts work up quickly (the test knitters and I made each pair in four hours or less). They are made in K1P1 ribbing, which creates a wonderful stretchy fabric that sort of looks like stockinette, at least when it isn't stretched out.
PURL DIVA*: Holidaily (1) - Fast And Fearless Fingerless Mitts
Gauge 4 1/2 stitches = 1 inch in lace pattern 6 1/2 stitches = 1 inch in stockinette stitch Finished Size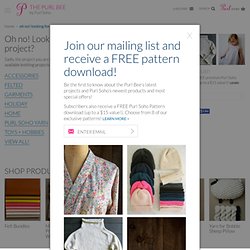 Pretty Lace Handwarmers
Classic Mittens | Free Vintage Knitting Patterns
Printer-friendly version Send by email PDF version Classic Mittens: Use instructions as given.