Footwear
My Mama's Slippers. My mom has always made us slippers, ever since I was little.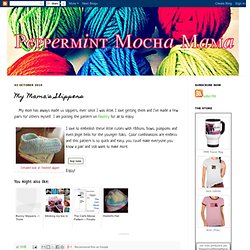 I love getting them and I've made a few pairs for others myself. I am posting the pattern on Ravelry for all to enjoy.I love to embellish these little cuties with ribbons, bows, pompoms and even jingle bells for the younger folks. Color combinations are endless and this pattern is so quick and easy, you could make everyone you know a pair and still want to make more. Enjoy! Yoga Socks. Where can I get this pattern?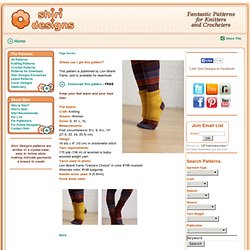 This pattern is published by Lion Brand Yarns, and is available for download. Download this pattern - FREE Keep your feet warm and your toes free! Spiral Rib Leg Warmers. For many of us, the mere mention of leg warmers conjures up vivid images of ripped sweatshirts and really big hair.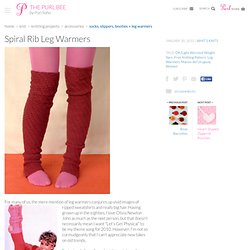 Having grown up in the eighties, I love Olivia Newton John as much as the next person, but that doesn't necessarily mean I want "Let's Get Physical" to be my theme song for 2010. However, I'm not so curmudgeonly that I can't appreciate new takes on old trends. How to make weekend socks - Knitting. Grandmother's Slippers. Note: The text of this pattern is based on what I remember from the pairs of slippers my grandmother made for us when we were children.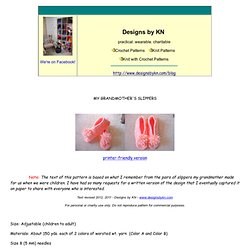 I have had so many requests for a written version of the design that I eventually captured it on paper to share with everyone who is interested. Text revised 2012, 2011 - Designs by KN - www.designsbykn.com For personal or charity use only. Do not reproduce pattern for commercial purposes. Mary Jane Slippers. When I was seven I relished any chance I could get to wear my black patent leather Mary Jane's.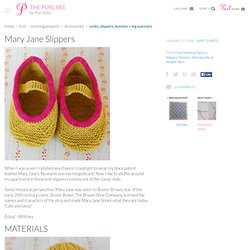 No event was too insignificant! Now I like to shuffle around my apartment in these knit slippers reminiscent of the classic style. Some historical perspective: Mary Jane was sister to Buster Brown, star of the early 20th century comic, Buster Brown. The Brown Shoe Company licensed the names and characters of the strip and made Mary Jane Shoes what they are today. Cute and sassy! Cottage Slipper Socks. CRAFT Pattern: Bunny Hop Slippers : Daily source of DIY craft projects and inspiration, patterns, how-tos | Craftzine.com. Thrummed Bunny Slippers in 3 Adult Sizes By Nikol Lohr These slippers are soft as a bunny, thanks to their thrums — unspun wool knit right in for a warm, cushy, fleecy lining.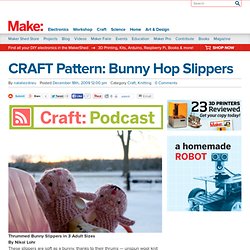 They're also quick as a bunny! Knit in bulky yarn, they have the same stitch count as your average worsted hat.
---