Crochet
Knitting and Crochet Blog Week Day 5! 2KCBWDAY5. Wildcard – Embellish the story Embellishments come in all types and forms.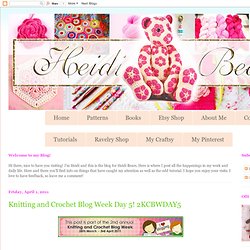 Some are more than purely decorative and form a practical function – pretty buttons are as much part of holding a garment together as mere decoration, and some are just there to give a piece an extra 'something'. Blog about an embellishment, be it a zipper, amigurumi eyes or applique patch which you are either saving to use or have in the past used to decorate a project with. Write about whether you are a very minimalist kind of knitter with classic lines and timeless plain knits or whether you love all the bells and whistles or sticking sewing and otherwise attaching decoration to your pieces. Super easy Crocheted Rose Tutorial. Hi all!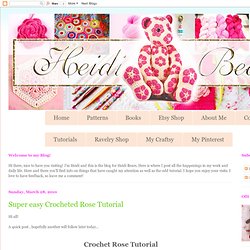 A quick post , hopefully another will follow later today... Crochet Rose Tutorial Requirements: DK weight yarn (I used Rowan's DK Handknit Cotton) Flower Looms: Cluster Stitch Flowers. How to Crochet - Part 1 - Basics for the Absolute Beginner.
---