Organization
Apple Puts One More Nail Into the CD Coffin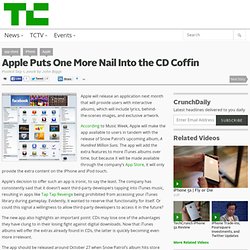 Apple will release an application next month that will provide users with interactive albums, which will include lyrics, behind-the-scenes images, and exclusive artwork. According to Music Week, Apple will make the app available to users in tandem with the release of Snow Patrol's upcoming album, A Hundred Million Suns. The app will add the extra features to more iTunes albums over time, but because it will be made available through the company's App Store, it will only provide the extra content on the iPhone and iPod touch. Apple's decision to offer such an app is ironic, to say the least. The company has consistently said that it doesn't want third-party developers tapping into iTunes music, resulting in apps like Tap Tap Revenge being prohibited from accessing your iTunes library during gameplay.
Troika | art and design studio | london | art virus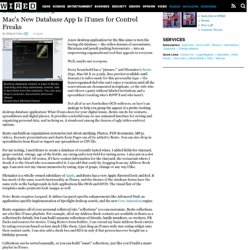 A new desktop application for the Mac aims to turn the boring old database -- the sullen domain of accountants, librarians and pencil-pushing bureaucrats -- into an empowering organizational tool that appeals to everyone. Well, maybe not everyone. Every household has a "planner," and Filemaker's Bento ($50, Mac OS X 10.5 only, free preview available until January) is tailor-made for this personality type -- the hyperorganized dad who can't enjoy a vacation until all the reservations are documented in triplicate, or the wife who can't throw a party without labeled invitations and a spreadsheet tracking who's RSVP'd and who hasn't. Not all of us are borderline-OCD sufferers, so here's an analogy to help you grasp the appeal of a pretty-looking desktop database application: What iTunes does for your digital music, Bento can do for contacts, spreadsheets and digital photos.
Bento: Mac's New Database App Is iTunes for Control Freaks