Libraries
Dublin City Public Libraries homepage
Research Libraries Group/OCLC Programs Talk, June 2007 « Easily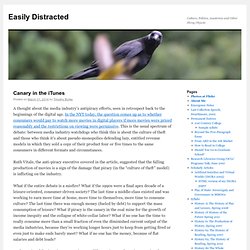 It is 1981 and I am writing my first long research paper ever in my high school government class on why the U.S. government and U.S. institutions need to commit more aggressively to fighting apartheid. I am citing a report that says if apartheid isn't ended soon through a negotiated process, it will collapse in a revolutionary bloodbath in which tens of thousands will die. The Reagan Administration has already expressed its lack of interest in pressuring South Africa, though it had no problem applying sanctions to Poland. I spend a good portion of my research reading about Nelson Mandela and the ANC. It is 1985 and I'm speaking at a student rally against apartheid, as one of two student representatives to the Board of Trustees who have been pushing for divestment. Somewhere the Special AKA's song "Free Nelson Mandela" is playing.
Slump Is Putting New Stresses on Libraries and Librarians - NYTi Sorry, but the article or page you're looking was not found. In May 2013, Library Journal underwent a major server migration for its archived web content, which happened slightly sooner than originally expected. As a result, much of the content from 2004 to 2012 is currently unavailable to the public.
Shh! In British Library Reading Rooms, Flirting and Even Gigglin
OCUL (Ontario Council of University Libraries) has released a nice white paper which discusses issues in providing an end-user access environment for its shared resources, and more interestingly, how that environment engages with the behaviors and expectations of its academic users. This document (pdf) was created to highlight opportunities and drive discussion for the OCUL consortium in both the short term through the launch of a new Scholars Portal server in 2008, and in the long term by incorporating more 'social' means of sharing and organizing information within OCUL's Scholars Portal and the larger academic community that it serves. [Scholr 2.0] There is a pdf version and a commentpress version with the benefit of reader comments.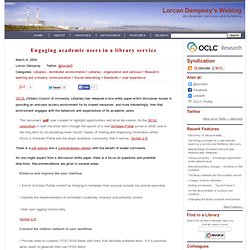 Lorcan Dempsey's weblog: Engaging academic users in a libra
DeweyBrowser
The National Library of Australia has released an interesting document about the value of union catalogues in general, and Libraries Australia in particular. Here is the concluding paragraph: As Australian library collections move from managing print-based materials to managing digital and licensed resources, the National Union Catalogue provides a significant platform on which to examine, test and create a future for library services.
Lorcan Dempsey's weblog: The union catalogue and collaborat