Government
The country's new robots.txt file. Here's a small and nerdy measure of the huge change in the executive branch of the US government today.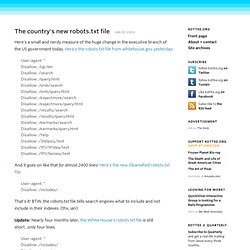 Here's the robots.txt file from whitehouse.gov yesterday: User-agent: *Disallow: /cgi-binDisallow: /searchDisallow: /query.htmlDisallow: /omb/searchDisallow: /omb/query.htmlDisallow: /expectmore/searchDisallow: /expectmore/query.htmlDisallow: /results/searchDisallow: /results/query.htmlDisallow: /earmarks/searchDisallow: /earmarks/query.htmlDisallow: /helpDisallow: /360pics/textDisallow: /911/911day/textDisallow: /911/heroes/text And it goes on like that for almost 2400 lines!
Here's the new Obamafied robots.txt file: User-agent: *Disallow: /includes/ UK government wants to mash it up. "We're confident that you'll have more and better ideas than we ever will."
It's refreshing to hear this from a government. In this case, this language comes from the UK government, or more specifically, its Power of Information taskforce, which is holding a £20,000 competition for the best idea to build services on top of openly available government information. Show Us a Better Way. Creative Block? Try Moodstream - ReadWriteWeb. The world's largest stock imagery company, Getty Images, this week released a new mashup that leans on the company's vast stock image and audio assets.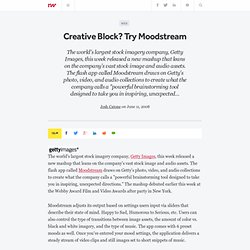 The flash app called Moodstream draws on Getty's photo, video, and audio collections to create what the company calls a "powerful brainstorming tool designed to take you in inspiring, unexpected directions. " The mashup debuted earlier this week at the Webby Award Film and Video Awards after party in New York. Moodstream adjusts its output based on settings users input via sliders that describe their state of mind. Happy to Sad, Humorous to Serious, etc. Users can also control the type of transitions between image assets, the amount of color vs. black and white imagery, and the type of music. Make Mashups Using Your Own Data with geoXtract - ReadWriteWeb. GeoXtract is a powerful tool that allows you to integrate your own data with Google Maps or Google Earth.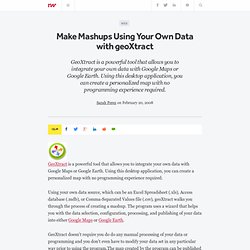 Using this desktop application, you can create a personalized map with no programming experience required. Using your own data source, which can be an Excel Spreadsheet (.xls), Access database (.mdb), or Comma-Separated Values file (.csv), geoXtract walks you through the process of creating a mashup. The program uses a wizard that helps you with the data selection, configuration, processing, and publishing of your data into either Google Maps or Google Earth.
---