Government
Here's a small and nerdy measure of the huge change in the executive branch of the US government today. Here's the robots.txt file from whitehouse.gov yesterday: User-agent: *Disallow: /cgi-binDisallow: /searchDisallow: /query.htmlDisallow: /omb/searchDisallow: /omb/query.htmlDisallow: /expectmore/searchDisallow: /expectmore/query.htmlDisallow: /results/searchDisallow: /results/query.htmlDisallow: /earmarks/searchDisallow: /earmarks/query.htmlDisallow: /helpDisallow: /360pics/textDisallow: /911/911day/textDisallow: /911/heroes/text And it goes on like that for almost 2400 lines! Here's the new Obamafied robots.txt file: User-agent: *Disallow: /includes/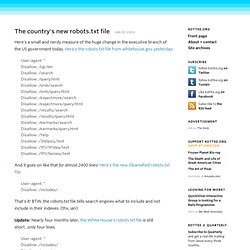 The country's new robots.txt file
UK government wants to mash it up
"We're confident that you'll have more and better ideas than we ever will." It's refreshing to hear this from a government. In this case, this language comes from the UK government, or more specifically, its Power of Information taskforce, which is holding a £20,000 competition for the best idea to build services on top of openly available government information.
Show Us a Better Way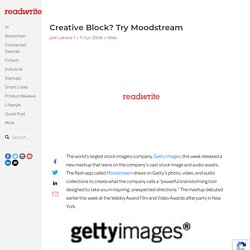 The world's largest stock imagery company, Getty Images, this week released a new mashup that leans on the company's vast stock image and audio assets.
Creative Block? Try Moodstream - ReadWriteWeb
Make Mashups Using Your Own Data with geoXtract - ReadWriteWeb
GeoXtract is a powerful tool that allows you to integrate your own data with Google Maps or Google Earth.