Digitization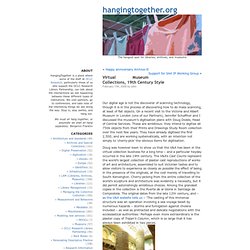 Virtual Museum Collections, 19th Century Style
Our digital age is not the discoverer of scanning technology, though it is in the process of discovering how to do mass scanning, at least of flat objects. On a recent visit to the Victoria and Albert Museum in London (one of our Partners), Jennifer Schaffner and I discussed the museum's digitisation plans with Doug Dodds, Head of Central Services.
Sorry, but the article or page you're looking was not found. In May 2013, Library Journal underwent a major server migration for its archived web content, which happened slightly sooner than originally expected. As a result, much of the content from 2004 to 2012 is currently unavailable to the public. However, this content has not been lost, and our web staff is in the process of converting these past articles for integration into the WordPress-based website you see here, which was launched in 2012. Many of these older articles have already been restored, and more will continue to be restored on an ongoing basis as they are cleaned up. Toward Digitizing All Forms of Documentation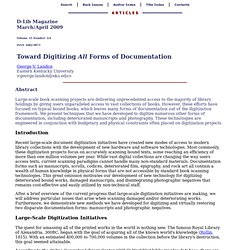 Abstract
That hold and rest. The clavicle is the first bone to begin ossifying and the last to finish: a long bone, hard, and without marrow.
On the Virtues of Preexisting Material: A Manifesto :: absent ma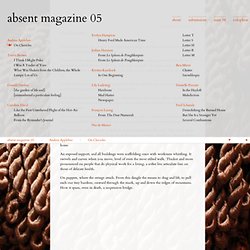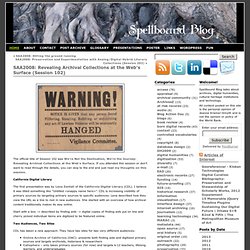 The official title of Session 102 was We're Not the Destination, We're the Journey: Revealing Archival Collections at the Web's Surface. If you attended this session or don't want to read through the details, you can skip to the end and just read my thoughts on this session. California Digital Library
SAA2008: Revealing Archival Collections at the Web's Surface (Se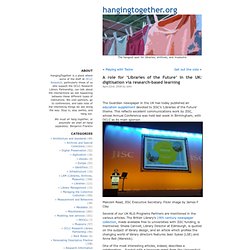 A role for 'Libraries of the Future' in the UK: d
The Guardian newspaper in the UK has today published an education supplement devoted to JISC's 'Libraries of the Future' theme.
Our friends at UC Berkeley reminded me that I was going to blog about the talk that Richard Ovenden (Keeper of Special Collections at the Bodleian Library, University of Oxford) gave for the CURL Research Support Task Force. I did not attend the talk, but my colleagues Jennifer and John did.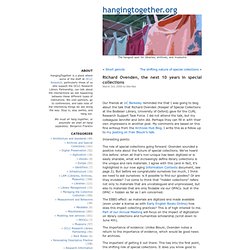 Richard Ovenden, the next 10 years in special col
Burning Books, Libraries, and Archives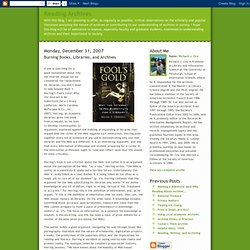 If one is searching for a good explanation about why the Internet should not be considered the replacement for libraries, you don't need to look beyond Mark Y.