Marketing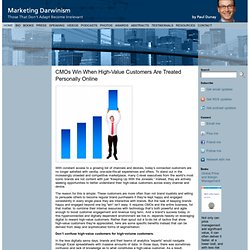 Should every visitor to your website be treated the same? Should each customer see the exact same offers, options, products and pages? The more forward-thinking online marketers recognize that "personalizing" each customer's experience on their site can make a dramatic difference in ultimate sales, customer loyalty and long-term profitability of the business.
Buzz Marketing for Technology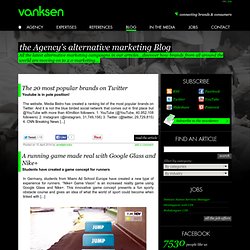 After having imagined a new spectacular version of Facebook, Australian designer Fred Nerby tackles Twitter. In an online world where aesthetics, pictures and videos prevail more and more, and where tactile interfaces and variable resolutions have a great influence on ergonomic design, we must admit that Twitter and Facebook are not the most advanced websites… Some may think otherwise, but these two platforms, yet amongst the giants of the web, are do not have the finest design and are not always intuitive. On the one hand, Twitter clearly underestimates its visuals potential, which leads many twittos to opt for unofficial applications to connect to the platform. On the other, the amount of features Facebook offers sometimes it too complex… without mentioning that each new version is not always revolutionary. That's what designer Fred Nerby has intended to highlight in his two conceptual videos.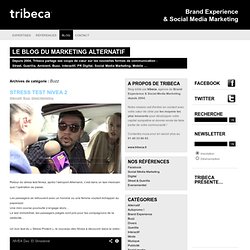 Stress Test Nivea 2 Retour du stress test Nivea, après l'aéroport Allemand, c'est dans un taxi mexicain que l'opération se passe. Les passagers se retrouvent avec un homme ou une femme voulant échapper au paparazzi. Une mini course poursuite s'engage alors… Le taxi immobilisé, les passagers piégés sont pris pour les compagnons de la célébrité…
Buzz | ● MARKETING ALTERNATIF ●