COOKING
Orange-Sage Sweet Potatoes with Bacon Recipe. Salted Caramel Apple Pie Recipe. A Pound-Melting Pilates Routine. Τραγανό αρνάκι φούρνου με πατάτες | Συνταγές Gourmet Μαγειρικής - Pandespani. 30 Μαρτίου 2010 by greekadman Η πλέον δοκιμασμένη συνταγή κι αυτή που με μικρές παραλλαγές μοιράζομαι με συνδαιτημόνες επί εικοσαετία (έχει αντέξει τεστ κοπώσεως από τρεις πρώην συζύγους και πεθερές, αν αυτό κάτι λέει... και ζητώ κατανόηση, στοργή και προδέρμ!).
Είναι ενδιαφέρον μάλιστα ότι είναι η απλούστερη συνταγή και ταυτόχρονα η πιο σίγουρη. Το αρνάκι στο φούρνο με πατάτες έχει θέση απόλυτης οικογενειακής σταθερής σε κάθε μεγάλη εορταστική συνεύρεση. Κάτι σαν γευστικό «οικόσημο». Healthy Broccoli Smoothie | Smoothie Recipes. Advertisement - Scroll down for Smoothie Recipe Broccoli is one of the best foods that mother nature makes.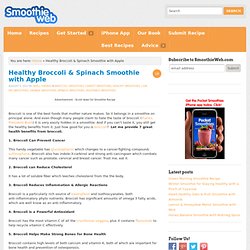 So it belongs in a smoothie on principal alone. 51 Foods You SHOULD Be Eating | The Belly Off! Nutritionist. We recently wrote a blog called the 10 Commandments of Fat Loss — and it got a lot of attention … It was reposted all over the place and in fact, a magazine editor called me asking to use it on their blog too.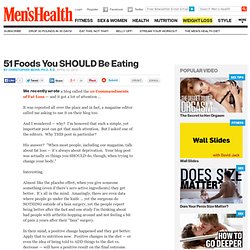 And I wondered — why? I'm honored that such a simple, yet important post can get that much attention. Fish Tacos Recipe. Crunchy Crab Cakes Recipe. The Everyday Superfood. Almost-Famous Broccoli-Cheddar Soup Recipe : Food Network Kitchens. Directions Melt the butter in a large Dutch oven or pot over medium heat.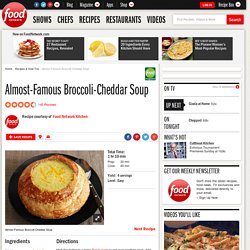 Add the onion and cook until tender, about 5 minutes. Whisk in the flour and cook until golden, 3 to 4 minutes, then gradually whisk in the half-and-half until smooth. Add the chicken broth, bay leaves and nutmeg, then season with salt and pepper and bring to a simmer. Almost-Famous Breadsticks Recipe : Food Network Kitchens. Homemade Baked Mozzarella Sticks | Penelope's Oasis - StumbleUpon. Mozzarella sticks are a delicious treat, probably one of the most popular appetizers at restaurants, and a fun party food.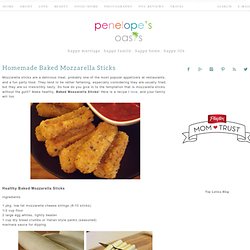 They tend to be rather fattening, especially considering they are usually fried, but they are so irresistibly tasty. So how do you give in to the temptation that is mozzarella sticks without the guilt? Make healthy, Baked Mozzarella Sticks! Here is a recipe I love, and your family will too. Ingredients. Milk punch. Old as it may be, I hadn't heard of milk punch before a few weeks ago but can assure you, I've thought about nothing else since, not blizzards, not book deadlines and not how long it will take for all of the molars to show up so we can get back to sleeping again.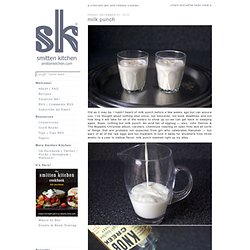 Nope, nothing but milk punch. An avid fan of eggnog — also, John Denver & The Muppets Chrismas album, carolers, chestnuts roasting on open fires and all sorts of things that are probably not expected from girl who celebrates Hanukah — but wary of all of the raw eggs and too impatient to tuck it away for anywhere from three weeks to a year to mellow flavor, milk punch seemed right up my alley. Chocolate Caramel Cookies with Sea Salt. Chocolate Caramel Cookies with Sea Salt Happy Birthday to ME!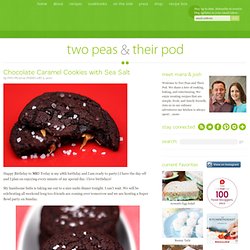 Today is my 28th birthday and I am ready to party:) I have the day off and I plan on enjoying every minute of my special day. I love birthdays! My handsome hubs is taking me out to a nice sushi dinner tonight. I can't wait. Chai Spiced Sugar Cookies. You may be well on your way into settling into this New Year, and maybe even weaned your way out of your elastic-waist pants.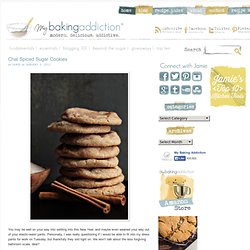 Personally, I was really questioning if I would be able to fit into my dress pants for work on Tuesday, but thankfully they slid right on. We won't talk about the less forgiving bathroom scale, deal? I think I'm finally coming down from my food induced haze and find myself craving structure as opposed to cookies. Lunch Recipe: Warm Chickpea Salad with Cumin & Garlic.
This salad is one of my favorite ways to turn chickpeas into lunch: Crunchy with tiny cumin seeds, punched up with a pinch of red chili flakes.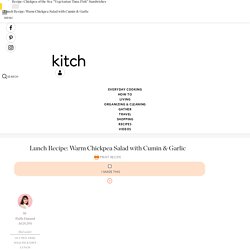 Cool, crisp cucumber nestles in between the chickpeas, and sun-dried tomatoes lend a savory note. It is totally satisfying and filling — and it just happens to be vegan and gluten-free, too, in case, such things are also on your list of lunch priorities. Perfect Iced Coffee. Iced coffee is my life.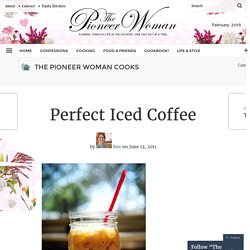 When I wake up, often around the time party animals on the west coast are just heading home, I start each day not with a cup of freshly brewed hot java, but with a tall, blessed glass of creamy iced coffee in a glass. I've been an iced coffee freakazoid for years and years. To say I couldn't live without it is an understatement. Avgolemono (Greek Lemon Chicken Soup) Recipe. Enlarge Credit: Maxime Iattoni SERVES 6 1 (3½ to 4 lb.) chicken 1 medium onion, chopped (approximately 1½ cups) 1 medium carrot, chopped (approximately ½ cups) 3 ribs celery, chopped (approximately 1½ cups) 8 cups water 2 tsp. salt, plus to taste 1 cup long grain white rice 4 eggs, at room temperature 1 tsp. cornstarch 2 tbsp. cold water ¼ cup lemon juice, plus more to taste (approximately 2 lemons) 1.
Place chicken, chopped vegetables and water in a large 6-8 qt. pot. Bring to a boil, reduce heat to low and simmer for 1½ hours, skimming broth frequently and turning chicken at midway point. Cold Cucumber Yogurt Soup Recipe. Enlarge Credit: Anna Stockwell SERVES 4 FOR THE ICE CUBES: 3 tbsp. mint leaves, cut into chiffonade 1 tbsp. lemon juice ⅛ tsp. salt FOR THE SOUP: 3 medium cucumbers, peeled, seeded, and diced (about 3 ½ cups or 1 lb.) 1 ¼ cup plain Greek-style strained yogurt ¼ cup lemon juice ¼ cup mint leaves 2 tbsp. chives, roughly chopped 2 tbsp. extra virgin olive oil ¼ tsp. salt 1. Homemade French Onion Dip Recipe.
Enlarge Credit: Todd Coleman MAKES ABOUT 3 ½ CUPS 4 medium yellow onions (2 quartered lengthwise, 2 finely chopped) 1 cup olive oil Kosher salt and freshly ground black pepper, to taste 1 cup mayonnaise ½ cup cream cheese, softened ½ cup sour cream 1 tbsp. fresh lemon juice 1 tsp. Worcestershire sauce Hot sauce, such as Tabasco, to taste 4 scallions, minced Cut raw vegetables, such as cucumber, carrot, and cauliflower, for serving. Speķa Pīrāgi (Bacon Turnovers) Recipe. Enlarge Credit: Landon Nordeman MAKES ABOUT 60 Ingredients 1¼ cups milk12 tbsp. unsalted butter, plus more for greasing⅓ cup plus 1 tsp. sugar1 tsp. kosher salt2¼-oz. packages active dry yeast5 cups flour1 tbsp. canola oil1 lb. double-smoked bacon, cut into ⅛" cubes1 small yellow onion, mincedKosher salt and freshly ground black pepper, to taste1 tbsp. heavy cream1 egg yolk1 egg white, lightly beaten Instructions. Mitzi's Chicken Fingers Recipe.
FOR THE DIPPING SAUCE:1½ cups mayonnaise¼ cup honey2 tbsp. roughly chopped dill2 tbsp. fresh lemon juice1 tbsp. dry mustard powderKosher salt and freshly ground black pepper, to taste FOR THE CHICKEN FINGERS:2 lb. boneless, skinless chicken breasts, cut into 3"-long-by-1"-wide strips1 tbsp. sugar1 tbsp. kosher salt1 tbsp. freshly ground black pepper1½ tsp. garlic powder1 tsp. paprika1 tsp. dry mustard powder1 cup flour4 eggs, lightly beaten3 cups finely ground fresh breadcrumbs or pankoCanola oil, for frying 1.
Make the dipping sauce: In a medium bowl, whisk together the mayonnaise with the honey, dill, mustard powder, and lemon juice. Season with salt and pepper, and stir together until smooth; set honey-dill dipping sauce aside. Watch TV Online - TV Shows - Series, Episodes, Seasons - SideReel. Jamie's Cranberry Spinach Salad Recipe. Roquefort Pear Salad Recipe.
---