Recipe Sites
Apartment Therapy The Kitchn
Sarah Copeland has a way of making every recipe she writes seem deeply and immediately exciting. It's in the way she pulls ingredients together (Plumped plums and lime with oatmeal? Apples and rye pancakes? Asparagus and miso butter? Yes to all of the above), partly in the photos that make me want to nibble the pages, and partly something ineffable that just screams, "Yes. This food, right now. Ham and asparagus strata, with rustic bread, egg, Gruyere cheese, milk, cream, ham, and asparagus Perfect for holiday entertaining, glazed baked ham with sweet-hot-honey-mustard or honey-thyme glaze. Pacific black cod (sable fish) cooked in a broth of sake, rice vinegar, soy sauce and oil Tastes like apple pie!
Simply Recipes Food and Cooking Blog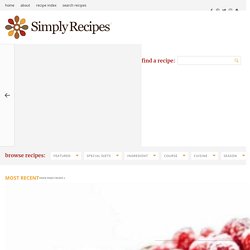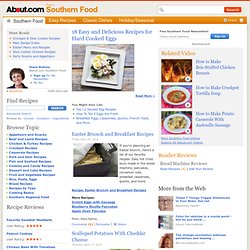 Southern Food and Recipes - Southern-Style Recipes, Crockpot Recipes, Casserole Recipes, and More
This succulent bacon-wrapped, spice-rubbed pork loin is finished with a fabulous brown sugar glaze. Serve this great tasting pork roast with mashed potatoes, corn, and a tossed green salad or coleslaw.Recipe: Bacon-Wrapped Pork Loin With Brown Sugar Glaze More Recipes:Slow Cooker Brown Sugar Pork LoinOrange Braised Pork LoinSweet Mustard Glazed Pork Loin Roast Pork Loin Image © Diana Rattray, Licensed to About.com, Inc.
foodwishes's Channel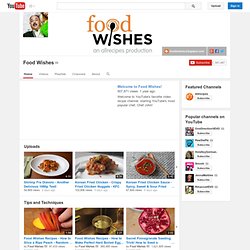 These video recipes are from my website http://foodwishes.com and Allrecipes.com - Watch these fun to make, and easy to follow recipes, and you'll improve your culinary skills dramatically! If you visit http://foodwishes.com - you can read the story, ingredients, and details that go along with these recipes. Not to mention lots of other fabulous fun for foodies! Enjoy!
This fascinating pork on a stick recipe is American cuisine in a nutshell. City cooks, who couldn't get chicken, would take scraps from much-cheaper-at-the-time pork, and build something similar to what you see here; but that's not what makes this delicious mock drumstick so American. Why this represents the true spirit of American food, is that long after chicken became cheap and plentiful, people kept making and eating this anyway.
Food Wishes Video Recipes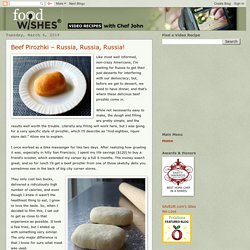 Good Bite is obsessed with our "delicious made easy" mission. We feature America's leading food bloggers and famous faces from the food world who share definitive recipes and cooking inspiration. Above all, we're the place for home cooks to get inspired and engage with their favorite food talent. We are, truly, the tastiest recipe resource on the web.
Goodbite
Comfort Foods - Best Recipes for Comfort Food
Appetizers, Soups and Salads Index
Popular Potluck Recipes - Food.com