Food Blogs
The Domestic Mama & The Village Cook « life is about having good food,good fun, and a good laughThe Domestic Mama & The Village Cook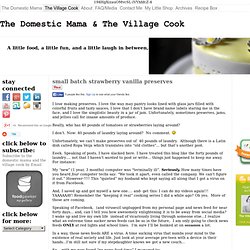 There are times I get cravings for moist, cake like doughnuts smothered in a slightly crisp glaze, there are other times I get cravings for grilled cheese made with (gasp!) white bread and lots of salted butter in the pan, with creamy American cheese oozing at every bite. Junk food at it's finest. Then, there are times I get a non food craving- a craving to declutter all the excess stuff in my life, of course this usually happens after I watch an episode of "Hoarders" … not that any of my stuff is anywhere near some of those, of course.( Although I will admit I have an abundance of cookbooks and pretty mismatched dishes.)
Long hours at work over the last month have kept me out of the kitchen and away from my rewarding exercise schedule. Whilst the contents of my Mariquita mystery farm box have been idly languishing in the fridge my mealtimes have, sadly, descended to a sorry catalog of unhealthy options I am almost afraid to admit to. Nature's Valley Oat & Honey bars from the vending machine and sandwiches with butter, salt and vinegar crisps and Marmite have been the highlights of my dietary calendar for the past few weeks.
Becks & Posh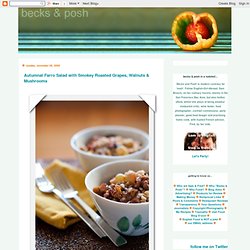 Aggies Kitchen
Warning: This post is going to make you extremely hungry!! Today my beautiful friend Flavia is here, sharing what's in her fridge in her Italian kitchen. Flavia's food is "home" to me, it brings me such comfort to read her posts and how she describes her food and writes her recipes. I was lucky enough to meet Flavia in person a few years ago and I felt like I was sharing a meal with an Italian cousin of mine.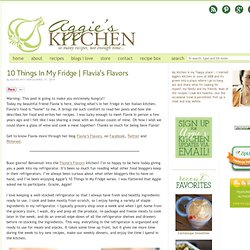 5 second rule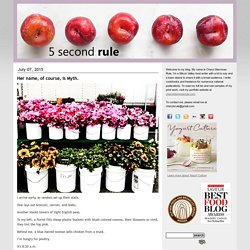 The day before I started culinary school I was attacked by a tuna can. This was inauspicious at best, humiliating at worst. It meant I began the transition to my new career not in a haze of gauzy wonder but in several layers of actual gauze, taped over fresh stitches by the fine folks at Leonard Morse Hospital in Natick, Massachusetts. Imagine my introduction to my fellow students the following day. "Hi, I'm Cheryl. Excuse me if I don't shake your hand, but really, you can trust me around meat slicers, robot-coupes, and giant knives for the next 10 months."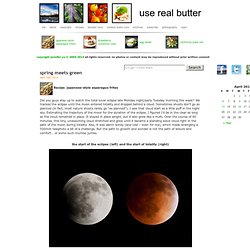 use real butter
Recipe: egg salad Jeremy's parents visited with us earlier this week for a few days. It's been a while since I've seen them because we haven't been able to travel with Kaweah to their house for the past year.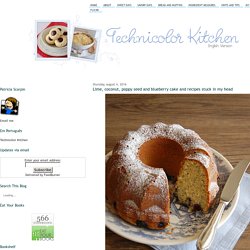 Days ago, a friend of mine asked the following question on Facebook: "how was your life before the Internet"? I did not answer but have thought about it ever since. I love the Internet and not a day goes by without me using it, even if it is for 5 minutes: it's great not having to go to the bank to pay a bill, being able to buy movie tickets ahead of time (no lines!), watching movies and TV shows that take forever to arrive here in Brazil (if they arrive at all), and well, I love writing a blog, too. :D
Technicolor Kitchen - English version
This is another recipe from my father and it has been a staple in my parents house ever since I can remember. My father always makes this at Christmas and Easter when it is traditionally served in Hungary. Beigli is also popular in various other cultures too including those in Central and Eastern Europe as well as Israel where it goes by a variety of different names according to the culture and the respective language.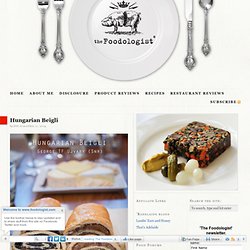 The Foodologist — A man and his food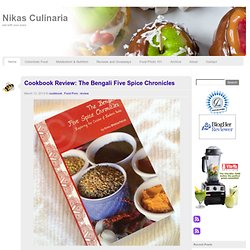 Nikas Culinaria - eat with your eyes
When I was given an opportunity to review this delightful cookbook "The Bengali Five Spice Chronicles" by Rinku Bhattacharya I happily accepted. I simply adore all types of Indian food. It is all a wonderland of new and old favorite flavors. My introduction to Indian food was through Bengali home cooking – my boyfriend in graduate school was from Bangladesh, via Hyderabad.
Stuff I've Gotta Share and You've Gotta See Here's another edition of Stuff I've Gotta Share and You've Gotta See! >> Here's what I shared on Parade Magazine's blog this week, and I'm having a really tough time…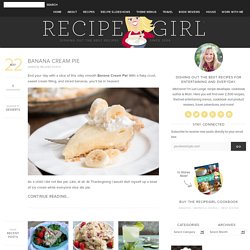 RecipeGirl.com
Steamy Kitchen Recipes and Food Blog
If we are friends in real life, then you most likely know that I'm a rather easy-going guy (on most days, I mean). I prefer to roll with those punches, to let bygones be bygones, and accept what the universe presents to me most of the time. I'm fine with just about anything, really. No, really, except when it comes to pizza. Far from being a snob, I feel as if I've put in my time when it comes to doughy, salty, greasy disks of fast food or chain pizza pies.
Matt Bites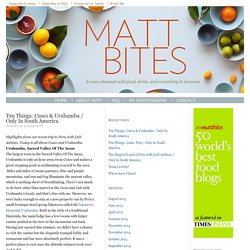 Potatoes, butter, salt and pepper — that's all it apparently takes to get me very excited about a side dish! I was inspired to make today's Grilled Potatoes Anna on the panini press after tasting the Pommes Anna (the Frenchier name for it) at Brooklyn Girl, a popular new(ish) restaurant in the Mission Hills neighborhood of San Diego. My husband, Mike, and I were there to preview their prix fixe menu lineup for San Diego Restaurant Week, which runs next week (Jan 19-24, 2014). Read on to see the highlights from our terrific dinner at Brooklyn Girl, and my recipe for a simply delicious side dish on your panini press, Grilled Potatoes Anna!
Panini Happy®: Panini Recipes, Tips and Tales from the Grill
A lot of us are coming to appreciate the artistry of talented livestock farmers and ranchers. Long part of the mythology of the American West and representative of quiet masculinity, the cowboy is by and large to be admired and emulated where possible. Anyone who knows me knows I have discovered there is a sub-section of meat producers - some cowboys, some not - who are truly artisans of their craft.
Discover the World of Artisan Beef
101 Cookbooks - Healthy Recipe Journal
I thought I'd show you how I took a favorite component of a recent recipe, made a minor tweak, and turned it into something completely different. Do you remember the herb-packed coconut milk from this green curry porridge? Well, it's good.
Bake Me More
Bake or Break | Adventures of an amateur baker
Baking Bites
Blue Kitchen — Good food. Great stories. I swear.
Cooking Comically takes a comic book approach to presenting "recipes so easy you'll actually make them." A Commonplace Book of Pies redefines everything we thought we knew about pie through prose poems, humor and, yes, recipes. We know we all need to cook more. Stuff we cook for ourselves is generally healthier and can save us money. There are many serious efforts out there to get us doing that.
livefire
Coconut & Lime
Culinary in the Desert
Dine & Dish Family friendly recipes & menu planning ideas
Ezra Pound Cake | The kitchen confessional of Rebecca Crump.
Homesick Texan
Lottie + Doof
The Porkchop Express
Mexico: Food, Drinks & More!! - …taste the real Mexican Food
Noshtalgia
Food, Recipes, and Photography — Pinch My Salt
The Pioneer Woman | Ree Drummond
Retro-Food.com | A Love Song with Vintage Recipes
Michael Ruhlman - Translating the Chef's Craft for Every Kitchen kitchen
smitten kitchen
A Year of Slow Cooking