Athens-Clarke County
Earth Fare Athens
from privetelabelsbuyer.com:Trader Joe's and ALDI are controlled by the same German family, the reclusive Albrecht brothers, Karl and Theo . . The chains have been operated separately to date. . . THE STUFF OF LEGEND. . .what began in 1958 as a convenience store chain called Pronto Markets.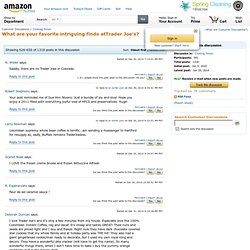 Customer Discussions: What are your favorite intriguing finds atTrader Joe's?
Athens Georgia travel, vacation, events, hotels, music, & attractions
You may know Athens, Georgia as home to R.E.M. and the B-52s, the city Rolling Stone named "#1 College Music Scene in America." You may know it for the University of Georgia and Georgia Bulldogs, the "Classic City of the South" where rich tradition at the heart of a hip college town creates a culture unlike any other. Nestled below the Blue Ridge Mountains, 70 miles from Atlanta, Athens is a harmony of old and new: wedding-perfect Antebellum architecture, contemporary art and eclectic nightlife, a Victorian-era downtown teeming with funky shops and one of the South's most progressive culinary scenes.