UzerXperience
This Is Your Brain On Boarding: How To Turn Visitors Into Users. Editor's Note: Nir Eyal is a Lecturer in Marketing at the Stanford Graduate School of Business.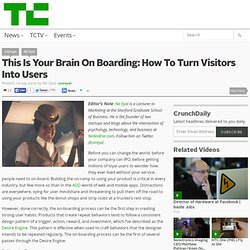 He is the founder of two startups and blogs about the intersection of psychology, technology, and business at NirAndFar.com. Follow him on Twitter @nireyal. Before you can change the world, before your company can IPO, before getting millions of loyal users to wonder how they ever lived without your service, people need to on-board. Visualizing the Consumer Path. Indra // June 15, 2012 // Advertising, Digital, Public Relations, Social Media // Comments Off Couple of months ago I wrote about the challenges of measuring social media and the terrific new tools Google is developing, like Multi-Channel Funnels, to help marketers track a consumer's path toward purchase.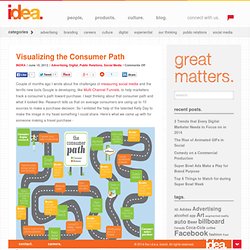 I kept thinking about that consumer path and what it looked like. Research tells us that on average consumers are using up to 10 sources to make a purchase decision. So I enlisted the help of the talented Kelly Day to make the image in my head something I could share. UX: Beyond a Beautiful UI | Technori. What do you think of when you hear the term "UX?"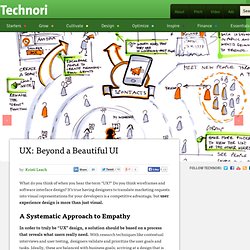 Do you think wireframes and software interface design? It's true having designers to translate marketing requests into visual representations for your developers is a competitive advantage, but user experience design is more than just visual. A Systematic Approach to Empathy. 4 Tips For Getting More Site Conversions. Getting people to your Web site is one thing.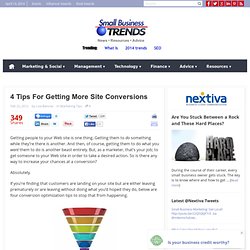 Getting them to do something while they're there is another. And then, of course, getting them to do what you want them to do is another beast entirely. Mobile URLs vs. Single URLs: Making The Right Decision For Your Company. The Bing statement about mobile SEO last month, which followed Google's announcement about the new smartphone crawler in December, has sparked some discussion, and given mobile SEO some time in the spotlight.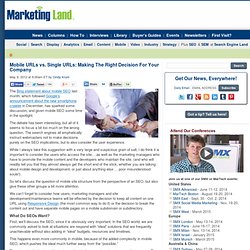 The debate has been interesting, but all of it seems to focus a bit too much on the wrong question. The search engines all emphatically instruct webmasters not to make decisions purely on the SEO implications, but to also consider the user experience. While I always take this suggestion with a very large and suspicious grain of salt, I do think it is important to consider the users who access the site….as well as the marketing managers who have to promote the mobile content and the developers who maintain the site, (and who will readily tell you that they almost always get the short end of the stick, whether you are talking about mobile design and development, or just about anything else … poor misunderstood souls!).
Mobile Apps vs. the Mobile Web: "It Doesn't Matter to Consumers" The latest in its series of discussions about the future of the internet, the Pew Internet Project released a new report this morning that wades into the mobile "apps vs. web" debate.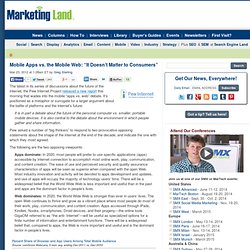 It's positioned as a metaphor or surrogate for a larger argument about the battle of platforms and the internet's future: It is in part a debate about the future of the personal computer vs. smaller, portable mobile devices. It is also central to the debate about the environment in which people gather and share information. Pew asked a number of "big thinkers" to respond to two provocative opposing statements about the shape of the internet at the end of the decade, and indicate the one with which they most agreed. The following are the two opposing viewpoints: Eye tracking study reveals 12 website tactics. Eye tracking studies have revealed valuable information about how people read and interact with websites.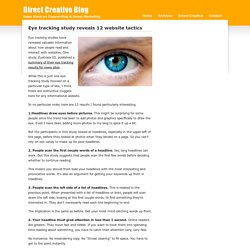 One study, Eyetrack III, published a summary of their eye tracking results for news sites. While this is just one eye tracking study focused on a particular type of site, I think there are instructive nuggets here for any informational website. In no particular order, here are 12 results I found particularly interesting.
Gamification And UX: Where Users Win Or Lose. Advertisement The gaming industry is huge, and it can keep its audience consumed for hours, days and even weeks.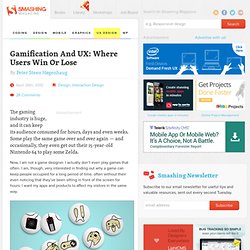 Some play the same game over and over again — and occasionally, they even get out their 15-year-old Nintendo 64 to play some Zelda. Now, I am not a game designer.
---