Not free
Text-to-Speech Software Programs | TTS Demo
IVR/Alert System Build IVR, telephony, alert, and other voice solutions using the versatile text-to-speech (TTS) Server and SDK. Multimedia Integrate high-quality voices into your multimedia applications using NeoSpeech TTS engines. Voice Cloud Deploy speech-enabled Web sites, services or applications via the NeoSpeech hosted online TTS solution.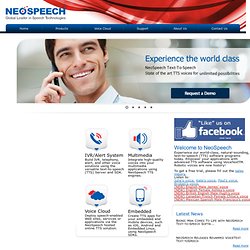 SVOX - Embedded Text-to-Speech
global supplier of speech recognition and speech synthesis technology and solutions.
Fonix TTS
Cepstral Text-to-Speech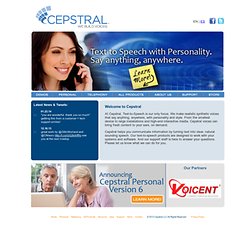 At Cepstral, Text-to-Speech is our only focus. We make realistic synthetic voices that say anything, anywhere, with personality and style. From the smallest device to large installations and high-end interactive media, Cepstral voices can bring fresh content to your ears, on demand.