Not free
RealSpeak - Supported Languages
Text-to-Speech Software Programs | TTS Demo
Incredibly nicely done (talking about the different tune of voices) by helldiver Jul 22
Stay Connected with Dragon Drive! More than 70 million cars and 50 million portable navigation systems are equipped with Nuance speech technologies. Our state-of-the-art interfaces—speech recognition, text-to-speech, signal enhancement, predictive text, handwriting and more—keep drivers safe and connected behind the wheel.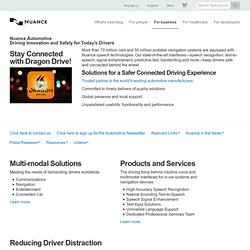 SVOX - Embedded Text-to-Speech
global supplier of speech recognition and speech synthesis technology and solutions.
Fonix TTS
an extensive cast of text to speech talents! Experience and enjoy an exciting and wide range of voices, very different from each other: voices that interpret and read content with meaning and emotion, voices with accents, voices of celebrities,... Read more Acapela Text to Speech Demo Report a pronunciation bug Powered by Acapela Voice as a Service .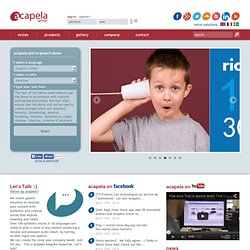 Cepstral Text-to-Speech