Mac free troubleshooting software
BULGARI`s Wordpress | about MAC, SNS, IT, PHOTO…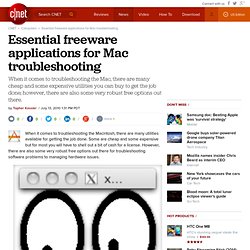 When it comes to troubleshooting the Macintosh, there are many utilities available for getting the job done. Some are cheap and some expensive but for most you will have to shell out a bit of cash for a license. However, there are also some very robust free options out there for troubleshooting software problems to managing hardware issues. Even though they are free, many freeware options can be just as good if not better than the paid alternatives. While they are not necessarily pretty applications, many are simple and straightforward approaches to tackling individual problems in the system.
Essential freeware applications for Mac troubleshooting | MacFixIt
Cocoa Packet Analyzer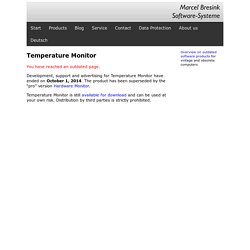 Current Version 4.98, released September 20, 2013 What's new in this version? Languages English German
Temperature Monitor: Description
Kelley Computing - Rember
NTFS-3G for Mac OS X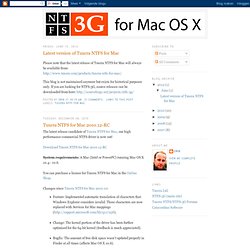 What's new since NTFS-3G for Mac OS X 2010.8.8:All in the NTFS-3G release notes.The development of NTFS-3G for Mac OS X is funded by Tuxera Ltd. Download: System requirements:Mac OS X 10.4/10.5/10.6 (10.6 requires that you do not use the 64-bit kernel), running on an Intel or PowerPC computer.The package has been tested with Mac OS X 10.4.11/PowerPC, Mac OS X 10.5.8/PowerPC and Mac OS X 10.6.4/Intel/64-bit Intel.NTFS-3G includes and depends on MacFUSE.
Latest stable version 6.14 July 30, 2013 TestDisk is OpenSource software and is licensed under the terms of the GNU General Public License (GPL v2+). TestDisk is powerful free data recovery software! GrandPerspective
GrandPerspective is a small utility application for Mac OS X that graphically shows the disk usage within a file system. It can help you to manage your disk, as you can easily spot which files and folders take up the most space. It uses a so called tree map for visualisation. Each file is shown as a rectangle with an area proportional to the file's size. Files in the same folder appear together, but their placement is otherwise arbitrary. News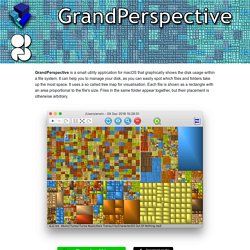 Titanium's Software • Download
Introduction AppleJack is a user friendly troubleshooting assistant for Mac OS X. With AppleJack you can troubleshoot a computer even if you can't load the GUI, or don't have a startup CD handy. AppleJack runs in Single User Mode and is menu-based for ease of use.