Mac free troubleshooting software
BULGARI`s Wordpress | about MAC, SNS, IT, PHOTO… Essential freeware applications for Mac troubleshooting | MacFixIt. When it comes to troubleshooting the Macintosh, there are many utilities available for getting the job done.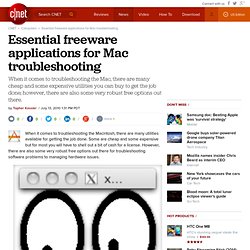 Some are cheap and some expensive but for most you will have to shell out a bit of cash for a license. However, there are also some very robust free options out there for troubleshooting software problems to managing hardware issues. Even though they are free, many freeware options can be just as good if not better than the paid alternatives. While they are not necessarily pretty applications, many are simple and straightforward approaches to tackling individual problems in the system. Cocoa Packet Analyzer.
Temperature Monitor: Description. Current Version 4.98, released September 20, 2013 What's new in this version?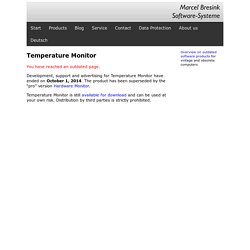 Languages English German. Kelley Computing - Rember. Description Rember is a front-end GUI to the 'memtest' command line memory testing program.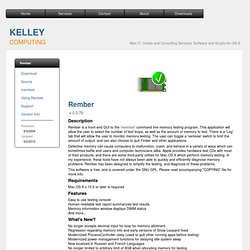 This application will allow the user to select the number of test loops, as well as the amount of memory to test. There is a 'Log' tab that will allow the user to monitor memory testing. NTFS-3G for Mac OS X. TestDisk. Latest stable version 6.14 July 30, 2013 TestDisk is OpenSource software and is licensed under the terms of the GNU General Public License (GPL v2+). TestDisk is powerful free data recovery software! GrandPerspective. Titanium's Software • Download. AppleJack Project Page.
---