Artist
Photographes // Photographers
Sorry for the late update everyone but, I've been super busy. Here's what I've been up to. - Maier's PowerHouse book is in the making with their expected release around Fall of 2011. - A feature-length documentary film is production - currently spearheaded by good friend Anthony Rydzon and myself (update: and in cooperation with Mortensen Film). - Scanned and archived about 10,000 negatives with the help of Anthony Rydzon. - Vivian's first US exhibition will be at the Chicago Cultural Center.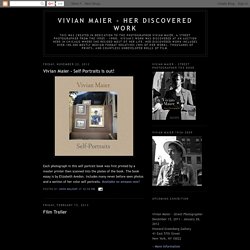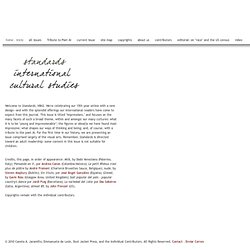 standards: international cultural studies
Welcome to Standards, V8N2. We're celebrating our 15th year online with a new design—and with the splendid offerings our international readers have come to expect from this journal. This issue is titled "Impressions," and focuses on the many facets of such a broad theme, within and amongst our many cultures: what it is to be "young and impressionable"; the figures or idea(l)s we have found most impressive; what shapes our ways of thinking and being; and, of course, with a tribute to the poet Ai. For the first time in our history, we are presenting an issue comprised largely of the visual arts. Remember, Standards is directed toward an adult readership: some content in this issue is not suitable for children.
Kim Letkeman's Home Page - Home
Photography By Kubrak Denis - AVAXHOME - Rapidshare, megaupload, mediafire, torrent, bittorrent, easy-share, filefactory, hotfile, netload, uploading, depositfiles, sendspace collection .
Fotografia Moçambicana - the Platform of Mozambican Photographers
The Light Conversationalist: Pak Han Foto »
Toshio ''s Photostream
Ender079's Photostream
George Steinmetz - Empty Quarter
Rencontre avec un renard - Près de chez vous
themantisproject
Behind The Glass In our modern world where most of us are generally surrounded by and marketed to with uninspiring things, this serves as my attempt to counter that with moments I've found to be interesting and special. I've taken and post-processed all the photos here since 2002. I currently call Austin home and have lived throughout the United States (to include Washington State, Florida, Indiana, Virginia & Texas) during my lifetime.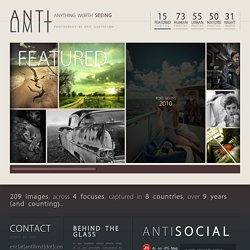 I came across a slightly mysterious website -- a collection of Polaroids, one per day, from March 31, 1979 through October 25, 1997. There's no author listed, no contact info, and no other indication as to where these came from. So, naturally, I started looking through the photos.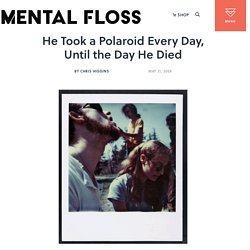 Home Page