Artist
Photographes // Photographers.
Germany
Europe. Finland. Ukraine. Vivian Maier - Her Discovered Work. Sweden. Standards: international cultural studies. US. Poland. Landscape. Kim Letkeman's Home Page - Home. Photography By Kubrak Denis - AVAXHOME.
Fotografia Moçambicana - the Platform of Mozambican Photographers. The Light Conversationalist: Pak Han Foto » Toshio ''s Photostream. Ender079's Photostream. George Steinmetz - Empty Quarter. Rencontre avec un renard - Près de chez vous. Themantisproject. Mark Jenkins // Street Installations.
Andrej Belic / Undersea Photography / Unterwasserfotografie. Cole rise. ANTILIMIT | creative imagery by Eric M Gustafson. Photographers. Mental_floss Blog » He Took a Polaroid Every Day, Until the Day. I came across a slightly mysterious website -- a collection of Polaroids, one per day, from March 31, 1979 through October 25, 1997.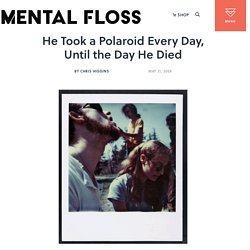 There's no author listed, no contact info, and no other indication as to where these came from. So, naturally, I started looking through the photos. Home Page.
---