Cichlids
Below is an alphabetical checklist of Lake Malawi's haplochromine genera and species (other than Mbuna). The list, which is also available sorted by color pattern, follows Eccles & Trewavas's (1989) classification, as modified by selected subsequent work. For want of a better name, this non-mbuna species flock can informally be called the "Haps," after the genus Haplochromis Hilgendorf, to which many of these fishes were once assigned. Select a generic name below to see the list of species it contains, with (nonclickable) icons showing their color pattern(s). Within each genus, some genus and species names are linked to habitus photos and drawings; at least one species of every genus is illustrated. Tip: Be sure to scroll down on each picture page for the caption and any additional pictures.
Checklist of the Malawi "Hap" Species Flock (Alphabetically)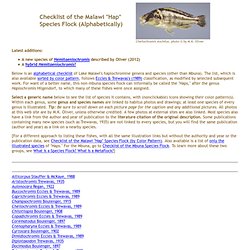 cichlids.com: dedicated to cichlids
Elena Kozlova, Jan 5th, 2014 Lake Tanganyika, 27x15x9 (18 gallons) Fish: Lamprologus ocellatus "Gold" Julidochromis dickfeldi Lake Tanganyika, 59x19x23 (118 gallons) Fish: Cyphotilapia gibberosa "Blue Zaire Kitumba"; Grammatotria lemairii Katete; Altolamprologus calvus "Chaitika White"; Lepidiolamprologus meeli; Hypancistrus sp. (L201); Ancistrus sp.
American Cichlid Association
Welcome to Big Sky Cichlids! -African Cichlid Site
AfricanCichlids.net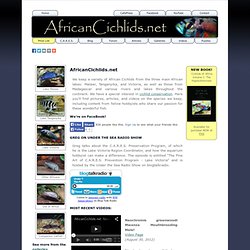 AfricanCichlids.net We keep a variety of African Cichlids from the three main African lakes: Malawi, Tanganyika, and Victoria, as well as those from Madagascar and various rivers and lakes throughout the continent. We have a special interest in cichlid conservation. Here you'll find pictures, articles, and videos on the species we keep, including content from fellow hobbyists who share our passion for these wonderful fish.
At Live Fish Direct we have over 20 years experience breeding tropical fish. Our 40,000 square foot tropical fish hatchery, fed by a constant stream of geothermal water, is the largest tropical fish farm outside of Florida. We pride ourselves on providing the highest quality tropical fish at the best prices.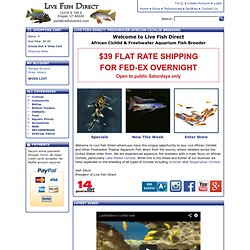 Buy Freshwater African Cichlids at Live Fish Direct: Freshwater Aquarium Fish Breeder
Cichlid Research Home Page
Cichlid Forums - Neotropical and African Cichlid Aquarist Community
Malawi and Victorian Cichlids