Cichlids
Checklist of the Malawi "Hap" Species Flock (Alphabetically) Below is an alphabetical checklist of Lake Malawi's haplochromine genera and species (other than Mbuna).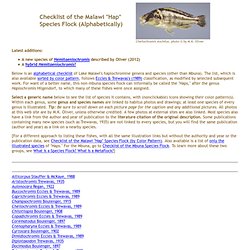 The list, which is also available sorted by color pattern, follows Eccles & Trewavas's (1989) classification, as modified by selected subsequent work. For want of a better name, this non-mbuna species flock can informally be called the "Haps," after the genus Haplochromis Hilgendorf, to which many of these fishes were once assigned. Select a generic name below to see the list of species it contains, with (nonclickable) icons showing their color pattern(s). Within each genus, some genus and species names are linked to habitus photos and drawings; at least one species of every genus is illustrated.
Tip: Be sure to scroll down on each picture page for the caption and any additional pictures. Cichlids.com: dedicated to cichlids. American Cichlid Association. Welcome to Big Sky Cichlids! -African Cichlid Site. AfricanCichlids.net. Buy Freshwater African Cichlids at Live Fish Direct: Freshwater Aquarium Fish Breeder. Cichlid Research Home Page. Cichlid Forums - Neotropical and African Cichlid Aquarist Community. Malawi and Victorian Cichlids.
---