Crafts
Add Ears and Features - Menswear Mouse Toy - Step 4 - MarthaStewart.com
Hello Kitty amigurumi for a friend | Random assortment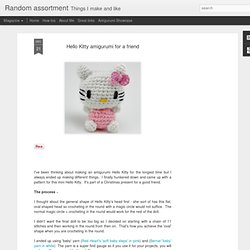 I've been thinking about making an amigurumi Hello Kitty for the longest time but I always ended up making different things.
I will never live long enough to read, learn, and do EVERYTHING I want to know about and experience. That anxiety may be why I have an incredibly hard time just sitting and doing nothing for fear of wasting a precious moment of opportunity.
courage to create: July 2009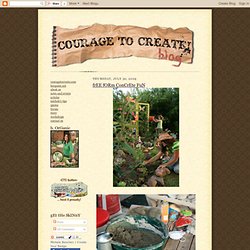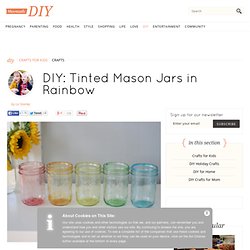 I love using mason jars for decorating and a seemingly endless supply of craft projects. But rainbow tinted mason jars, just like the vintage ones you can never find anymore? This one might be my favorite project with mason jars yet!
27 Creative Uses For Jars And Recycled Bottles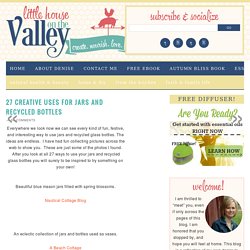 Everywhere we look now we can see every kind of fun, festive, and interesting way to use jars and recycled glass bottles. The ideas are endless.
Search Tips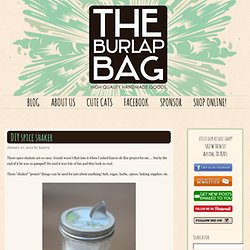 The Burlap Bag - High Quality Handmade Goods Shop - Austin Texas
January 27, 2012 by Lauren These spice shakers are so easy. Josiah wasn't that into it when I asked him to do this project for me.... but by the end of it he was so pumped!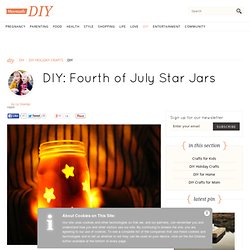 These transformed mason jars are a fun way to both decorate an outdoor table for a 4th of July celebration or a safe way to entertain the kids during fireworks. Red spray paint Mason Jars Star stickers Newspaper Scatter star stickers onto the mason jar, make sure they're stuck on very tight Screw on the mason jar lid and cap and place on top of a table covered in newspaper in a well ventilated area Spray with the paint from a nice distance around the entire jar until it's coated well but without drips. Wait at least a couple hours for the jar to dry and carefully peel off the star stickers Place 2-3 battery operated votive candles in each jar and enjoy your festive 4th of July evening!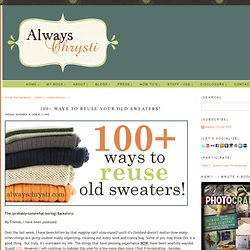 The (probably-somewhat-boring) Backstory: My Friends, I have been posessed.
Always Chrysti - Always Chrysti - 100+ Ways to reuse your old sweaters!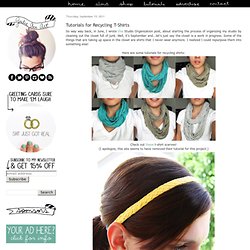 So way way back, in June, I wrote this Studio Organization post, about starting the process of organizing my studio by cleaning out the closet full of junk. Well, it's September and...let's just say the closet is a work in progress. Some of the things that are taking up space in the closet are shirts that I never wear anymore.
How to Make a Cat Bed from an Old Sweater: 6 steps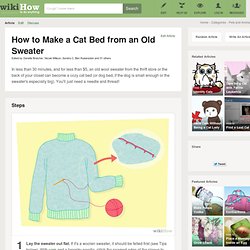 Edit Article
Resweater
15+ T-shirt Recycling DIY Ideas