Perler - smykker
Nordic Beads
SØLVKÆDEN ApS - Alt-til-smykkefremstilling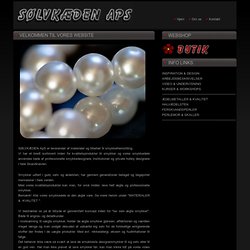 SØLVKÆDEN ApS er leverandør af materialer og tilbehør til smykkefremstilling. Vi har et bredt sortiment inden for kvalitetsprodukter til smykker og vores smykkedele anvendes både af professionelle smykkedesignere, institutioner og private hobby designere i hele Skandinavien. Smykker udført i guld, sølv og ædelsten, har gennem generationer betaget og begejstret mennesker i hele verden. Med vores kvalitetsprodukter kan man, for små midler, lave helt ægte og professionelle smykker. Bemærk! Alle vores smykkedele er den ægte vare.
www.halling-beads.dk
samt smykketilbehør af høj kvalitet til lave priser. Vi holder OPHØRSUDSALG og lukker webshoppen helt i løbet af juni måned. Vi giver nu 60 % rabat på alle ordrer. Rabatten fratrækkes automatisk i indkøbskurven. Leveringstiden er pt. længere end vanligt grundet den meget store ordremængde, der kan gå 7-8 dage fra ordreafgivelsen til afsendelsen.Vi forhandler blandt meget andet: Perler af sten, ferskvandsperler, glasperler, resin blomster, ørekroge og andet tilbehør fra Bali af sølv/forgyldt sølv.
I Smykkebixen finder du et stort udvalg i materialer til smykkefremstilling. Vi har perler, perlestave, øreringe, øskner, vedhæng, ferskvandsperler, halvædelsten, hårbøjler, sølvtråd, smykkelåse, knyttesnor. Ja stort set alt hvad du skal bruge til smykkefremstilling, i sølv, forgyldt, ægte og uægte materialer.
Smykkebixen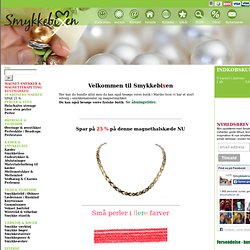 The Beadcage, Bead Boutique
Beadsndrops.dk
Perler og smykker fra FUNKY BEADS
Velkommen til Funky Beads ...din perle og smykkebutik på nettet. Der er 50% rabat på alle perler. Slå til nu.
What You're Saying: "I have been a Beader's Advantage Member for years now and I love it. I send an order about once a week but I NEVER shop for beads elsewhere. Aunties Beads is the best I have ever found and I love the speed on shipping, quality of beads and beading supplies, and the ordering accuracy on my orders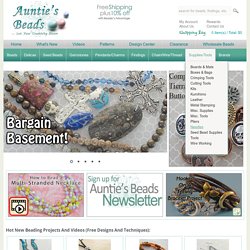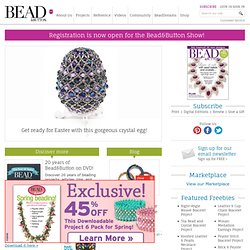 Register now for classes! Registration is open NOW for the Bead&Button Show, May 28-June 9 at the Wisconsin Center in Milwaukee, WI. We'd love to have you join us! Register today. Free project
Seed Beads Preciosa Ornela rocaille seed beads are by far our most popular and versatile seed bead available. Preciosa Ornela rocaille seed beads are of superior quality, machine cut, and are highly valued for their use in bead stringing, bead weaving, embroidery and much much more! Preciosa seed beads are proven to be of the upmost value, and demonstrate the highest level of shape consistency. Shop Swarovski by Color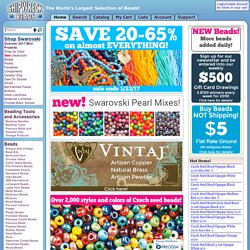 Welcome to Happy Mango Beads Our online bead store is divided into several categories depending on the type of beads you are interested in. We personally hand select and import nearly all of the beads we sell.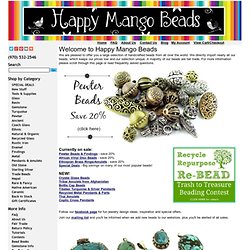 Happy Mango Beads
Bead House
Perler til smykker, smykkefremstilling og smykkematerialer. Hos os kan du lære at designe dine egne smykker, knytte armbånd, og lære en masse teknikker til smykkedesign.
Caravan Beads - wholesale supplier of Miyuki Delica beads and Japanese seed beads