Hobby
Maskinstrikkerne i Vandtårnet. Handmadeby: Kristine Mandsberg - 05. mar. 2013 | DR K. Handmade by: Sarah Becker - 19. feb. 2013 | DR K. Handmadeby: Nikoline Liv - 26. feb. 2013 | DR K. Historiebogen: Teknikker til tøjfremstilling. Mønsteroverførsel. It's a Pretty Modern life. I recently fell in love with spaghetti squash and I don't know why I ever needed to eat noodles.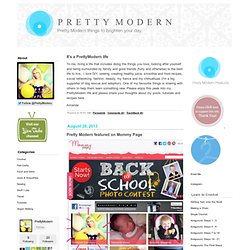 Zucchini noodles are also amazing (I make them using my Saladacco). Anyway, here's a photo I recently posted on IG and I've gotten requests for the the recipe, so here it is :) Preparing the Spaghetti Squash:Preheat oven to 375 degreesCut the squash in half lengthwise (be very careful...they are difficult to cut and a serrated knife helps)Scoop out and discard the seedsSpread some olive oil on the squash and then place face down on a cookie sheet (skin side up)Bake for 45-55 minutes (depending on how al dente you like your squash)
Strik-inspiration
Håndstrik. Broderi. Fremstilling af Gine. Perler - smykker. Syning. Maskinstrik.
---