ICT and Learning
elearnspace I started this site in 2000. I used to aspire to do great and lovely things with it.
Search Stories Makes Documenting Research Fun
Nyheder Valgmoduler efterår 2014 Efterårets valgmoduler på MIL ligger klar her på siden – og der er også noget for dig, hvad enten du interesserer dig for brugerpraksis, innovation, spiludvikling eller projektledelse. Ansøgningsfristen er 1/5 2014. Du kan finde alle modulbeskrivelser her – og hvis du har spørgsmål, er du … Valgmoduler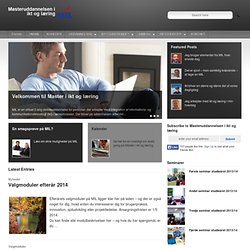 Master i ikt og læring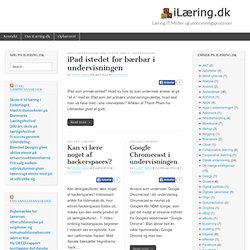 iLæring.dk | Læring, IT, Medier og undervisningsprocesser
Kan læringskulturen lære noget af hackerspaces? Interessant artikel fra Videnskab.dk, hvor emnet hackerspaces foldes ud, måske kan den smitte positivt af på læringskulturen…? Video omkring hackerspaces begreber I videoen ses en episode, hvor den californiske 'hacker' Matt Senate italesætter begreberne 'hack',… Read more → Anvend som underviser Google Chromecast i din undervisning Chromecast er navnet på Googles lille HDMI dongle, som gør det muligt at streame indhold fra Googles webbrowser "Google Chrome".