ICT and Learning
elearnspace I started this site in 2000. I used to aspire to do great and lovely things with it.
Search Stories Makes Documenting Research Fun
Nyheder Birgitte Holm Sørensen udpeget til ministerielt udvalg MIL-underviser og koordinationsgruppemedlem Birgitte Holm Sørensen, Institut for Læring og Filosofi (AAU), er af uddannelsesminister Morten Østergaard og undervisningsminister Christine Antorini blevet udpeget til et udvalg, der skal arbejde med uddannelsesforskning. Udvalget, Forum for Koordination af Uddannelsesforskning, har som mål at sikre en bedre effekt … Billeder fra efterårets seminarer er online!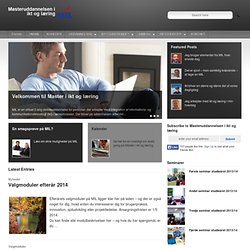 Master i ikt og læring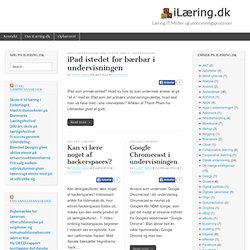 iLæring.dk | Læring, IT, Medier og undervisningsprocesser
Hvad er ThingLink? ThingLink er et spændende online-værktøj, der giver underviserne mulighed for at gøre et billede interaktivt. Man kan tilføje video, billeder, lyd og links til en hjemmeside ved hjælp af trykfølsome områder på billedet. ThingLink i undervisningen Læg… Read more →