ICT and Learning
E-læring
Search Stories Makes Documenting Research Fun
The keynote speaker for NCTIES was my friend Ken Shelton . I've known Ken for a few years now and one thing that I know for sure about Ken is that he knows how to design a presentation (more on that in another post). In his keynote, Ken shared a great idea for getting students enjoy documenting the research process instead of groaning about having to document it. Ken's suggestion is to have students create Google Search Story videos . The Google Search Stories Video Creator allows you to create a short video about the searches that you perform on Google.
Master i ikt og læring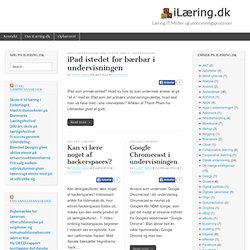 iLæring.dk | Læring, IT, Medier og undervisningsprocesser
iPad i undervisningen – debat, videndeling og oplysning Blog om iPad i undervisningen Mads Remvig fra it4education.dk står bag bloggen skoleipad.dk – bloggen er anbefalelsesværdig, han følger udviklingen i brug af iPads i undervisningen og indeholder bl.a.: Mads' APPs anbefalinger (både Apples egne Apps og dem han selv anbefaler) – han linker også til skoleapps.com, som… Read more » Google+ i en læringskontekst Interview med Google+ chefen Fik du ikke lige set interviewet med Google+ chefen?