Ecomm
[Dossier] Petite visite chez Amazon.fr. Il y a un petit mois, nous étions en visite dans les locaux d'Amazon France à Saran, une occasion unique de découvrir l'envers du décor de ce géant du net.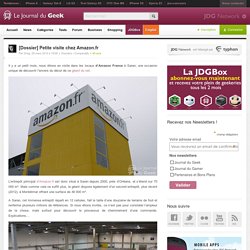 L'entrepôt principal d'Amazon.fr est donc situé à Saran depuis 2000, prés d'Orléans, et s'étend sur 70 000 m². Mais comme cela ne suffit plus, le géant dispose également d'un second entrepôt, plus récent (2012), à Montélimar offrant une surface de 36 000 m². Why an Amazon Phone Makes Sense … for Amazon. Amazon.com's (AMZN) entry into the mobile-phone market has been the subject of speculation from a variety of technology mavens and market analysts.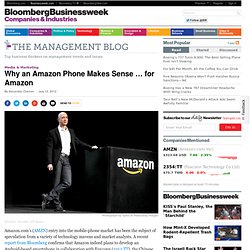 A recent report from Bloomberg confirms that Amazon indeed plans to develop an Android-based smartphone in collaboration with Foxconn (2354:TT), the Chinese company that also manufactures Apple's (AAPL) iPhone. Amazon's move into phones makes sense for several reasons. First, as consumers increasingly rely on mobile devices to access online content—a trend that is likely to define the future of online communication and commerce—Amazon can ill afford not to have a presence in this fast-growing market. Amazon's phone can also benefit from potential synergies with Kindle in terms of software platform and device interface. Jeff Bezos, Founder and CEO, Amazon.com. Amazon annonce un CA en hausse de 34% au premier trimestre. Amazon, en forte croissance, lance son Kindle Touch en France. Why Amazon Succeeds. Amazon: don't blame us for the revolution on the high street. Indeed, although Tim Waterstone, the founder of the Waterstones bookshop, once said "Amazon is killing the British books industry", now even his shop sells the Kindle that will, surely, stop some people buying the physical books Waterstones relies on.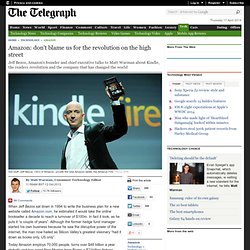 Bezos, in London this week to launch the latest two Kindles, said he recently visited "impromptu, but not in disguise" and sings the praises of a shop that has glamorous "signage" and a demonstration station. Bezos agrees that the Kindle has come to define Amazon, but says he's only got there with practice. "When we first started experimenting with ebooks in 1998 for your laptop, we offered them, but we didn't sell them. Nobody bought them." He says the business quickly realised that if they wanted to make ebooks work, they needed to make hardware. Amazon s'offre sa première campagne de pub TV en France. Après le premier film publicitaire de Facebook, un spot d'une minute trente réalisé par le réalisateur de Babel mais diffusé uniquement sur internet depuis le 10 octobre, au tour d'Amazon de faire ses premiers pas publicitaires... à la télévision française.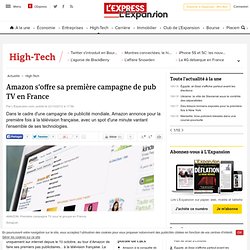 La société, habituée de la pub TV aux Etats-Unis, n'avais jamais annoncé en France. Depuis ce week-end, elle diffuse un spot d'une durée d'une minute, ce qui est assez exceptionnel. "Dans 5 ans, Pixmania pourrait réaliser la moitié de son chiffre d'affaires en magasin physique". Parce que les consommateurs préfèrent le multicanal et qu'ouvrir des magasins coûte moins cher qu'acquérir des clients sur Google, l'ex-pure player développe une stratégie ambitieuse de distribution physique.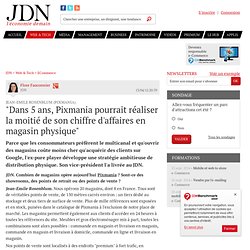 Son vice-président l'a livrée au JDN. JDN.
---