FRI 01/04/11
LCD Soundsystem's last show in all its glory. Arcade Fire guesting!
adult swim] : Tim & Eric Awesome Show, Great Job! - Rascals: Teach your children well
Big Bill Broonzy - Diggin My Potatoes.wmv
JACQUES GREENE'S 50 MIN MIX
Michael-Jackson-and-Moham-007.jpg (460×276)
Watch: LCD Soundsystem says goodbye
LCD Soundsystem 's all-too-brief existence came to an epic conclusion Saturday night at Madison Square Garden with a 230-minute set that featured everything from rare b-sides to "Home" to Win Butler dancing.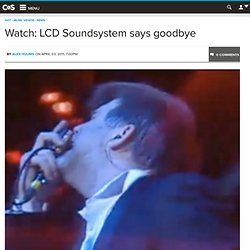 LCD Soundsystem Singing 'Someone Great' at Final Show
The Strangers" Trailer (Better Lock Your Doors!)
Cornelius - I Hate Hate (Live)
Four Tet's 45 Min Min
Live 3D - François & The Atlas Mountain @ Espace Tatry Bordeaux (17/04/2010)
My Bloody Valentine "You Made Me Realise"
My Bloody Valentine - 'Soon' (FULL LENGTH VERSION)
My Bloody Valentine - Loveless interview
Laurie Anderson - O Superman - clip subtitulado!
Pavement - Range Life
Nirvana - Heart Shaped Box live
TEETH ✌ SEE SPACES (HOCUS TOCUS REMAKE)
How much do you earn
Hausu (1977) Killer Lampshade
This weekend Adam and Joe are doing their last three podcasts from Glastonbury. So through tear-stained eyes, we present their greatest moments in broadcasting history... No-one told Adam and Joe that Craig Charles rehearses in the nack... That's right Black Squadron, you lonely morsels will now have a reason to get out of bed at a reasonable hour and dance merrily into the loving arms of misters Buxton and Cornish between the hours of 10 and 1 on Saturdays. As we salivate at the prospect of what delights might be in store, here's a run down of ten of their greatest features from all of the duo's marvellous endeavours and mis-adventures. 1.The Bobby De Niro Song
Adam and Joe's 10 Greatest Moments in Broadcasting History | Music
U.N.P.O.C. - Amsterdam
gogoyoko - Music Store - Fair Play in Music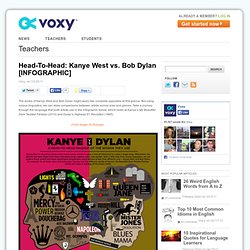 The works of Kanye West and Bob Dylan might seem like complete opposites at first glance. But using corpus linguistics, we can draw comparisons between artists across eras and genres. Take a journey through the language that both artists use in the infographic below, which looks at Kanye's My Beautiful Dark Twisted Fantasy (2010) and Dylan's Highway 61 Revisited (1965). (Click Image To Enlarge) Use This Infographic In Your Class
Head-To-Head: Kanye West vs. Bob Dylan
BBC iPlayer - Benji B: Hype Williams in session