Typography
A designer can take the entire credit for a good-looking website however, they, too agree with the fact that typography enhances the designing like anything so a lot of credit should be given there too. if you are a web designer, it is absolutely important for you to get the typography right. Since there are innumerable options available when it comes to fonts, designers have a wide range to select from. It makes things easier as well as difficult at the same time since a designer can get confused with so many options available. This is exactly why we have collected 10 Valuable Tools for Enhanced Web Typography.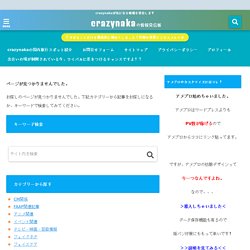 10 Valuable Tools for Enhanced Web Typography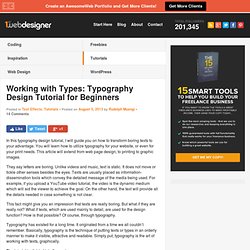 In this typography tutorial, I will guide you on how to transform boring texts to your advantage. You will learn how to utilize typography for your website, or even for your print needs. This article will extend from web page design, to printing to graphic images. They say letters are boring.
Working with Types: Typography Tutorial for Beginners
Do's and don'ts of typography
As so much of the content available on the web is text it's essential for web designers to understand the basic principles of good typography. Having such knowledge allows designers to communicate more effectively, enabling them to create better designs and websites that are easier to use. For more experienced designers setting text may come naturally but for those who are just starting out I've decided to put together a list of the basic do's and don'ts. Not only will this list teach you the fundamentals but you can also use it as a check list to work through on future projects. Here goes: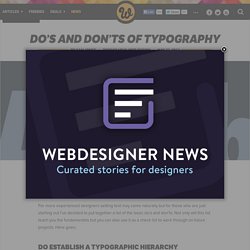 A Firm Turn Toward the Objective: Josef Müller-Brockmann 1948–1981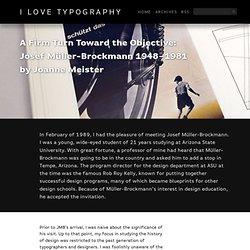 In February of 1989, I had the pleasure of meeting Josef Müller-Brockmann. I was a young, wide-eyed student of 21 years studying at Arizona State University. With great fortune, a professor of mine had heard that Müller-Brockmann was going to be in the country and asked him to add a stop in Tempe, Arizona. The program director for the design department at ASU at the time was the famous Rob Roy Kelly, known for putting together successful design programs, many of which became blueprints for other design schools.
Inspirational quotes: particularly across social media, and particularly at this time of year, it's impossible to avoid them; most of them sickly, stupid and strikingly uninspiring. Thierry Brunfaut, however, has succeed in creating a series of posters which carry maxims that don't test your gag reflex – 20 of them, in fact. And he did so in under 100 minutes. Brunfaut, a partner at creative studio Base , produced the posters to a strict set of rules: each must be designed in under 300 seconds, the result immediately posted on the studio's Twitter and Facebook page."This time constraint forces immediate design decisions," Brunfaut says. "One type, no color, lower or upper-case, block or aligned, big or small.
Five-minute posters | Blog | Computer Arts magazine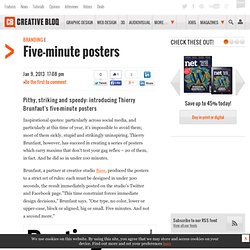 TRUTH #typography #graphic #design @housemouse_1 on Twitpic
Online Font Testing Tool by daan on November 3, 2011 in Design , Software , Typography , Webdesign Online Font Testing Tool 'Related' Links Related Posts:
Studiodaas Magazine
30+ Fresh & Cool Free Download Fonts
Typography Madness #2 - 201px
Typography is the ultimate form of science meeting art. Space, size, type treatment/effects, contrast, color selection – and much more – go into every piece of design that involves the use of type. Typography is the art or technique of arranging type. Typography is everywhere! The use of Illustration of text by the modern designer's artwork out there. Typography is a growing phenomenon amongst graphic designers, many of whom have gone beyond the basic placement of lettering, and turned typography pieces into their own works of art.
125+ Awesome Typography Collection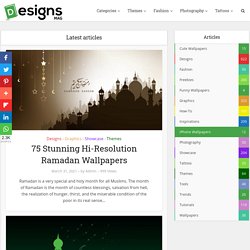 15 geniale Schriften für Designer
Neues Passwort anfordern! Du hast dein Passwort vergessen? Hier kannst du dir ein neues Passwort zuschicken lassen. Aus Sicherheitsgründen können wir dir dein ursprüngliches Passwort nicht erneut zukommen lassen. Wir schicken dir deswegen ein zufällig erzeugtes Passwort an deine E-Mail-Adresse.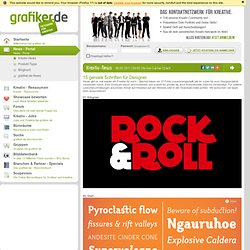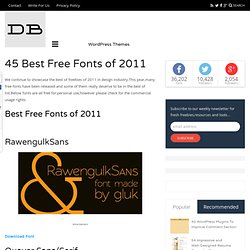 45 Best Free Fonts of 2011 We continue to showcase the best of freebies of 2011 in design industry.This year,many free fonts have been released and some of them really deserve to be in the best of list.Below fonts are all free for personal use,however please check for the commercial usage rights. Best Free Fonts of 2011 RawengulkSans Download Font Quaver Sans/Serif
45 Best Free Fonts of 2011
Some Of The Best Free Fonts Of 2011 - topdesignmag.com
space-monkey créa: Quelques exemples superbes
60 Remarkable Examples Of Typography Design #6
South Korean road signs by Studio Dumbar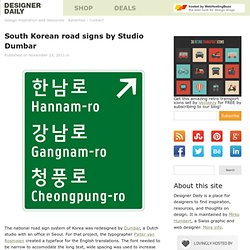 The national road sign system of Korea was redesigned by Dumbar , a Dutch studio with an office in Seoul. For that project, the typographer Pieter van Rosmalen created a typeface for the English translations. The font needed to be narrow to accomodate the long text, wide spacing was used to increase the readability.
You may be familiar with the use of color, images, lines and other elements in business card printing , but have you ever considered the importance of choosing the right typeface for your card? In today's post, I'm showcasing another beautiful business card design are the typographic business cards designs which creatively use typography or text as the only design element. Typography is one of the modern approaches to making business cards. It offers a wide variety of designs and concepts that make business cards more alive and attractive to those who get a chance to receive one.
blog – 50 Typographic Business Card Designs
Reader (1000+)
Kern Type | Design Journal - Interaktives Design, Werbung & Neue Medien
Diverses · 10. Oktober 2011 Kerning will gelernt sein.
Kleiner Zeitvertreib, bei dem der optimale Abstand von Buchstaben zu definieren ist.
KernType – Teste deine Kerning-Qualitäten
A Collection of Beautiful, Free Fonts 
A Visual Guide to the Ampersand (Infographic)
Typography Sketchbooks by Steven Heller and Lita Talarico
21 Inspiring Examples of Typography in Web Design
Typography Mania #104