Css
CSS Image Set
The emerging trend on HD screens for computer devices has changed the way we build websites, including how we add images.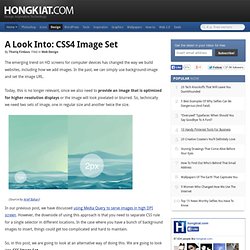 Visuelle Semantik neu entdecken | Webkrauts
Icon Fonts Icons sind, wenn richtig eingesetzt, bedeutungsvoll und intuitiv. Sie führen den Benutzer einer Website zur gewünschten Aktion und sind somit ein wichtiger Blickfang. Heute, in Zeiten der Optimierung für Mobile-Devices und besonders des Responsive Webdesigns erfahren die Icons als Fonts eine Renaissance. Das Prinzip des Icon Fonts ist eigentlich kein neuartiges Phänomen.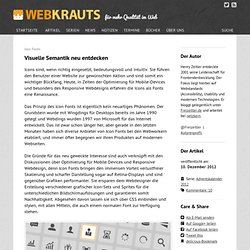 Wer ist nicht schon daran verzweifelt: Man ändert eine Layout-Eigenschaft im Stylesheet und nichts passiert. Meist steckt der Fehler im Detail, genauer gesagt: In der Spezifität (engl. Specificity) der Selektoren .
- CSS Specificity - Gewichtung und Ursprung von Selektoren » Webstandard-Blog & Webdesign «
On Responsive Images
Published by Chris Coyier There is a real need for serving media that is appropriate for the device and circumstance, since we know so little about any particular web request. I recently posted a blog post with so many images on it the page weighed in at 2.29 MB. I should have posted a warning when I tweeted it: "Don't click this if on a 3G network, it probably take forever, just check it out when you get home." Ideally, all those images I served up could have had a lower-res version of themselves that display on browsers with smaller browser window sizes and/or slower connection speeds. Even in cutting edge browsers, there is no native way to do this yet.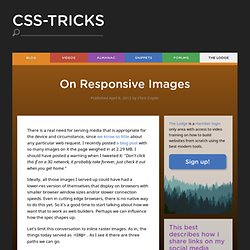 Dec 01 2011 Over the last few years there has been great collections of quality free HTML & CSS templates published on Noupe such as 50 Free High-Quality and "New" (X)HTML/CSS Templates (2009) and 40+ Elegant Free CSS/(X)HTML Templates (2010). There have been some great free templates released over the last year so we thought it would be appropriate to share some of these great new designs with you all. In web development, it's important to move with the times and embrace the latest changes. As such, all of the templates listed in this article were designed using HTML5 and CSS3 ; both of which will help future proof your website and make them more accessible. The Templates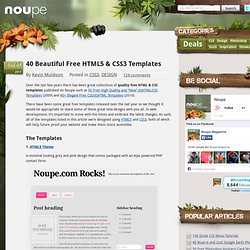 im praktischen Einsatz maddesigns | Sven Wolfermann WebDevCon Hamburg, 17.10.2011 Pfeiltasten zur Navigation nutzen runde Ecken! YEAH!!!!111elf
CSS3 im praktischen Einsatz, maddesigns (Sven Wolfermann) #wdc11
Scalable and Modular Architecture for CSS
Five Questions with Lea Verou
Published by Chris Coyier Lea is a front end web developer from Greece. You have likely heard of her, as ever since she started blogging in English (read more about that below), she's had quite a boom in popularity. Or perhaps you've seen some of her work. She's created a number of one-page sites that either show off amazing things CSS can do or help you with a difficult/tedious task. I asked Lea some questions about critical reaction to her work, the community in Greece, the future of CSS, and more.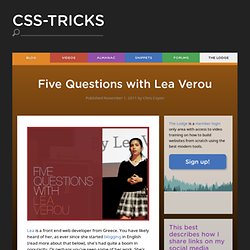 CSS Media Queries
CSS3 Media Queries: Part 2 | Script & Style
JavaScript Markup Get Element Attributes with JavaScript What I love so much about JavaScript is that the language is incredibly dynamic.
6 Of Best CSS3 Generators - paulund.co.uk