Themes
BuddyPress Deutschland
From WikiEducator Pedagogical templates are used when authoring teaching content in WikiEducator. A number of templates are predesigned to save you time with more complex layouts required of instructional materials.
Quickstart guide/pedagogical templates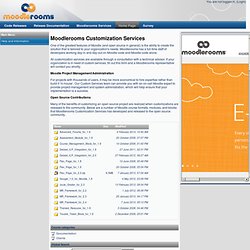 One of the greatest features of Moodle (and open source in general) is the ability to create the solution that is tailored to your organization's needs. Moodlerooms has a full-time staff of developers working day-in and day-out on Moodle code and Moodle code alone. All customization services are available through a consultation with a technical advisor. If your organization is in need of custom services, fill out this form and a Moodlerooms representative will contact you shortly.
Development Site
Drupal Theme Generator
Theme settings
Theme settings An administrator can change theme settings in Settings > Site administration > Appearance > Themes > Theme settings. Theme list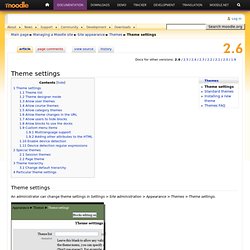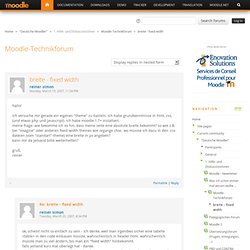 Deutsches: breite - fixed width
hallo georg! so kompliziert ist das ganze nicht... (auch wenn meine ausführungen danach aussehen...;) trotzdem bitte noch das http://docs.moodle.org/en/Theme_basics durchlesen... es kommt darauf an, wie viel du ändern willst - ob du ein komplett unabhängiges theme basteln (also "a theme without standard dependencies (faked)") oder ob du - was eigentlich für laien wie dich und mich genügen dürfte - eines baust, das auf dem standard theme basiert.
themes - Group Files - mahara.org
WordPress Themes
Notice: The Joomla! Template builder is compatible with Joomla! version 1.5 only. We are in the process of updating for Joomla! 1.6.
Joomla Template Builder
The E-learning Portal Moodle theme can catch the attention of the participant in the e-learning process mainly by its elegant layout, supported by soft green elements in the header area and same-color links within the sidebar and the text areas. The template makes a valuable reference to the growingly actual idea of the compatibility between Internet as a preferred knowledge source and book reading as a traditional learning technique as far as online education is concerned. The image of an open computer with a pile of books rising from its screen on a binary-code background, symbolizing infinity of knowledge, creates an easy learning atmosphere and promises to get learners engaged with the online classes. The theme is suitable for leading courses in Information Systems – related studies, but can be equally well suited to classes in any other disciplines.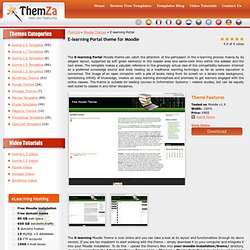 Free Moodle Themes: E-learning Portal by ThemZa
Acquia Marina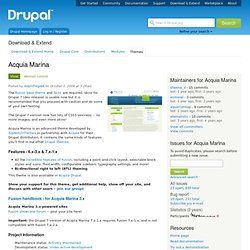 The Fusion base theme and Skinr are required. Skinr for Drupal 7 (dev release) is usable now but it is recommended that you proceed with caution and do some of your own testing. The Drupal 7 version now has lots of CSS3 sexiness -- no more images, and even more skins! Acquia Marina is an advanced theme developed by TopNotchThemes in partnership with Acquia for their Drupal distribution. It contains the same kinds of features you'll find in our other Drupal themes.
Barlow
Colorfulness
Framework is a blank canvas for theme developers. Use Framework as a user friendly starting point to help facilitate your theme development. Build site themes without feeling like you have to reinvent the wheel or remove unnecessary code every time.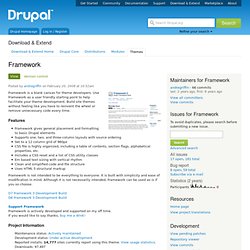 Alek 2.0
Last updated August 25, 2013. Created by JohnAlbin on November 18, 2007.Edited by mrP, MacMladen, chrisjlee, Francewhoa. Log in to edit this page. Zen is a powerful, yet simple, HTML5 starting theme with a responsive, mobile-first grid design. If you are building your own standards-compliant theme, you will find it much easier to start with Zen than to start with Garland or Stark.
Zen