Screen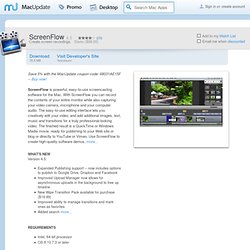 Download ScreenFlow for Mac - Create screen recordings. MacUpdate Mac Software Downloads
Create screen recordings. Demo ($99.00) Save 5% with the MacUpdate coupon code: 68031AE15F -- Buy now! What's New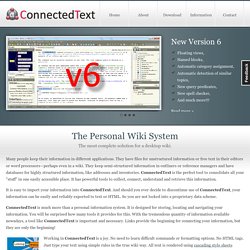 ConnectedText - The Personal Wiki System - Welcome
Many people keep their information in different applications. They have files for unstructured information or free text in their editors or word processors—perhaps even in a wiki. They keep semi-structured information in outliners or reference managers and have databases for highly structured information, like addresses and inventories. ConnectedText is the perfect tool to consolidate all your "stuff" in one easily accessible place.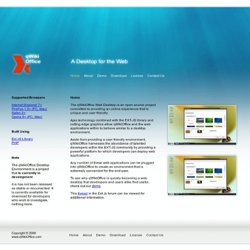 qWikiOffice A Web Based Desktop
Home The qWikiOffice Web Desktop is an open source project committed to providing an online experience that is unique and user friendly. Ajax technology combined with the EXT-JS library and cutting edge graphics allow qWikiOffice and the web applications within to behave similar to a desktop environment. Aside from providing a user friendly environment, qWikiOffice harnesses the abundance of talented developers within the EXT-JS community by providing a powerful platform for which developers can deploy web applications.
Ajax (or Flash) Startpages (or Homepages)
Free, Instant Web Conferencing for Skype The Yugma SE (For Skype) is a Skype Extra that builds upon Skype's offering by adding instant desktop sharing and collaboration functionality. Skype users can instantly begin sharing their computer screen with anyone, anywhere - regardless of the application, software or operating system - with Yugma SE. Yugma's integrated functionality makes it easy for Skype users to instantly web conference with their Skype contacts or non-Skype contacts.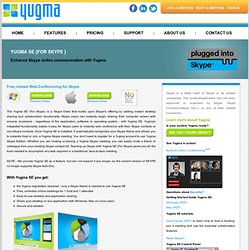 Free Web Collaboration Forever — anytime, anywhere.
News: Social Desktop für KDE 4.3 vorgestellt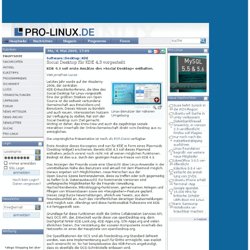 Software::Desktop::KDE KDE 4.3 soll erste Ansätze des »Social Desktop« enthalten. vizzzion.org
Paparazzi! für bessere Screenshots - Paparazzi, Screenshots, Screengrab, Browser, Webseiten, Version, Tool, Firefox - Apfelzeug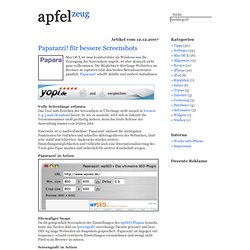 Mac OS X ist zwar komfortabler als Windows was die Erzeugung der Screenshots angeht, ist aber dennoch nicht ganz vollkommen: Die Möglichkeit überlange Webseiten im Browser zu capturen fehlt den beiden Betriebssystemen gänzlich. Paparazzi! schafft Abhilfe und zaubert Aufnahmen. Volle Seitenlänge erfassen Das Tool zum Erstellen der Screenshots in Überlänge steht zurzeit in Version 0.4.3 zum Download bereit.
Komplette Screenshots von Webseiten mit Mac OS X, Windows und Linux anfertigen bei im web gefunden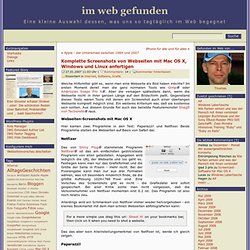 Welche Hilfsmittel gibt es, wenn man eine Webseite als Bild haben möchte? Im ersten Moment denkt man die ganz normalen Tools wie Gimp oder Ambrosias Snapz Pro X. Aber die versagen spätestens dann, wenn die Webseite nicht in ihrer ganzen Länge auf den Bildschirm paßt.
The Best Capture: ScreenFlow has the best screen capture available. Using a custom multithreaded SSE & Altivec accelerated, 64-bit enabled compression system, ScreenFlow can handle everything from capturing DVD video & audio to fast moving Keynote presentations and more – simultaneously. Record Everything: You don't need to pick an area of the screen for capture, ScreenFlow has advanced algorithms that only encode areas of change on your screen. The application is powerful enough to simultaneously record from your iSight or DV camera at the same time as your screen (and your microphone and computer's audio!). Highlight: During your screen capture, ScreenFlow tracks where your mouse cursor is, when you click and when you press a key.
Software · Mac OS X · ScreenFlow (de)