Modules
Moodle-filesharing. For Facebook. This set of modules turns Drupal into a platform for developing Facebook Applications.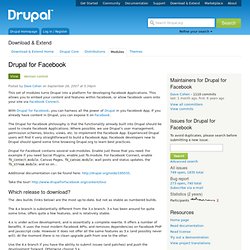 This allows you to embed your content and features within facebook, or allow facebook users onto your site via Facebook Connect. With Drupal for Facebook, you can harness all the power of Drupal in you Facebook App. If you already have content in Drupal, you can expose it on Facebook. The Drupal for Facebook philosophy is that the functionality already built into Drupal should be used to create Facebook Applications. Moodle Integration. Integration of the Moodle Learning Management System with Drupal.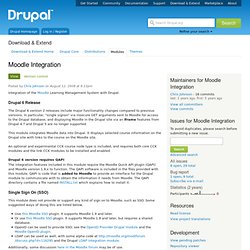 Drupal 6 Release The Drupal 6 version 2 releases include major functionality changes compared to previous versions. In particular, "single signon" via insecure GET arguments sent to Moodle for access to the Drupal database, and displaying Moodle in the Drupal site via an iframe features from Drupal 4.7 and Drupal 5 are no longer supported. This module integrates Moodle data into Drupal. It displays selected course information on the Drupal site with links to the course on the Moodle site. ELMS. Drupal 7 ELMS = ELMSLN ELMS is an educational distribution of drupal geared towards augmenting and / or replacing functions of a traditional LMS.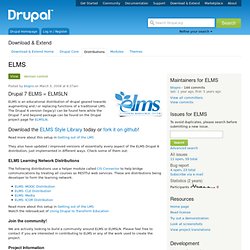 The Drupal 6 version (legacy) can be found here while the Drupal 7 and beyond package can be found on the Drupal project page for ELMSLN. Download the ELMS Style Library today or fork it on github! Read more about this setup in Getting out of the LMS. Modules and plugins.
---